3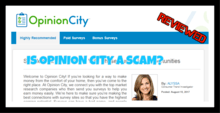 Hi and welcome to my review of Opinion City. I think that it's fair to say that many people would love to have the opportunity of working from home. To be able to work according to your own schedule and earning a passive income. To not have to worry about the 'traditional job' headaches.
No doubt working from home offers some awesome perks.
Opinion City claims to help you to make this kind of lifestyle a possibility. How? By connecting you with top research companies and providing you with survey jobs. Is Opinion City a Scam, do they really offer you value?
Continue reading