Welcome to my Jvzoo Review. Would you like to make money with affiliate marketing? You might have heard about JvZoo, a hub of digital products. Promote these products and you can earn those affiliate commissions.
Is Jzoo really worth your time? Should you join it, or should you look at other marketplaces to run a profitable business? In this post, I will show you how this platform works. You will learn everything that will help you to make an informed decision about this marketplace.
And before we jump straight into this Jvzoo review, feel free to check out my NR.1 recommendation to starting your own profitable online business.
What is Jvzoo All About?
---
Jvzoo is a marketplace that specializes in digital products. It's a competitor to other marketplaces such as Clickbank, Digistore24, and WarriorPlus.
The company is based in the United States. They do however have offices in both Myrtle Beach, SC, and Orlando, FL. The company was founded back in 2011. According to the official Jvzoo website, the company is listed on the Inc. 5000 of the fastest-growing companies in America.
The cool part about this marketplace is there is owner transparency.
Bryan started his entrepreneurial journey in 2008. Apparently, he was featured on the cover of Lifestyle Entrepreneur Magazine.
Chad was formerly an IT director, department manager, and software consultant, and has experience in telecommunications, retail, commerce, printing, and personality profiling. He holds various degrees such as an MBA, and a Bachelor of Science Degree. He serves as the chairman and co-founder of the Jvzoo platform.
How Does Jvzoo Work?
---
Jvzoo caters to both vendors as well as affiliate marketers.
So, if you are a vendor, you can list whatever product you want to sell on the Jvzoo Platform. And you can approve affiliates to market the product for you.
As an affiliate marketer, once your application is approved, you can market the market. For every sale you get, you earn a commission, that is stipulated in the product description.
In the screenshot above, if you were to successfully sell the Cloudfunnels2 Elite JVzoo product, you can earn a 50% commission, which is $18.5.
It's free to sign-up to Jvzoo, and once you are registered, you can familiarise yourself with the in and outs of the platform.
The first section is the affiliate dashboard section. That is where you can check out your stats, join contests, find products to promote, and see which products you are already approved for.
The thing about Jvzoo is that you have to apply to the vendor for permission to promote that particular product. It is different from Digistore 24, where you are an automatic affiliate for most of their products.
How Do You Know Which Products to Promote on Jvzoo?
---
To find products to promote, all you have to do is navigate to the 'products' tab in the main dashboard area.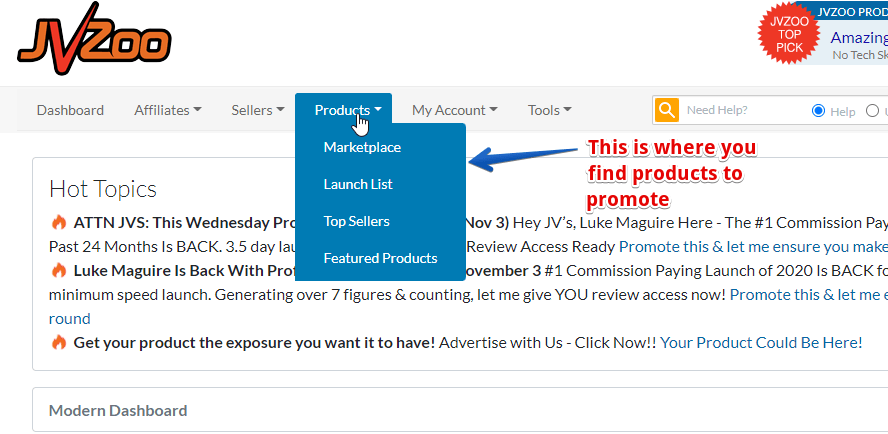 the products in the marketplace
the products that are still going to be launched
the top-sellers, and
the featured products
This is what the list of the top sellers is at the time of writing this post.

If you were to click on the right-hand side on the tab that reads "affiliate details," you can learn more about the product.
In addition to learning about the sales price, and the commission breakdown, you can also view the sales page of the product that you will be promoting. And that is important, especially when it comes to doing your product review. You need to know as much as you can learn about the product, right?
The sales page will give you a pretty good idea of what the product will do, and how it will help solve people's problems.
But sometimes it might not be enough, and that's why you might need to do a bit of extra work.
I will share some more tips on how to promote with confidence in the closing section of this post.
The Benefits of Becoming a Jvzoo Affiliate
---
For now, let's see what some of the benefits are should you decide to become a Jvzoo Affiliate.
As a Jvzoo affiliate you :
earn instant commissions
have access to a searchable marketplace
have one affiliate link
have vendor cookies, and
you have automatic bonus delivery
What I Do Not Like About The Jvzoo Platform
---
You have to request approval for the specific product that you wish to promote.
It can take anywhere between 24hours to a couple of days before you hear the status of your application.
2. Small Niche Selection
Unlike Clickbank, and Digistore24, and even Amazon for that matter, Jvzoo covers a very limited industry selection.
So if you are interested in promoting products from other niche industries such as the weightless field, relationship niche, or the pet care industry, or other non-make-money-related fields, Jvzoo is not the place you will find it.
3. It's Not High-Ticketed products
Most of the products listed are selling below the $500 mark. If you are looking to earn commissions from 1k and beyond then Jvzoo might not be the place to get started.
How Can You Make Money With Jvzoo as An Affiliate?
---
The business model that you are going to use to make money with Jzoo is affiliate marketing.
What is affiliate marketing all about?
It's simply the process where you earn commissions for promoting other people's products or services. You are the middle man(or lady), and you earn whenever a successful transaction takes place between the buyer and the seller.
Is Affiliate marketing hard?
No, however it does requires a special skill set.
And that is the beauty of this business model. It's a newbie-friendly business model. So, even though you are one who does not have any technical expertise or previous business knowledge, you can still become a very successful affiliate marketer.
Whilst it's not hard, it's a learning curve. Many folks feel that they can just paste their affiliate link all over the internet, and they will get commissions rolling in.
Unfortunately, it does not work that way.
For one reason, social media will not take kindly to you spamming their platform with affiliate links. And the second reason is that these days, folks will not just buy without doing the proper research. That's why you must learn the skill of providing value to your client.
So how then do you become a successful affiliate marketer? You need these 3 valuable skills…
The 3 Most Valuable Skills For Every Successful Online Marketer
---
I make it a habit of listening to the famous recording by Earl Nightingale called The Strangest Secret. And I will never forget what he said about selling. He said "selling is the highest-paid profession in the world. If you are good at it, and you know what you are doing, the sky is the limit…..Every company needs a top-notch salesman…"
And to become good at online marketing, or to be a successful entrepreneur, you just need to concentrate on four important things.
The first is to focus on giving value to your client. It's not about what you can get but about how that product can benefit them. You need to show them the product benefits and not focus completely on the features of the product. Sure you might be impressed with the features, but to them, it's more about how it can help make their life better and easier.
Then you need to have a capture page. I use Clickfunnels, but there are many other funnel builders out there. It's important to get the client's e-mail address. Remember, not everybody will buy from you on their first visit. That's why the capture page will grab your client's attention and in exchange for their e-mail address, you would give them a free book, of course.
Then you will need an autoresponder. This is where the building of that all-important business relationship comes in. You see with an autoresponder, you are able to send your client valuable, and helpful content. I use ConvertKit for my e-mail campaigns.
You are giving them a reason to know you, to like you, and to trust you. Once you have established that authority and likeability, they on their own terms will buy from you(when the time is right), whatever it is that you are selling.
And the third thing that you need, is tracking software. Spend your time on the traffic source that is bringing in the most leads. To do that, you would need tracking software to see which traffic source is working the best.
Of course, you also need to know what sort of traffic methods are out there. You get good traffic sources and bad traffic sources. You also need to learn how to sell without selling. Nobody likes a sleazy salesperson, so do not employ those tactics in your business efforts.
I talked about these principles in my FREE Affiliate Marketing Video Course. Feel free to sign up!
How To Become a Successful Affiliate With Not Only Jvzoo but
Any Marketplace and Any Product
---
You can.
Many folks are making a full-time income with affiliate marketing. I will never forget the day I earned my first high-ticket commission of $1000. Check out my video below to see it.
Tony Robbins said, "success leaves clues." If you want to become a success, follow that person who has already achieved it and model what they are doing.
It helps to have a mentor. It helps to have a community that supports you along your journey to building a successful online business. You also would need the latest and cutting-edge training, and tools to build that business.
If you are ready to take the next to start your online business then check out my NR.1 recommendation.
It has all the essential ingredients that you would need to get started.
Wish you everything of the best in your online business.
Have any other questions about affiliate marketing? Just leave them below, and I will get back to you.
All the best.
Take care
Roopesh