Hi there and welcome to my Digistore24 Affiliate program review. Are you looking to make money with affiliate marketing? Would you like to earn a passive income from selling affiliate products? If your answer is 'yes' to both of these questions, then you may be considering joining the Digistore24 affiliate program.
A marketplace that specializes in selling digital products. Is Digistore24 really worth your time? Today I will highlight some attractive features of this marketplace compared to your Clickbank, Jvzoo, and WarriorPlus.
But I will also share with you some downsides of using this platform. This Digistore24 review will give you all the information that you need to make an informed decision.
Congratulations on taking the time to do your research before you go all-in with this particular opportunity. 
There are tons of scams online. But on the other side of the coin, there is a legit way to making money online. 
Having said that, let's dive into this Digistore24 review to see what the company is all about.
DIGISTORE24 REVIEW-SUMMARY BOX
OVERALL RATING: 3 /5
The Digistore24 marketplace is free to join. Unlike other marketplaces, this platform accepts international affiliates.
The sign-up process is also very easy. They do not have a range of digital products like other platforms.
It's a good marketplace to include in your affiliate marketing business, but there are some downsides to using this platform.
Recommended Opportunity: If you are interested in building a business with real income potential, click below :
What is Digistore24 all About?
---
Digistore24 is an affiliate network that originated in Germany. It's a competitor to other famous marketplaces that are already in existence. These include Clickbank, Jvzoo, and WarriorPlus.
And like all of these marketplaces, Digistore24 also serves as a hub for both Vendors, as well as affiliate marketers.
In other words, if you have a product to sell, you can list it on the Digistore24 platform. Or if you want to earn commissions by promoting other people's products, you can sign-up as an affiliate.
I decided to sign-up for the platform, and I got to tell you that I was pretty impressed by how easy the process was.
How To Join The Digistore24 Network?
---
It's free to join.
And the process is surprisingly quick and easy. In addition, unlike with other marketplaces where they only accept registration from certain countries, Digistore24 accepts worldwide affiliates.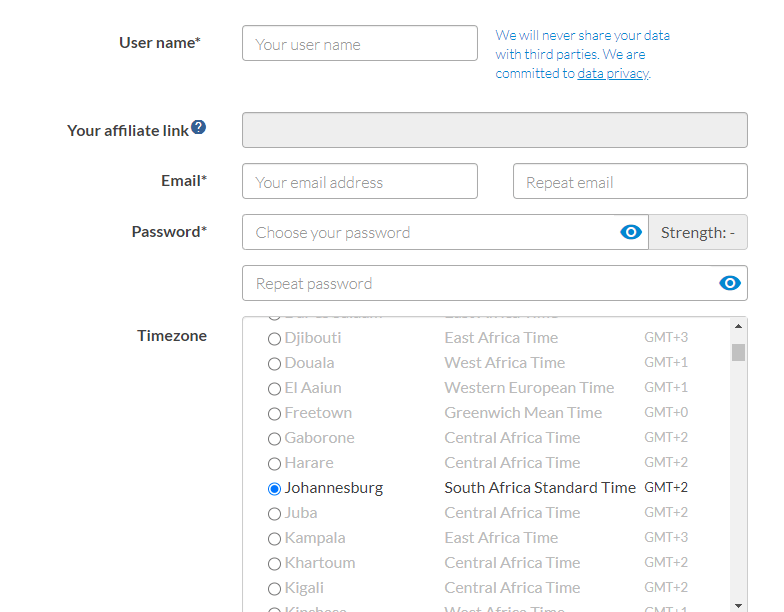 How Do You Get Paid With Digistore24?
---
The other cool part about this platform is that you can choose from different payment methods through which you would like your commissions to be processed.
You can choose from three different options :
Bank Transfer
US Bank Transfer
International Bank Transfer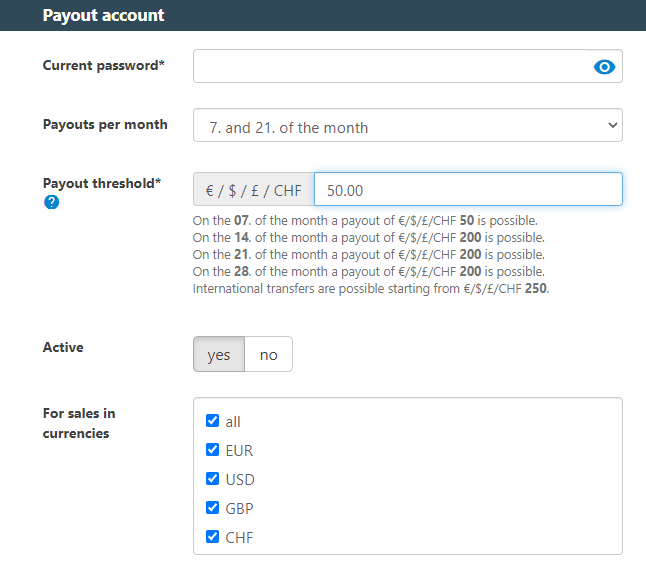 You get paid on the 7th and 21st of the month. They have various payment threshold limits. Once you reach these limits, you qualify for a withdrawal.
How To Make Money With Digistore24?
---
Once you are all signed up, you are ready to start promoting products. Like with other marketplaces, you can choose from a range of different industries. It really does depend on the niche or audience you would like to target.
Step One: Choose Your Niche
Step Two: Select a suitable product
When selecting a product, you can see exactly what the commission breakdown is. You can learn what the refund rates are per product. You can also see which products are the high-flyers on the platform.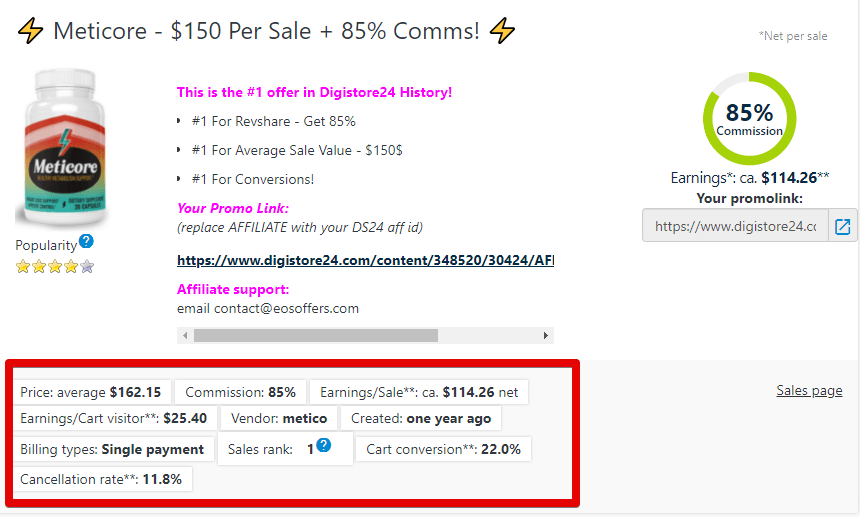 Of course, no research is complete without checking out the sales page of the particular product that you intend to promote.
Digistore24 Drawbacks
---
Though the platform is fairly easy to use, there are still some negatives about the platform.
One of the main problems is that the selections are not as much as other marketplaces. I guess that over time, this would change.
The other problem is that some products that are listed with the platform are also Clickbank products. And not all Clickbank products are high-quality products. So, one has to do proper research before choosing a specific item to promote.
Here are just some Clickbank products that I reviewed that are really not worth your time or money :
Is Digistore24 a Legit Platform? My Personal Opinion
---
I think that Digistore24 is a legit platform. However, at the end of the day, it's your job as the affiliate marketer to do the proper research before promoting products.
Remember that it's your reputation that is on the line. If you decide to promote mediocre products, sooner or later people will stop listening to what you have to say. They will eventually stop purchasing what you recommend.
Let's face it, if you would not buy the product yourself, then why promote it to someone else?
Let me end this blog by sharing with you some more of the important tips that have helped me to become a successful online affiliate marketer.
How to Become a Successful Affiliate Marketer? Essential Tips For You…
---
Do not promote products with unrealistic money claims. There are many make-money-online products that claim it will help to convert $1 into $1000 in just a few days. Or that one can quit their job in a week's time. These are just lies, designed to trap the person looking for a REAL way to build a profitable business.
The only way to promote with confidence is to either do intensive research on the product or buy it and use it first before you market it.
It's awesome that you now know the inside out of the product that you are going to be marketing.
Now, comes the part of actually marketing the product. That's how you make the all-important commissions, right?
Many folks think that just slapping the affiliate link on the social media platforms, will help them to make easy commissions. It's not as easy as that.
You see if you decide to go this route, you will be faced with two potential problems. The first is that social media platforms may not take kindly to you spamming with affiliate links. They might just take action to ban your account.
The second problem is that these days people will not just buy on the first impulse. They will do research, kind of like what you are doing by reading this blog. People will also not buy from someone, whom they do not know, like, or trust.
In other words, it's about establishing trust with your audience. Building a relationship with your buyer, before they are ready to part with their hard-earned cash.
And fortunately, for you as an online entrepreneur, there are tools like an autoresponder and funnel builder that can help you to do this. I use the ClickFunnels funnel builder, they have a 14-day trial, which you can check out here.
And lastly, traffic. No business is a business if you are not getting fresh eye-balls to your site, or offer. It's all about choosing the right traffic method.
And these four key ingredients are essential to your success as an affiliate marketer :
Choose the right product
Establish realtionship with your client
Do not be salesy in your appraoch
Choose the right traffic method
So, if you are looking to start a profitable online business, then check out my NR.1 recommendation by clicking on the following link.
How I Make Money Online
---
I transitioned from the health field to the online world. As a pharmacist, I enjoyed my profession but my own personal health challenges forced me to look for an alternate source of income. Check out my story here.
I earn a passive income online thanks to my affiliate marketing business.
The good news is that with affiliate marketing, you can build a business without having to recruit a single person. You don't have to go out there and cold-call people. You also do not have to physically interact with your customer on a continuous basis.
You can start as a complete newbie. You do not even need any sales experience
You can build a business based on your own passion, hobby, or interest. You can work in your own time. It also offers you the awesome benefit of earning a passive income online
It would be my pleasure to introduce you to this business model. I've been using it for five years. Let me help you to get started. Simply click on the link below to learn more
Thanks so much for joining me on this Digistore24 review.
I hope that it has helped you out.
Looking forward to hearing from you.
Wish you everything of the best in your online success,
Kind Regards and Take Care