WEBSITE: www.themillionairesociety.com
OWNER: Mack Michaels
PRICE: $5.64 (7-day trial) thereafter $97 +tax
OVERALL RATING: 2.5 out of 5 STARS
Can you easily make 'boatloads of cash' using the Millionaire Society system? What about the idea of the 'turnkey businesses?' Is it simple to set up within fifteen minutes as advertised?
In this Millionaire Society review, I am going to highlight to you some of the aspects that will help in answering these questions.
Is Millionaire Society a scam? Give me a few minutes of your time, and you will know the answer…

PROS
Good Support
Easy to understand video's of how the dashboard/interface works
Lots of video material
CONS
VIP membership (additional fee)
Autoresponders and hosting are additional costs
Limited 'templates' of turnkey businesses
Turnkey businesses limited only to digital products.
No FREE trial
Are there Some Useful Tools within Millionaire Society?
---
There are three tools (or sets of training), that I would like to discuss within the Millionaire Society. They are:
The Mindset Videos
Business Systems
Turnkey Businesses
The Mindset Videos
One of the things that I enjoyed listening to within the Millionaire Society are the mindset coaching sessions.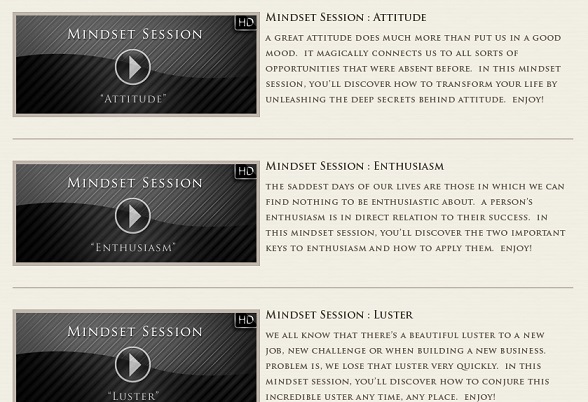 There are seven of these videos that cover topics from 'ATTITUDE,' 'SERVICE,' 'ENTHUSIASM' to 'GETTING RICH.'
The main purpose of these videos, are to motivate you and to get you to work on yourself. It's to transform your focus to becoming more positive in areas of your life that you feel needs the attention.
The SYSTEMS of Millionaire Society
There are a couple of systems within the Millionaire Society. These systems are centralized on helping you generate more traffic to your current business, or to learn how to monetize upon using certain social media platforms like Pinterest.
The first system entitled 'How to get 100k Visitors in Just One Hour,' is based purely on using paid advertising.
This means that if you want traffic or visitors to your blog, Facebook Page or Landing pages, you would have to pay for it.
I've checked this training out and must say that it mentions a legit platform for your paid advertising campaigns.
If, however, you are only starting out with your business, I highly recommend that you thread carefully when doing this.
Do your research on your target market, work hard on getting a good landing page, have a decent sales funnel and so forth. You can easily 'burn' your money if you don't know what it is that you are doing.
Now let's take a look at the turnkey business part of Millionaire Society.
The Turnkey Businesses of the Millionaire Society
The Millionaire Society lists around 125 Turnkey products. As a member, these products are available for you to download to your computer.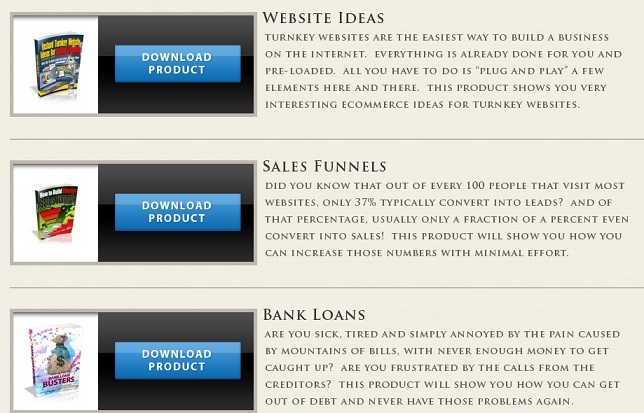 Once they are downloaded to your computer, there are two things that you can do with them.
Read through the PDF products at your leisure,
Use them as business products (All these products include a sales page)
How would you make money online from these turnkey businesses?
Use a marketplace like Clickbank. Clickbank is one of the largest marketplaces of selling digital products. You would firstly need to register as a vendor with them.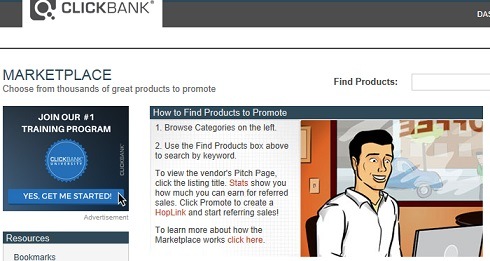 The next step would be to register one of your products (that you've downloaded from the Millionaire Society) with Clickbank.
Your profits are determined from sales generated from these products.
How easy is it really to get started with your turnkey business? 
I bought a domain name and got my own hosting sorted out (as per training instructions).
I then downloaded one of these products to my computer. It is at this point, that things did not run smoothly….
I came across a stumbling block-'How do I incorporate the files I downloaded onto my website"
I was lost. There are no forums or interactive community within the Millionaire Society to voice my problem. I had to contact the support team.
The Support at Millionaire Society – Were they Helpful?
---
Here is a snapshot of my query.
To my surprise, I got an answer from them within a good response time. Here is their reply.

One of the videos gives you a general idea on how to transfer your files to your domain. This video assumes that your domain is hosted at Hostgator and shows you to do the FTP (file transfer using the Hostgator control panel).
At the end of the day, I personally found this part a struggle as things were not very clear to me.
Now, let us move onto the final section of this Millionaire Society review.
My Final Opinion Of Millionaire Society
---
There is some decent information and training here. If you are new to the online business world, then I think that you may find some of the material educational.
As the old saying goes, ' Knowledge is never lost.'
I personally do not like using the Hostgator services for the hosting. There are numerous complaints (such as downtimes and malware attacks) associated with these guys. Check out this article on Hostgator if you would like to know more.
As for the turnkey business part, it's not as easy as it sounds. At least this is my experience. It does not take 15minutes as advertised to get a business set up and ready to make money.
If you had to go this route, promoting on Clickbank will 'not be a walk in the park.' There are tons of products, (lots of competition) listed with Clickbank. I am not saying that you will not make it a success, but it may be a challenge in doing so.
Is Millionaire Society a scam? I think in all fairness, with the information on offer, one can find something of value.
Perhaps this is something that you would like to try your hand at. If it sounds like something that you would enjoy, go ahead and give  Millionaire Society a shot!
I personally enjoy building an online business centered around my passions. I am currently doing it with two niche areas, the healthcare field and teaching people about online businesses. The positive about this is that I am able to build these businesses, within an environment where there is an interactive community.
This makes a big difference as you need that support and motivation from like-minded folks that are in the same boat as yourself. As you have witnessed, this is lacking within the Millionaire Society.

Building an online business does not necessarily have to involve selling only digital products.
You can build an online business around selling drones, juice blenders, collectable toys, football snack helmets, etc.. the list is endless. It can be built upon things that you have a vested interest in.
If you want to do it this way, then why not check out my review of a site called Wealthy Affiliate.
With Wealthy Affiliate:
You start from scratch knowing nothing about online business.
You will have up to date lessons and tools to build a solid foundation.
You will have top notch hosting(included) and daily back-ups of your business.
There are over thousands of members to help you along the way.
You will have direct access to the owners.
The best part is that you can check out their full package without paying a dime.
When you sign up for FREE, you get TWO FREE WEBSITES and access to 10 Exciting lessons to get YOU started.
CONCLUSION
---
I hope that this review of Millionaire Society has helped you out. Thanks for stopping by.
If you have any suggestions, please feel free to let me know and I will get back to you.
I wish you everything of the best in your online success.
Regards and Take Care
Roopesh