Is Superprof legit, or are you going to be wasting your time with this tutoring platform? If you've been envisioning a way to share your passion for a subject you love teaching while also earning a decent income, you've likely come across Superprof – the thriving online teaching marketplace.
But hold on a moment – does it rive up to the hype? Can you genuinely turn your passion into profit? Well, that's exactly what we're here to unravel in this straightforward review.
Did you know that the very first online tutoring session took place in 1994, marking the onset of a revolution in remote education?
Fast forward to today, and online tutoring has evolved into a global sensation, bridging the gap between students and tutors regardless of geographical boundaries or time zones.
Thanks to the emergence of virtual whiteboards, screen-sharing capabilities, and interactive tools, online tutoring has undergone a metamorphosis, offering an immersive and interactive learning experience that's both enjoyable and effective.
So, can you seize this opportunity, and can Superprof play a role in making it happen, or is Superprof's promise too good to be true? Let's delve into the details to help you form a well-informed opinion. After all, the decision is yours to make.
And while you're considering, remember that you also have the option to join my 5-day free business course, complete with a free website setup.
What Is Superprof All About?
---
Superprof operates as a unique platform that serves as a bridge between tutors and students. If you're a student eager to dive into a particular subject, Superprof can help you connect with a suitable tutor.
And if you're a tutor, this platform provides a remarkable opportunity to leverage your passions and turn them into a source of income while sharing your knowledge.
According to Superprof's official website, the company boasts a global presence across 39 countries and offers its services in 18 languages.
The journey of Superprof began in August 2013 in Biarritz. Since its inception, it has steadily expanded its footprint, starting from Europe and gradually reaching out to the far corners of the world. Notably, the year 2019 marked a significant milestone for the company, as it celebrated reaching 10 million tutors.
In the following year, 2022, Superprof's tutor count grew to an impressive 22 million. As we step into this year, 2023, the company proudly celebrates its 10th anniversary, marking a decade of facilitating learning and knowledge exchange.
Recommended Reading: Prolific Surveys Review – Great BeerMoney Site Or Scam?
Who Are The Owners Of Superprof?
---
The brains behind Superprof are Wilfried Granier and Yann. Wilfried Granier serves as the co-founder of Superprof, and you can even catch him discussing the company on a YouTube video.
Back when Superprof was gaining momentum, their workforce consisted of 70 dedicated individuals who operated from their knowledge-sharing hub in Paris.
The core concept that underpins Superprof's existence is to function as a vast search engine, facilitating students in finding their ideal tutors from an expansive pool of millions of teacher profiles. This approach aims to make the process of connecting students with the right educators as seamless as possible.
How Does Superprof Work?
---
Once you've become a Superprof teacher, the process is quite straightforward. After signing up, you get to select the subjects you'd like to teach.
The platform offers a diverse array of options, and some of the most popular choices include:
Mathematics
Spanish
Piano
Violin
French
Academic English
Acting
Guitar
Don't worry if your preferred subject isn't on this list; Superprof boasts a selection of over 1000 subjects to cater to a broad range of expertise.
In my case, I went with Biology, a subject that has always fascinated me since school. It seemed like an excellent opportunity to test my knowledge and lend a hand to others.
An interesting feature is that you can link related skills to your profile. For me, this meant adding Anatomy, Cell Biology, and Genetics to my profile.
Next comes the creation of your ad on the platform.
Making an ad is a relatively simple process. You need to provide a brief description of your skills in a minimum of 12 words and share a bit about your background. This is followed by explaining your areas of expertise and showcasing why you're the perfect choice for students seeking a tutor like you.
The final section of the ad is crucial. This is where you instill confidence in potential students, highlighting your professionalism and establishing yourself as a credible educator.
You also get to decide whether you'd like to conduct tutoring sessions from the comfort of your home, offer in-person sessions, or opt for online teaching. Additionally, you can set your hourly rate. FMe as a Biology tutor in New York, I chose to set my rate at $10 per hour.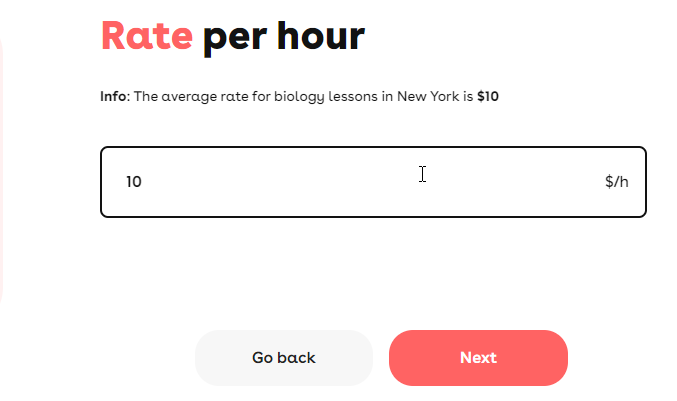 This process sets the stage for potential students to discover you and take advantage of your teaching skills, all while you earn money doing what you love.
How Much Do You Have To Pay Superprof to Register as a Teacher?
---
When it comes to registering as a teacher on Superprof, there are a couple of ways the platform generates revenue from freelance tutors like you:
Commission or Processing Fee: Superprof

charges a 10% commission or processing fee on the earnings from any jobs facilitated through the platform.

However, it's worth noting that in some countries, this fee might be waived. Additionally, if you choose to teach your students outside of the Superprof platform, you can avoid this fee altogether.
Premium Club Membership: Another option is to join the

Superprof Premium Club which costs $9 per month.

By becoming a Premium member, you can bypass the 10% commission fee entirely. Moreover, this membership offers an added advantage: it increases the visibility of your profile to potential students, potentially leading to more opportunities.
So, whether you decide to go with the standard commission-based arrangement or opt for the Premium Club membership, Superprof provides flexibility in how you choose to manage your earnings on the platform.
Can Anyone Register On Superprof? The Superprof Requirements
---
Superprof welcomes individuals who meet certain requirements to register as teachers on their platform.
To become a Superprof teacher, you should:
Be at least 18 years old.
Possess valid proof of identity.
Have the essential tools and equipment to effectively teach your students, whether it's through online sessions or in-person classes.
While having a qualification is not a strict requirement, it can certainly enhance your profile and increase your chances of securing teaching opportunities. So, if you have relevant qualifications or expertise in your chosen subject, it can be a valuable asset that sets you apart from other tutors on the platform.
How Can You Get More Jobs on Superprof?
---
Getting more teaching jobs on Superprof can be influenced by several factors. If you opt for a highly popular subject, you might face stiff competition.
However, your experience and qualifications can significantly enhance the visibility of your ad and attract more students to your profile.
Here are some strategies you can employ to increase your chances of landing teaching jobs on Superprof:
Start with Competitive Rates:

Initially, setting your fees at a competitive level can help you attract students who are price-conscious.

Build a Strong Portfolio:

Accumulate positive reviews from students you've taught. These reviews act as testimonials and can greatly influence prospective students' decisions.

Offer an Introductory Discount:

Offering a discounted rate for the first lesson can entice new students to give your tutoring services a try.

Become a Premium Club Member

: Joining the Premium Club can improve your profile's visibility and increase your chances of being noticed by potential students.

Gradually Increase Fees:

As you gain more experience and positive reviews, you can gradually increase your fees to reflect your expertise.
Remember, it's a combination of your qualifications, reviews, pricing strategy, and profile visibility that will contribute to attracting more students to your Superprof teaching profile.
SuperProf Reviews – Are People Happy With Using Superprof?
---
Superprof has received positive feedback from users.
According to a third-party review site, Glassdoor, Superprof holds a solid 4.2 out of 5-star rating. With 284 reviews recorded, an impressive 89% of users expressed willingness to recommend Superprof to friends or family.
Here's a concise overview of the advantages and disadvantages highlighted by reviewers on Glassdoor: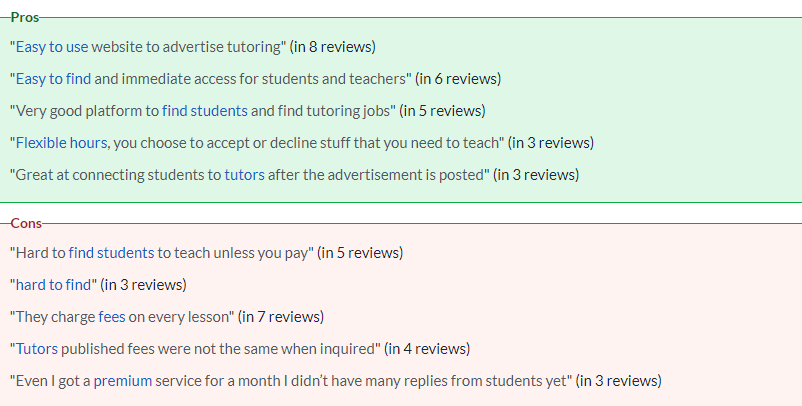 Pros of Superpro
---
Owner Transparency: The platform is known for its transparency regarding ownership and operations.
Active Social Media and Blog: Superprof regularly shares content on their social media profiles and blogs, contributing to their online presence and engagement.
Established Reputation: With a longstanding presence in the market, Superprof has built a reputable position over time.
Flexible Teaching Arrangements: Teachers have the option to arrange lessons outside the Superprof platform, bypassing commission fees.
Efficient Payment Processing: The platform offers quick and efficient methods for processing payments to tutors.
Cons of Superprof
---
Tough Competition: Due to its popularity, there is no guarantee of securing teaching jobs, especially when facing high competition from other tutors.
Limited Earnings Potential for Popular Subjects: If you teach a subject with a lot of competition, your potential earnings might be lower.
Commission Fees: Tutors are required to pay a 10% commission on jobs facilitated through the Superprof platform
Is Superprof Legit? My Personal Opinion
---
Superprof is a legit online teaching marketplace.
With a solid presence in the market and a broad range of subjects available for both students and tutors, Superprof offers a genuine platform for educational exchange.
However, it's important to understand that success on Superprof is not guaranteed.
The outcome largely depends on several factors, such as the subject you choose to teach, the competitiveness of that subject, your profile's attractiveness, and your level of experience. Popular subjects might have more competition among tutors, potentially impacting your earning potential.
If you find yourself in a unique niche with demand, you have the opportunity to set competitive fees and earn a decent income.
While Superprof is worth exploring, it's advisable not to solely rely on it for your income, but rather treat it as a supplemental source of earnings.
What Are The Alternatives To Tutoring That I Can Do?
---
You've raised an excellent question, and having alternatives is always a smart approach. Here are some alternative ways to leverage your skills as a teacher to generate income:
1. Content Creation: You can kickstart a blog, YouTube channel, or social media profiles focused on your subject of expertise.
Share engaging and informative content, including educational videos and insightful articles. Monetization can come from ads, sponsorships, and affiliate marketing. For instance, you could recommend biology-related books, equipment, or online courses and earn a commission for each sale.
2. Online Courses: Utilize your expertise by creating an online course. Platforms like Udemy and Teachable allow you to host and sell your courses to a global audience.
3. Affiliate Marketing: Merge your passion with income by partnering with companies offering products or resources related to your subject. Promote these products through your content, social media, or blog, and earn a commission for each sale generated through your referral links.
For those interested, I highly recommend exploring my top recommended online business platform. It offers a free starter membership to help you dive into affiliate marketing and more.
How I Earn An Income Online
---
My journey from the health field to the online world led me to discover affiliate marketing, a business model that allows me to earn a passive income. Read my story here.
With affiliate marketing, you can promote products or services without engaging in recruiting or direct selling. It's an ideal business model for beginners, even if you lack marketing or technical experience.
Affiliate marketing provides the freedom to build your business around a topic or niche that interests you, and you're not limited to promoting only one product or service.
If you're curious about how affiliate marketing can help you achieve financial freedom, click the link below to learn more about my recommended business opportunity.
Thank you for joining me on this Superprof. I hope this information has been helpful in guiding your decision. If you have any questions or thoughts, I look forward to hearing from you.
Regards,
Roopesh