Welcome to my Life Mastery Accelerator review. What is the truth about Stefan James' course? I noticed that the name of his course was previously branded as Online Business Mastery Accelerator. Now it is Life and Business Mastery Accelerator.
Whatever name it goes by, you are here because you want to know if Life Mastery Accelerator is a scam or a legit course. And that is what I am going to be helping you to decide today.
My name is Roopesh and I have been doing affiliate marketing since 2015. I have reviewed tons of make-money-online business opportunities. As you might guess, there are plenty of scams, and mediocre business programs out there.
On the same note, there is a legit way to make money online. Check out my number recommendation by clicking the link that follows :
What Is Life Mastery Accelerator?
---
Stefan James is the founder of Life Mastery Accelerator. Stefan is a very successful online entrepreneur. I reviewed one of his courses called Affiliate Marketing Mastery a while back.
He has a huge Youtube following and has other programs such as the Life Mastery program, and the Project Life mastery cheat sheet. If you want to check out some of his stuff, you can download the Morning Ritual mastery pdf for free.
Stefan's goals with the products he releases are two-fold.
The first part is to help people build an online business and create financial freedom. The second part is to help them achieve mastery in every area of their life.

According to Stefan, Online Business Mastery Accelerator is "an online business and marketing" advice service.
It's a monthly service where Stefan goes live to help you to master every area of your life.
Stefan believes that if you want to succeed and master every aspect of your life then you need to :
have the desire to learn new ideas, concepts, and strategies.
have a caring and supportive mentor that will be by your side to give you the motivation and inspiration to go forward,
commit to going forward and not let procrastination and laziness hold you back.
What Do You Get With Life Mastery Accelerator?
---
Should you decide to join Stefan's program this is what you would get:
Live Monthly Coaching Webcast with Q & A
A one-on-one coaching session with Stefan would be pretty expensive. And that's the reason why you get to work with him via his live calls, it is much more affordable.
Each month he would cover a different aspect of your life from relationships, to money, to health, mindset, beliefs, etc.
The live calls are recorded,so you will have the chance to view it in your own time. But the real prize of course is that during the live session, you can ask him any questions you want!
So, I would advise you to try to show up for the live sessions.
2.Mastery Training and Audio Video Series
These are in-depth training series offered by Stefan.
3. Bonus One: The Mastery Mentality
A 60-minute training video to help you build the right mindset to succeed in any area of your life.
4. The Life Mastery Blueprint
Stefan shows you his Life Mastery Management System (LMMS). A blueprint to master every part of your life.
5.Bonus 3: Weekly Evaluation Ritual
This video will help you to lay out the plan for you to stick by every week to achieve personal mastery.
6. How to Create Vision, Purpose, and Goals for Your Life
This is where you get an insight into Stefan's life plan and the vision and ultimate purpose that he set for his life.
The main point is to get you motivated and take action and go forward and achieve your dreams.
What Can You Learn From Stefan James?
---
As I showed you earlier, the program is designed to offer you advice on important topics. There are several testimonials on his Life Mastery Accelerator website.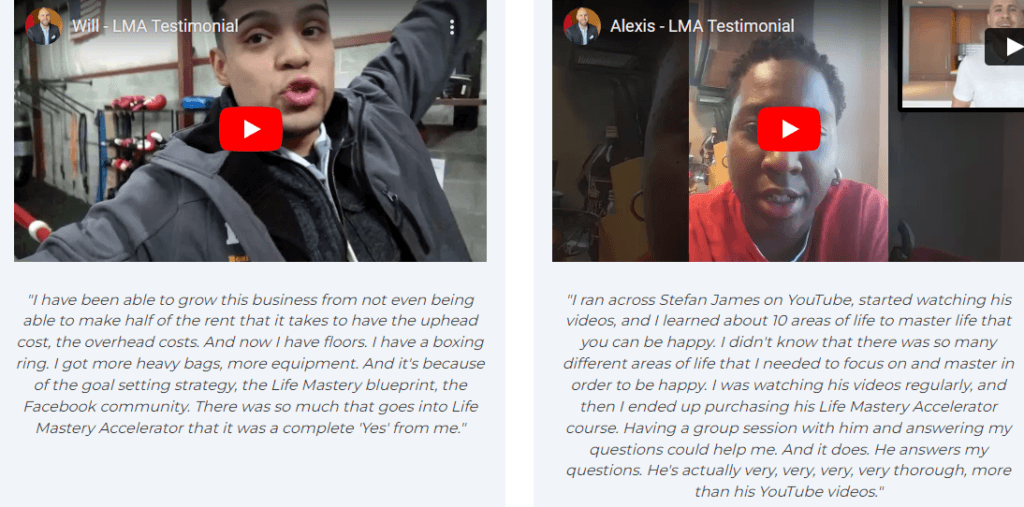 The testimonial on the left-hand side is that of Will. He gives credit to "the goal-setting strategy" for helping his business grow.
The testimonial on the right side is that of Alexis.
According to Alexis, the LMA program has helped her to become happier by mastering 10 areas in her life.
Another testimonial was that of a gentleman who has lost 20 pounds since starting the Life Mastery Accelerator program. And the last testimonial was that of a lady who was able to set herself well-defined goals and targets in her life and it has made her purpose more meaningful.
The point is that Life and Business Accelerator is NOT a program that will help you to start an online business from scratch.
In fact, in the next section, I will show you some of the topics that Stefan will cover.
Life Mastery Accelerator Curriculum
---
Here are some of the topics that are included in the Life Mastery Accelerator Program.
Letting Go, Relationship Advice, Changing Careers & Habits
• Improving Social Skills, Overcoming Anxiety & Finding Your Why
• Health Testing, Managing Emotions & Starting A Business
• Personal Development, Microdosing, Vaccine Mandates & More
• Dating & Relationship Advice, Investing $100,000 & Creating Freedom
• Creating Freedom With An Online Business, Relationships, Motivation & More
• Weight Loss, Finding Happiness, Dividend Stocks, Crypto & More
• Changing Behavioural & Emotional Patterns, Anxiety & Investing
• Coaching Q&A – Healing Trauma, Stock Investing & Finding Your Passion
• Habits, Energy, Visualization & Public Success
• The Best Way To Start Self-Development

• Advice On Parenting, Relationships, Sleep Optimization, Habits, And More
• How To Find Fulfillment In Your Career
• From Suffering To Freedom: Changing Your Hidden, Most Limiting Beliefs
• 10 Keys To Mastering Anything In Your Life
• Discovering Your Subpersonalities: How To Create Deep Identity-Level Change
• How To Break Bad Habits And Create New Habits For Success
• The Secret To Success
• How To Find Your Core Life Values
• 21 Habits For Health, Wealth, and Happiness
• Mastering Time Management: How To TRIPLE Your Productivity
• Sexual Transmutation: How To Channel Your Sexual Energy Into Success
• My Beginner Stock Investment Portfolio For Long-Term Wealth
• Meditation For Beginners: How To Relieve Stress, Anxiety And Calm Your Mind
• Change Your Story, Change Your Life: How To Transform Your Experience Of Life
• How To Get The Most Out Of Your Year
• How To Reset Your Baseline Happiness And Fully Enjoy Life
• How To Thrive Amongst Life Challenges
• Power Couple Secrets: How To Achieve Massive Success As A Couple
• How To Change Your Limiting Beliefs And Create Empowering Beliefs
• The 4 Archetypes Of Self-Mastery: King, Warrior, Magician, Lover
• How To Change Your Emotional State Instantly
• 12 Powerful Strategies To Learn Anything Faster
• How To Meet And Attract Your Soulmate
• The Relationship Ritual: How To Create The Perfect Relationship
• How To Become A Spiritual Millionaire
• 7 Life Changing Health, Energy, and Vitality Habits
• The 4-Step Process For Changing Your Limiting Beliefs
• How To Master Your Emotions & Create Unstoppable Confidence
• How To Attract And Create The Ultimate Relationship
• How To Find And Live Your Mission In Life
• How To Start Investing For Financial Freedom
• How To Create Your Empowering Ecosystem
• Creating Your Perfect Day
• How To Be Spiritually Alive And Change The World
• Goal Setting Workshop: Strategies For Your Best Year Ever
• How To Create Lasting Motivation And Consistency Towards Your Goals
• Mastering Time Management: 12 Strategies To TRIPLE Your Productivity
• How To Change Negative Thoughts, Emotions, Habits And Behaviors
• Mastering Meaning: How To Find The Good In Everything
• How To Be A Great Leader: The Essential Qualities Of Leadership
• How To Cleanse And Detox Your Body For Peak Energy
How Much Does Life and Business Mastery Accelerator Cost?
---
You can purchase the Life Mastery Accelerator at a yearly fee of $297 per annum. Or you can purchase it at $29 per month.
Does Stefan's course have a money-back guarantee?
Yes, there is a conditional 30-day money-back guarantee. If you implement all of his teachings for 30-days and you get no result, then he will refund your money.
Pros of Online Business Mastery Accelerator
---
Stefan James is a legit entrepreneur and has a huge social media following
The course covers many areas
They have a private FaceBook group
They have a 30-day refund policy
Cons of Online Business Mastery Accelerator
---
It's not a structured program to help you start a business from scratch
There are other programs or courses which Stefan promotes that are additional charges
Is Life Mastery Accelerator a Scam? My Personal Opinion
---
In my opinion Life Mastery Accelerator is certainly not a scam.
You have owner transparency. Stefan James is a successful entrepreneur and if you are already on the path to building your online business, then I believe his teachings are an asset.
From personal experience, having the tools, and the training is just one part of the puzzle to becoming an online success.
You will encounter your fair share of challenges, and many times you will be tested along your online journey. That's why I think that to have that person to coach you through the struggles and give you that moral support is necessary. And Stefan is offering you that.
And these days, some online business courses, do not offer any mindset training whatsoever!
Yes, I would recommend this course as an add-on if you are currently building your business.
I would not recommend it if you are looking to start an online business and want to join a business building platform.
Here are my alternative recommendations if you want a solid online business teaching course.
How I Earn A Passive Income Online
---
I transitioned from the health field to the online world.
As a pharmacist, I enjoyed my profession but my health challenges forced me to look for an alternate source of income. Check out my story here.
I earn a passive income online thanks to my affiliate marketing business.
The good news is that with affiliate marketing, you can build a business without having to recruit a single person. You don't have to go out there and cold-call people.
You can start as a complete newbie. You do not even need any sales experience
You can build a business based on your passion, hobby, or interest. 
You can work in your own time. It also offers you the awesome benefit of earning a passive income online
And one of the important benefits is that it is a low-risk business model, and it does not cost much to get started.
It would be my pleasure to show you more about how it works. I've been using it for five years. Let me help you to get started. Simply click on the link below to learn more
Thanks for checking out my review. Life Mastery Accelerator review.
Hope that it has helped you out.
Regards and Take Care
Roopesh