Is the Legendary Marketer a scam? Welcome to this Legendary Marketer review. Are you looking to make money online? Then you might be considering signing up for David Sharpe's Legendary Marketer. Is it a scam, or it is really worth your time and money?
Today I am going to show you how Legendary Marketer works. You will see exactly what they are selling. You will also learn how the training is designed for someone who is new to the online world. Many folks are under the impression that Legendary Marketer is a course where you join, and as a member, you make money by promoting it to others. Is this really true? I will be addressing this concern as well.
Can you really make money with Legendary Marketer? All of these questions will be answered in this post. So let's get started.
Who is David Sharpe?
---
David Sharpe is the CEO and founder of the Legendary Marketer program. During his early school days, he had much resistance to expressing his creativity and high energy. The teachers would constantly reprimand him. He was punished at school for using a different path to get the answers to certain maths problems, even though they were correct.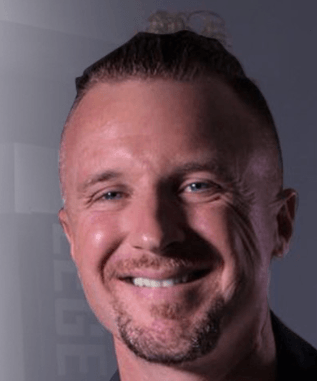 David goes on to share more of his life during his high-school days. He turned to alcohol and drugs to help relieve him of the anxiety of test-taking and homework. He dropped out in 9th grade, and the addictions pursued eventually led him to the point of heroin addiction.
He had dreams of becoming a professional baseball player, but as a teenage dad, he worked with his dad in the construction business.
But he turned things around for himself and stayed clean from drugs and alcohol. Now with over 10 years in the game of online entrepreneurship, David had founded 3 multi-million dollar companies from scratch. And educated over 500 000 entrepreneurs worldwide.
This brings us to chatting about his flagship online business building program, called the Legendary Marketer.
What is Legendary Marketer All About?
---
Legendary Marketer is marketed as 'a school for online marketers.' There is a host of courses, tools, and resources along with support available on the Legendary Marketer platform. I will be diving deeper into them shortly.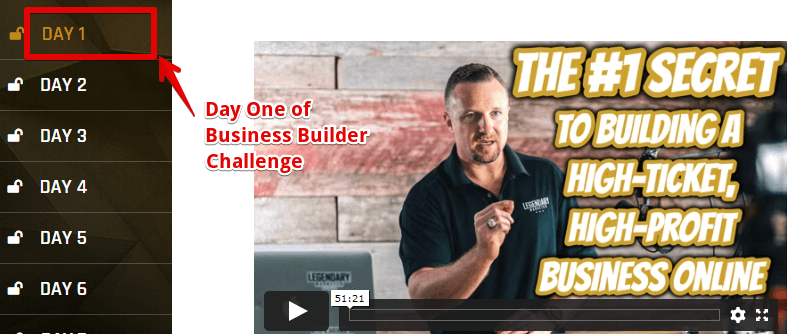 But in one of the popular challenges, the Legendary Marketer 15-day Business Builder challenge, on Day One, David talks about how the current schooling system has and continues to fail us. He believes and so do I that school, college, and varsity only groom one to become a really good employee.
With no freedom to exercise one's creativity and work within the confines of a job, stuck in a regular routine, and " become slaves to debt and work the next (and best) 40 years of our lives to pay it off."
And Legendary Marketer is born to challenge the system. The main purpose of Legendary Marketer is to either help you build a thriving online business if you are a newbie or Grow An Existing Business Using Cutting Edge Sales, Marketing, and Management Strategies.
How Different Is Legendary Marketer From Other Business Courses?
---
What exactly is it that you are going to be learning from Legendary Marketer?
David believes that not all business models are good. You get the good, the not-so-good, and the ugly business models.
The Ugly Business Models
These are the mediocre opportunities and the downright scams. The mediocre opportunities are those like the online surveys and get-paid-to(or GPT) sites. These are like Bitpaye and WPP10.
The Not-So-Good Business Models
According to David, these business models are not bad, but they do have some flaws. And these kinds of businesses are opportunities such as :
MLMs or multi-level-marketing companies,
e-Commerce,
Real-estate flipping, and
Low ticket affiliate marketing.
Now you probably might have been involved in one or two or maybe all of the above, and you might be asking," but what is wrong with those business models, they have been around for ages?"
And you are right, they have been around for a long time. Allow me to show you what flaws David sees in them.
The Good Business Models
Jay Abraham is one of David's mentors. And he taught David that a good business model, one that is sustainable and profitable in the long-run should fulfill three criteria.
Number One:

You must be able to get more customers coming into your business

Number Two:

You must be able to do repeat sales to your existing customers

Number Three:

You must be able to sell high-ticket products or services to your customers
The two categories of business models that I just mentioned do not fulfill ALL THREE of the above criteria.
So then which business models exist that do fulfill these criteria?
They are the following:
High-Ticket Affiliate Marketing,
Selling Digital Products,
Coaching and Consulting, and
Events and Masterminds.
And as you might have guessed, this is what you will be learning when you sign-up for Legendary Marketer.
There are other courses that they sell as well. So, in the next section, I am going to walk you through the Legendary Marketer course breakdown.
Legendary Marketer Course Breakdown
---
The platform consists of low-priced products, to intermediary to higher-priced products. I will give you a breakdown of the prices in the next section.
First, let's take look at the courses.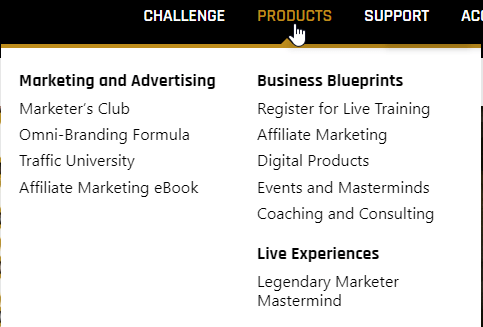 The Legendary Marketer Business Blueprints
Their main courses are the Legendary Marketer business blueprints. There are four main blueprint courses that cover all of the major business models that David teaches.
You DO NOT have to purchase all of them. If you want to learn how to become a successful affiliate marketer, you only need to purchase the Affiliate Marketing Business Blueprints.
Selling digital products offers much more advantages than selling physical products. You do not have to worry about shipping, international customers, taxes, laws, importing, inventory management, and so on. If you want to learn how to channel your knowledge or passion into an audio, video, or written format, from planning your curriculum to delivery, then you can register for the Digital Products Business Blueprints.
If you have specific expertise that is high in demand and would like to turn it into a service-based business where you work on a retainer or contract basis, then you can purchase the Coaching and Consulting business blueprint.
And finally, if you have the passion to speak or facilitate a live gathering and would like to make an impact with your work and profit, then you can buy the Events and Mastermind Business blueprint.
2. Legendary Marketers Club
The Legendary Marketers Club is a monthly subscription service. You get training, resources, and education that will help you to start, grow and scale your online business.
Some of the highlights of being a member of the club are that you get :
Live Q&A sessions with 6 and 7 figure earners
The Journey To 250,000 YouTube Subscribers class
Sales Secrets From The 5-Billion Dollar Man
3. Traffic University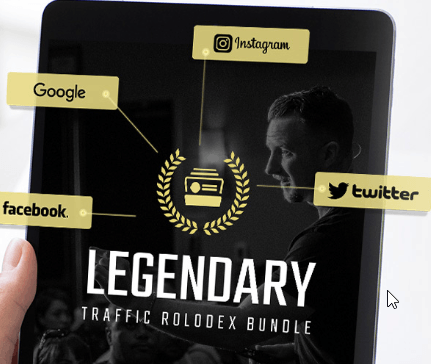 The Legendary Marketer Traffic University is an eight-module bundle. You will be learning about how to become a success with paid advertising across all the major platforms such as Google, YouTube, FaceBook, Instagram, and Twitter.
They will teach you the mechanics of creating compliant landing pages for each platform and how to generate leads without losing your accounts.
4. The Insider's Guide To Affiliate Marketing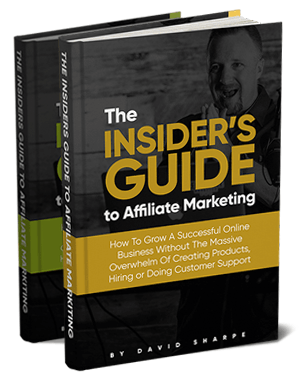 This is an ebook written by David Sharpe.
What is The Legendary Marketer 15-Day Business Builder Challenge All About?
---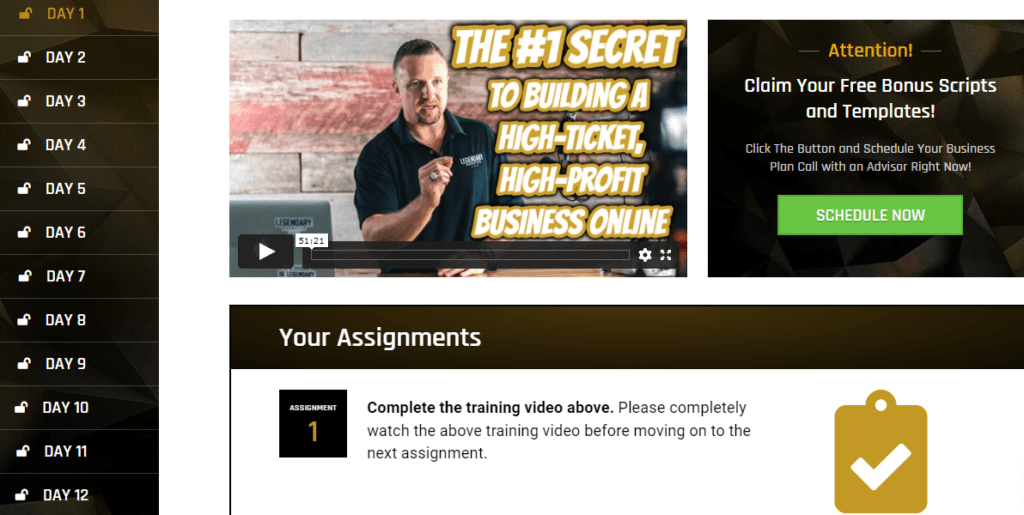 The 15-day business builder challenge is conducted by David Sharpe. Over a period of 15 days, you will learn how to get started with building your first online business. It's not just about watching a video every day. You also need to complete assignments and liaise with a business advisor, who will help you set up your business plan.
Let me highlight just some of them stuff you will be learning in the Legendary Marketer 15-day business builder challenge.
You will :
Learn about the 4 robust business models,
Get motivation videos, mindset training, insights from 6-7 figure earners, member testimonials,
Learn about the structure of a business funnel, and
Learn about the 3 high-income skills
I enjoyed the videos about high-income skills.
How much does it cost to join the Legendary Marketer business builder challenge?
It cost just $7 to join the challenge.
I think if you are new to the online business world, and not sure if Legendary Marketer is for you, then signing up for the challenge is a good start.
You will get a taste of what the main course will be all about. And from there, you can decide whether you should spend more on the other products.
How Much Does It Cost To Join the Legendary Marketer?
---
Here is the price breakdown of the various Legendary Marketer products.
Legendary Marketer Business Blueprints(

once off

)- $2,500
Traffic University

(one time payment)

– $1,497
Omni-Branding Formula + Bonuses(

one time payment)

– $47
Marketers Club

(monthly fee)

–$30
Can You Make Money With Legendary Marketer?
---
Are people happy with Legendary Marketer? There are tons of success stories on the official Legendary Marketer website.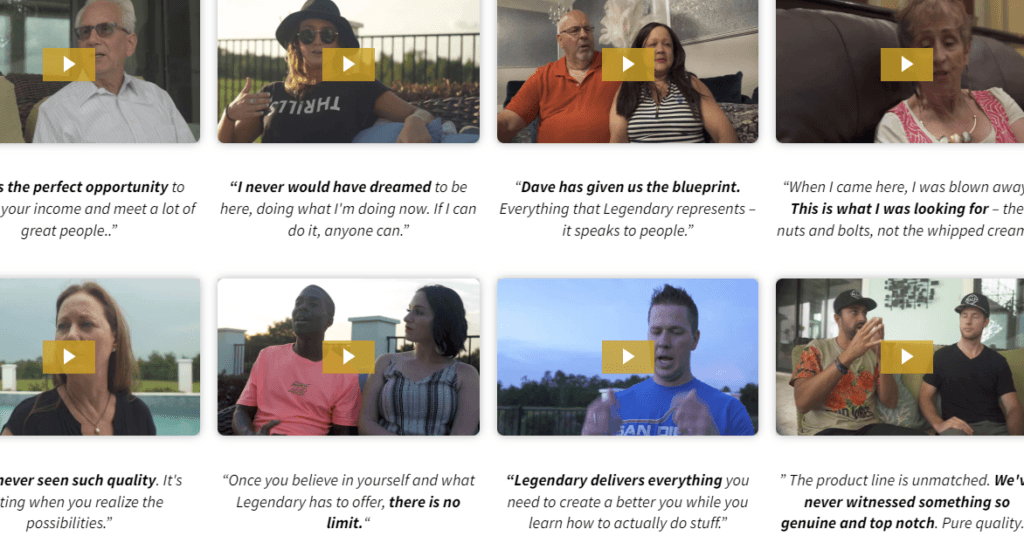 There are many folks who bought the LM products, Take a look at some of them within the Private Legendary marketer FaceBook Group.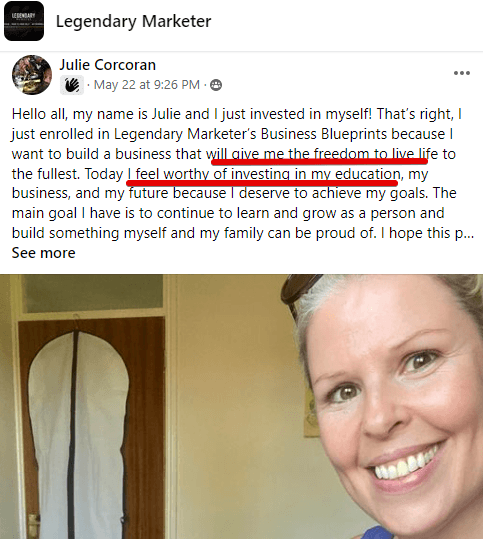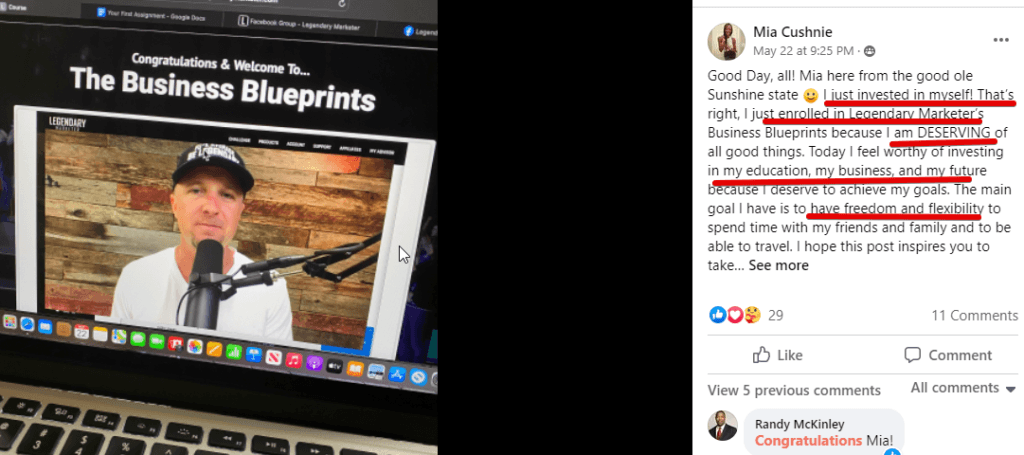 Many folks ask if the training is only geared toward promoting the Legendary Marketer platform. And that is NOT TRUE. The products are designed to help you pursue a career in any business field or knowledge area that you are comfortable with. You are not forced in any way to promote Legendary Marketer.
For example, take a look at the next screenshot.
The gentlemen in the image above want to use the training from Legendary Marketer to teach people how to drive trucks.
Let's take a look at some of the pros and cons of David Sharpe's Legendary Marketer.
What I Like About Legendary Marketer
---
You can test-drive the platform by doing the 15-day business challenge
They have a refund policy in place
There is a REAL owner
The platform has been around for long
They have tons of success stories or member testimonials
Lots of products to cater for both newbies and experienced marketers
They teach you real business-building skills
Lots of support along the way
What I Do Not Like About Legendary Marketer
---
The blueprints are expensive
The affiliate program is limited to certain countries
There are additional tools such as funnel builders and autoresponders which you have to buy
Some Commonly Asked Questions About The Legendary Marketer Course
---
Can I be successful with Legendary Marketer if I am a newbie?
Answer :
Legendary Marketer teaches you real marketing strategies. As a newbie, you will get the foundational education for your business. But you also have the opportunity to tap into the goldmine of information from people who have built 6-7 figure businesses.
Do I really need to purchase the Legendary Marketer blueprints?
Answer:
According to David, he will teach you the high-income tools that will make your business blueprint come to life! The path to success as a digital marketer is going to always require a blueprint.
How Will You Benefit from Joining Legendary Marketer?
---
At the end of the day, it's about YOU! It is about how something is going to help you or make your life easier.
So, what benefits will you get from joining Legendary Marketer?
Benefit One: You Are Not Alone
From the moment you join the 15-day business challenge, you will not be alone. You will be amongst many other like-minded folks who are on the same journey as yourself. You will also have a business advisor beside you.
Benefit Two: Your Business Will Be Location Independent
They are going to be teaching you to build a business that you can do from anywhere and do at any time. Since it's online, you got minimal overheads. You do not have any start-up headaches that come with the traditional brick-and-mortar business.
Benefit Three: ELF vs HALF
You will be learning a business model where the principles are Easy to follow, it will be Lucrative for you, and Fun to do.
And not H.A.L.F. Which is hard, annoying, lame, and frustrating.
Benefit Four: Proven Track Record of Success
Many folks who followed the training to the 'T' made it a success. You have to just be consistent and follow the training and never give up.
Is The Legendary Marketer A Scam? My Personal Opinion
---
In my opinion, I do not think that Legendary Marketer is a scam. The support is good, they have a proven track record of success and have been in the industry for a long time.
Yes, I do believe that some of the products are expensive. However, from my own personal experience, it is much cheaper than what I paid to study for my degree.
I am of the opinion that the investment that you make is an investment towards learning REAL high-income skills.And as long as the internet is going to be around, these income skills will always be needed.
Once you learn them and mastered them you can use them to build one or more of your own online businesses or charge others to help them build theirs.
In other words, whatever you will be learning at Legendary, will be a lifelong investment.
Let me leave you with a quote by David Sharpe,
You are already in the right place with the right people. I would not be doing this if I believe wholeheartedly that I can help you in a way that nobody else can.

I believe we are the best in the world, not because we know what we are talking about, but because we know how to support people and help them and believe in them until they can believe in themselves….

Davis Sharpe
Thanks for reading my Legendary Marketer review.
I hope that it has helped you.
If you have any questions or comments, please leave them below and I will definitely get back to you.
Would you give the business builder challenge a go?
Please share this post with others whom you think will help.
Thanks so much, you are awesome.
Take Care