Welcome to this Wpp10 review. Would you like to make easy money online? All you have to do is complete simple online tasks, and you will get rewarded in cash! Does that sound exciting? Well, that is what is promised should you decide to register with the Wpp10 website.
Is Wpp10 a scam or is it a legit way to make money online? I took this app/website for a test drive and would like to show you what is going on here. Is Wpp10 a pyramid scheme? Can you really make good money here, or should you run away from this opportunity?
These days there are so many make money online opportunities, that with some clever marketing, and emotional triggers, people can make online scams look like the real deal. So, then how do you distinguish between legit businesses and scams? Simple, you just do the research.
And that is exactly what you are doing right now!
Congratulations on taking the time to do your research before you go all-in with this particular opportunity. 
There are tons of scams online. But on the other side of the coin, there is a legit way to make money online. 
Having said that, let's dive into this Wpp10 review to see what this opportunity is all about.
WPP10 APP REVIEW -SUMMARY BOX
OVERALL RATING: 0.5/5
WPP10 is a GPT site. You can earn cash for completing certain tasks. However, there is no guarantee that you will be getting any tasks so your earning potential is uncertain.
Furthermore, they have expensive VIP packages. The only way that one can earn higher commissions is through the purchase of these packages and recruiting others to do the same.
The company is in existence for less than 6 months, but claim they have invested 1 billion dollars. There is no owner transparency. I would not recommend this opportunity.
My Recommendation: If you are interested in building a business with real income potential, that is affordable to start, click below :
Who are the Founders of the Wpp10 website?
---
The official website does not have any information on who the owners or founders are. Later on, when we talk about the membership plans, I will show you that there are some huge investment plans that the company offers.
And the fact that there is no owner transparency is a red flag. Would you seriously go into business investing your hard-earned cash with someone who 'hides behind the curtains?'
Anyway, I did manage to find out when the official site was registered. According to Whois, it was only created on the 27th of October 2021.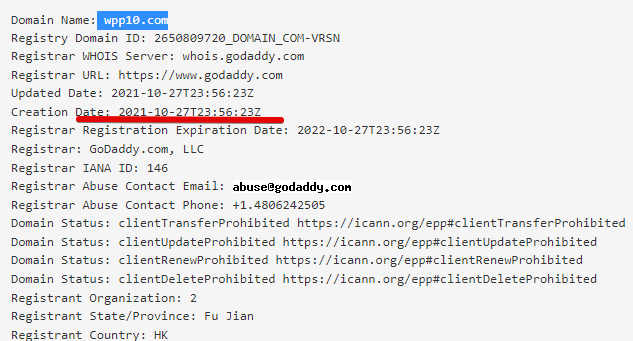 Another interesting thing is that on the official website, they claim to have served the public for a period of one year! How can that be possible if they are only in operation for just 5months(the time of writing this post is 28th of February 2022)?

Let's take a closer look at what the company is all about?
What is WPP10 All About?
---
The mission statement of the company is not very clear. The founders claim that the purpose of the website and their business proposal is to help South Africans to recover financially from the impact of the pandemic.
"The reason we exist is to help more people escape the hardships of unemployment and employment."
Basically, WPP10 is a GPT or a 'get paid to' initiative. With GPT sites members get rewarded for completing certain tasks. Some of these tasks may include downloading an app, watching a Youtube video, playing games, or even testing a new site.
Some sites reward you with Amazon Gift cards, or with points. In this case, you can earn cash for completing tasks. But they also have a referral program that allows you to earn from the efforts of friends whom you invite to join the company.
Check Out Some other GPT Sites that I have reviewed :
How Does WPP10 Work? Inside The Members Area
---
Initially, it's free to join.
You can only successfully register if you have an invite code. Once you are in the member's area, you can stay as a free member and earn cash for completing a limited number of tasks. Or you can upgrade to one of their VIP membership plans and get more tasks and earn more money.
You start off as an intern. As an intern, you get five daily tasks, and for each task that you complete, you can earn 5 rands or R5.
At the time of writing this review, there were no active tasks for me to do. So I had to wait for something to come up.
The WPP10 Vip Member Packages
There are six paid VIP membership packages that you can choose from.
VIP 1: Cost R400
VIP2: Cost R800, 10 Daily Tasks
VIP3: Cost R2100 15 Daily Tasks
VIP4: Cost R7200 30 Daily Tasks
VIP5: Cost R25500 50 Daily Tasks
VIP6: Cost R51000 40 Daily Tasks
The higher the plan you buy, the more tasks you get. In addition, the higher the commissions will be per level.
VIP 1 and VIP 2 each will pay out R5 per task.
VIP3 will pay out R10 per task.
VIP 4 will pay out R15 per task.
VIP 5 will pay out R50 per task.
VIP 6 will pay out R75 per task.
So, the projected monthly income will be higher as one progresses to a higher level.
The company also has plans for the other levels such as a regional agent and recruitment director, but no further info is available on this.
The WPP10 WithDrawal Limits
---
They allow you to withdraw your funds at any time. Payment is made into your bank account. You have to have your bank account with ABSA, Capitec, or Nedbank.
But you have to reach a certain limit each time you want to have a withdrawal processed.
First Withdrawal : minimum R100
Second Withdrawal : minimum R300
Third Withdrawal : minimum R500
Fourth Withdrawal : minimum R1000
Fifth Withdrawal :minimum R2000
Sixth and Seventh Withdrawal : minimum R5000
Eighth or more Withdrawals : minimum R10 000
How To Make Money With WPP10?
---
You can earn in 3 ways as a WPP10 member.
The first way is by just completing tasks. Then the second way is by upgrading to a paid membership plan.
You can earn APP rewards should you upgrade to one of the paid plans.
For instance,
On the VIP1 plan, the app rewards you with R60 and the Hiring Manager pays you R50, so you get a total of R110 back.
On the VIP2 plan, the app rewards you with R120, the Hiring Manager pays you R88 and you get R208 in total.
On the VIP3 plan, you get R360 and the Hiring Manager pays you R200 and you get R560 in total. And it carries on with the rest of the levels.
Then the third way in which you can make money with Wpp10 is via their referral program.
I will show you the breakdown in the next section.
The WPP10 Compensation Plan – Recruiting is KEY
---
You can invite friends to join bu sharing your referral link.
Their compensation plan works on a 3 tier level.
On the first level, you earn 12% from the people whom you directly sponsor. Then let's say that your referral recruits someone, you would earn 4%(level two). And if your referral's referral recruits someone you would earn a 2% commission(level three).
VERY IMPORTANT TO REMEMBER THIS: If you recommend someone to join, you can only get the referral's commission from his first recharge. After this, if he or she upgrades to a higher level, you will lose out on any commission. Hence they recommend that you become the highest-level user and also recommend to your referrals to do the same.
And just to remind you again, the highest level package will set you back R51 000. For many people that is a fortune to get started with.
So, is WPP10 a scam?
Before I reveal the verdict, let's take a look at the pros and cons of this business opportunity.
What I Like About WPP10
---
There is nothing that I find positive about this business opportunity.
What I Do Not Like About WPP10
---
Very Expensive Membership Packages
There is no owner transparency
No refunds or money-back policy
No physical products or services to sell
You have to recruit to earn higher commissions
Is WPP10 A Scam? My Personal Opinion
---
I have seen people receive commissions from the company. There are a few WhatsApp messages where folks have posted the earnings been deposited into their bank account.
So, does it mean that WPP10 is legit?
In my personal opinion, I would still not recommend this business to anyone. For the following reasons given below :
Firstly there is no real founder. The directors claim to have spent $1 billion on a global payout. But there is no proof anywhere to state that it's true.
Secondly, there are no guarantees of 'task jobs.' I have yet to receive my first task. That means your daily/monthly earnings might not be consistent as you would like them to be. This means that if you want to make the higher commissions your only choice is to buy into one of the expensive packages.
Thirdly, the company does not have any products or services from which you can earn a retail profit. That means that once you buy a package to recoup your investment, you would have to get other people to buy into the company as well.
To make sure you do not lose out on any commissions, they twist your arm further into buying the highest-paying packages, which may not be affordable for everyone.
The only source of income is from the sale of membership packages. That means that should people stop investing, eventually, then the funds would dry up.
In my opinion, the people at the top, or whoever the founders are will gain the most. They pay out a small percentage in comparison to how much money the members are investing. At any time, they can choose to pull out, leaving the newest members to lose out the most.
As I said earlier members are getting paid, but it does not mean that it's a stable investment vehicle.
WPP10 can become a costly venture. You are investing a considerable amount, but you are not getting anything of value in return. They are not teaching you any solid skills to build a profitable online business.
If the scheme collapses, you will be left back at square one trying to figure out how to make money online.
There are better ways to learn to make money online. And a great start is to invest in YOURSELF.
Learn the skills to build a REAL profitable online business. And the best part is that you can do this for a fraction of the cost. You can check out my NR.1 recommendation to build a solid online business here.
How I Earn A Passive Income Online
---
I transitioned from the health field to the online world. As a pharmacist, I enjoyed my profession but my own personal health challenges forced me to look for an alternate source of income.
I earn a passive income online thanks to my affiliate marketing business.
The good news is that with affiliate marketing, you can build a business without having to recruit a single person. You don't have to go out there and cold-call people.
You can start as a complete newbie. You do not even need any sales experience. And you do not have to create your own product.
You can build a business based on your own passion, hobby, or interest. You can work in your own time. It also offers you the awesome benefit of earning a passive income online
It would be my pleasure to introduce you to this business model. I've been using it for five years. Let me help you to get started. Simply click on the link below to learn more
Thanks so much for joining me on this Passion Product Formula review.
I hope that it has helped you out.
Looking forward to hearing from you.
Wish you everything of the best in your online success,
Kind Regards and Take Care