1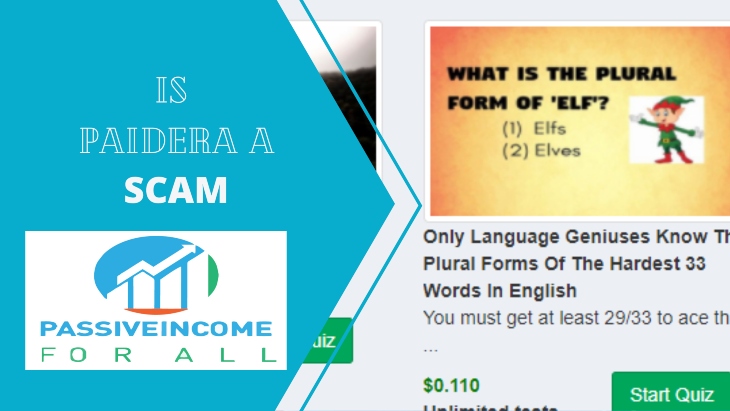 Is Paidera a Scam? [Looking To Make Money Doing Micro Jobs?]
Are you looking for a work-from-home business opportunity that does require any experience? One where you do not need to have a website, or do any marketing? You might have stumbled across Paidera. Is Paidera a scam or is it a decent way to make money online?
I signed up with this MicroJobs website to see what it's all about. Was it worth my time? Would I recommend it? Let me share my experience with you in this Paidera Review.
More...
FREE


7-Day 'J

umpStart Your Online Career'

Course' trial
Take Charge. Learn to Make Money Online. Sign-Up For This 7-Day Course Today. NewBie Friendly
WHAT IS PAIDERA ALL ABOUT?
---
As I mentioned earlier, Paidera is a micro jobs website. That means that you will earn money for doing simple micro-tasks, or mini-jobs.
What sort of jobs?
The jobs that you will be doing include tasks, answering surveys, and taking quizzes.
According to the official website, they have around 930 thousand members, and a total of 7.8 million tasks have been completed.
What about the owners of the platform?
Let's take a look at the next section.
WHO ARE THE OWNERS OF PAIDERA?
---
There is no owner information on their website. There is no physical address, contact number or e-mail details should one decide to contact them.
In fact, the only way in which you can contact them is by opening up a support ticket.
So, I went ahead and did so. I will show you soon what had happened soon.
Now, let me show you what the platform looks like when you sign-up.
HOW TO JOIN PAIDERA?
---
Once you have confirmed your e-mail address, you can then access the dashboard area which looks like this.
It's free to join Paidera.
The member area follows a similar setup to other Micro jobs websites that I have reviewed such as TimeBucks, Midjobs, and Rapidworkers.
HOW TO EARN MONEY WITH PAIDERA?
---
There are four main sections that make up the Paidera membership area.
These are as follows :
Video Tutorials
Micro-Tasks
Surveys, and
Quizzes
To earn money with Paidera, you can either do one of these three things or all of them, if you so wish.
The first thing is doing the TASKS
There are various tasks or offers for you to complete. You get certain rewards for completing these tasks. Some of the rewards include new antivirus software, or a video games package, or even a chance to win a cellphone.
However, as I have experienced there is a catch to doing these tasks, and I will explain it to you in a moment.
Then the next thing to do is the surveys.
You can choose from a variety of topics, and answer these surveys. Your account will be credited with the specified amount.
Finally, there are quizzes.
This is the section that I had decided to try out.
Is their money making potential with Paidera?
Let me show you.
HOW MUCH MONEY CAN YOU MAKE WITH PAIDERA?
---
How much exactly can you earn with Paidera? Or how much do the micro-jobs pay you?
Here is the breakdown on average what the various jobs pay out.
Tasks from

16 cents to 101 cents

Surveys from

$0.080 to $0.5 cents

Quizzes from

$0.080 cents to $0.130 cents
Are these tasks really worth the time?
Let me share with you my experience of having done the quiz.
I stand the chance of earning a total of $35.04 if I were to complete all of the quiz tasks in my dashboard area.
So, I went ahead and tried out the "four elements quiz." The payout for this quiz was $0.130.
To be honest with you, I did not end up completing this task. The truth is that it takes forever and before you know it, 20 minutes have gone by and the questions are still rolling in.
Hence, I canceled the quiz.
So, overall I did not earn much with Paidera. But what about the other users?
Are they happy with using Paidera?
CAN YOU EARN MONEY WITH PAIDERA?
---
I checked out reviews on 3rd party sites such as Trustpilot.com. Paidera scored a pretty decent rating.
Does this mean that Paidera is NOT a scam?
Let's take a quick at the pros and cons before I reveal my verdict, shall we?
WHAT I LIKE ABOUT PAIDERA
---
It's free to sign-up to.
They pay out using PayPal.
They have an efficient support system.
WHAT I DO NOT LIKE ABOUT PAIDERA
---
The pay per task is extremely small.
They have a very high payment threshold. According to the ticket support that I lodged, they only payout once you reach a $30 threshold.
No owner transparency.
This is NOT a passive income business opportunity.
IS PAIDERA A SCAM? MY PERSONAL OPINION
---
I am of the opinion that Paidera is not a scam. There are users who are happy with using this platform.
However, this does not mean that it is a worthwhile way to earn money. From my experience, I spent a great deal of time just to try to earn $0.130 cents.
Coming back to the TASKS-many of these tasks leads to signing up with offers that are ongoing cellphone subscriptions.
In other words it might cost you more money that what you would actually earn.
Bottom Line : Paidera is a legit opportunity. However, since it's offerings are only micro-jobs, it means that

the earning potential is low.

Paidera is not an opportunity where you can make significant returns.
It's also a platform where in order for you to make money, you would need to be an active earner. In other words, it's not a passive income opportunity.
INVEST IN THE GREATEST ASSET- YOURSELF
---
The online world offers you the real possibility of not only earning REAL money online but also the chance to earn a passive income.
In other words, you can build yourself your very own business that will reward you on a recurring basis.
The key is that it starts with investing in yourself. Investing in learning the necessary skills to make this possible.
The good news is that you can get started even though you might not have any experience. You do not need to outlay huge fortunes to get started.
You also will not be alone on your online journey.
Let me introduce you to the online platform that helped me get started five years ago. They can and will help you. You just need to give it a fair chance. Click here to get started,
Thanks for checking out my Paidera review.
I hope that it has helped you out.
Have you tried micro-job sites before? If so what was your experience like?
Looking forward to hearing from you.
Kind Regards and Take Care
Roopesh
FREE


7-Day 'J

umpStart Your Online Career'

Course' trial
Take Charge. Learn to Make Money Online. Sign-Up For This 7-Day Course Today. NewBie Friendly