8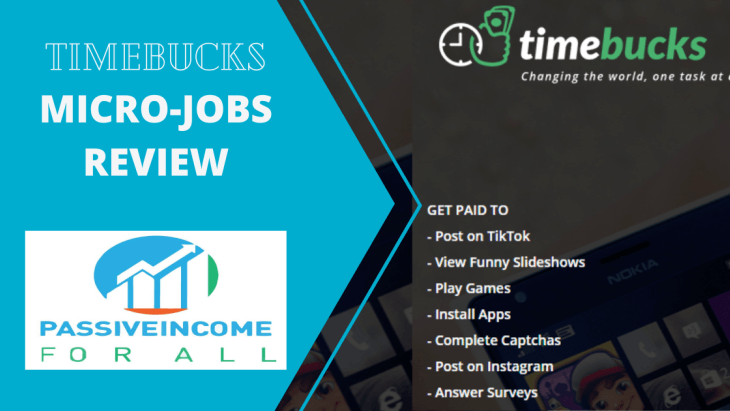 Is TimeBucks Legit?[Micro-Jobs Website Review, Scam?]
Welcome to my TimeBucks review.Would you like to get paid for watching videos, or installing apps, or playing games, or maybe even doing surveys? Well if this excites you, then you may be considering joining TimeBucks?
Is TimeBucks Legit or is it a waste of your time and effort? More importantly, can you make decent money with Timebucks? Let me show you what it is all about, and help you to decide whether its the right business opportunity for you.
More...
Before we get started, you may want to check out the method that I have been using for the past 5 years to earn a passive income online. Just click on the link that follows to learn more.
WHAT IS TIMEBUCKS ALL ABOUT?
---
Timebucks is a reward site that awards you for doing various tasks. These are some of the tasks that you can do on the platform :
Surveys,
Viewing photos,
Watching videos,
Installing of Apps,
Votepolls,
Following people on Instagram, and
Playing games.
These are just some of the micro-tasks that they have. Depending on where you are staying, you can have more opportunities available to you. In my case, I was not presented with much tasks as I would have hoped for. But I will share my experience later on.
Let's talk about the owners of the platform.
WHO ARE THE FOUNDERS OF TIMEBUCKS?
---
Unfortunately, there is no information as to who the owners of the platform are.
However, I did manage to find out when the site was registered. It came into existence on 18-04-2014.
The registrant chooses to be private, however, they are based within the US, Arizona.
HOW DOES TIMEBUCKS WORK?
---
It's free to register withTimebucks. Timebucks also accepts registrations from most parts of the world.
Upon registration, you are awarded a $1.00 bonus. They advise you upon registration to complete your profile description so that you can have tailored offers sent to you.
Now you are ready to start earning money...
The next step is to click on the "EARN" icon. Then you will be presented with various task categories. The second step is to choose one of these categories, perform the specific tasks, and your account will be credited with the stipulated money.
Once your account reaches $10, you can request a payment withdrawal to be processed.
WHAT PAYMENT METHODS DO TIMEBUCKS ACCEPT?
---
Unfortunately at this time, Timebucks does not accept PayPal. However, you can choose from 3 other payment methods namely, Payeer, Bitcoin, and Airtm.
I put Timebucks to the test to see if I could earn some decent money. Let me show you what had happened.
CAN YOU MAKE MONEY WITH TIMEBUCKS? MY PERSONAL EXPERIENCE
---
The first thing that I tried my luck at was the surveys. There were a number of survey companies that I could choose from.
However, I have learned that there there is no guarantee of survey jobs upon making my choice.
I had to go through a screening survey after a screening survey only to be told that I did not qualify for the main paying survey. In some cases, the providers told me that there were no surveys to take at all.
The next section was the "content" part. According to my account, I have around 34 offers. Should I complete all of them, I would have made total of $0.054.
The tasks were fairly simple to do.
They will ask you to
view an ad for 60seconds(pay per ad $0.004),
or watch a slideshow up to a certain point(pay per slideshow $0.002), or
solve easy "captcha" codes ($0.003 for every 15 captchas), or,
watch YouTube videos ($0.001 per video), or
click on ads ($0.001-$0.01 per ad).
In fact, the rest of the platform works in very much a similar fashion.
They have a section called, "Tasks" Here you have to sign-up to different websites and click on the ads to earn money.
Then another way in which you can earn is by referring others or by promoting 3rd party sites.
I will show you how that works next.
THE TIMEBUCKS REFERRAL PROGRAM AND THE TIMEBUCKS AFFILIATE PROGRAM
---
You can refer others to Timebucks. For every referral who joins via your referral link, you will earn a 15% commission. So if your referral makes $10, you will get $1.50.
Then they have an affiliate program. Actually, it's more like a 3rd party affiliate program. You get a link to AliExpress, which is an e-commerce site very much similar to Amazon.
Should anyone purchase items from Aliexpress using your link, you earn a commission. Here is a commission breakdown of some of their product lines.
Can you make more money with Timebucks? There are two other ways to earn extra money with Timebucks.
Take a look at the next section.
HOW TO EARN EXTRA MONEY WITH TIMEBUCKS?
---
The first way to do it is by entering their sweepstakes. For every task you do, you will be awarded one entry into their sweepstakes. The Timebucks sweepstakes take place once a week on Fridays.
The total pool for the sweepstakes amounts to $500.
Should you win the sweepstakes, you can win the grand prize of $250. Take a look at the breakdown of the various prizes.
The second way in which you can earn extra money is to take out a Timebucks premium package.
How much does it cost to go premium with Timebucks?
It costs $4.95. If you join as a Timebucks premium member, you can increase your earnings by 25%. So, if you do a task that costs $1, then you will earn $1.25.
But here is the catch, that $4.95 is only valid for 7days. After that, if you want to continue earning more, then you would have to purchase another package.
So, are people actually earning money with Timebucks?
CAN YOU MAKE MONEY WITH TIMEBUCKS?
---
They have a "ladder" section. This is where the platform records the highest earners for the day. It looks like this :
They also have a payment proof link. This link directs to their official Facebook page. However, it shows that it was last updated in 2019. So, these are not the newest earners of Timebucks.
Nevertheless, both places reveal one commonality. They both are proof that Timebucks have paid out to their members. But it's also proof that the payments amounts are not high. I have yet to see a $100 or a $200 amount.
Does this mean that Timebucks is a scam?
It's time for the verdict.
IS TIMEBUCKS LEGIT? MY PERSONAL OPINION
---
In my personal opinion, I think that Timebucks is a legit platform. The fact is that people are getting paid once they reach the $10 payment threshold.
However, even though Timebucks is legit, it does not mean that it is a worthwhile way to make money online. I stand to be corrected but the earning potential is very low.
The majority of the tasks have extremely low payouts, and that means that you would have to do lots of work to reach that $10 payout.
The only place where you can make big money is by winning the sweepstakes. For some strange reason, there are records of previous sweepstakes winners. If you want to know who the winners, you would have to send them a hand-written request.
There is no guarantee that you will get jobs. According to their terms and conditions, it all depends on the country that you are residing in. If the advertises choose to market their product or service in your country, then you will get gigs, if not then you would have to wait until something comes along.
Bottom line:

Timebucks can

help you to earn small change

, but it will NOT bring in significant returns or help you to earn a passive income online.
EARN A PASSIVE INCOME ONLINE- START YOUR ONLINE JOURNEY TODAY
---
That concludes my review of Timebucks.
If you have found this review helpful and would like to start your online journey, then click on the link that follows. I will introduce you to the online teaching platform that has been around for 15 years, which is legitimate and has helped me to get started with my own passive income business.
It can help you to get started as well. Click on this link to learn more.
Thanks for joining me on Timebucks review.
I wish you everything of the best in your online success.
Kind Regards and Take Care
Roopesh