2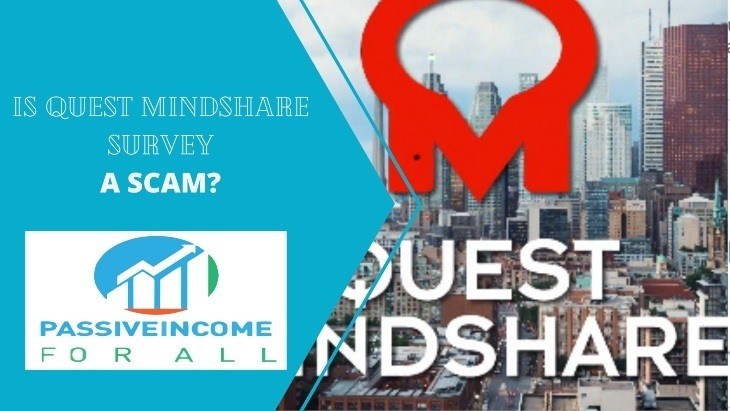 Is Quest Mindshare Survey a Scam? [Music Surveys, Rate Musicians, FUN?]
Welcome to my Quest Mindshare survey review. Would you like to get paid for rating songs? It sounds different, compared to the traditional online survey opportunities that are out there.
As a panelist for the Quest Mindshare company, you can earn money for partaking in various survey tasks that cover the reviewing of songs and musicians, hobbies, as well as the finance sector. Is Quest Mindshare survey a scam?
One of our most precious asset is TIME. As you might have experienced, doing survey jobs are not exactly short. Except for this survey company that allows you to get paid for doing short video answers.
So, will doing the tasks that Quest Mindshare have for you be a waste of your time, or will be worth your while? Not sure whether or not this survey opportunity is for you?
More...
No worries, I will help you to decide.
FREE 7-DAY
"JumpStart Your Online Career" Course
Want To Make REAL Money Online?
Not Sure Where To Start?
No Problem. Take This FREE Course To Get Started. NO Credit Card Needed!
WHAT IS QUEST MINDSHARE ALL ABOUT?
---
Quest Mindshare is a market research company. It is a privately owned company. It was established back in 2003. They have around 200 employees.
The company specializes in global online data collection. According to the official website, they have one of the most extensive and flexible groups of online panel assets in the industry.
They serve a range of industries and have big brands that endorsed their services. Such companies include Bayer, Coca-Cola, Lego, and Pfizer to name but a few.
As one of the Quest Mindshare panelists, you can have the potential to make money.
However, registration to Quest Mindshare is limited. I will show you what I mean in the next section.
HOW TO JOIN QUEST MINDSHARE?
---
To join Quest Mindshare, simply click on the tab that reads "Join Our Panel."
Then you will be asked to fill out a registration form. One of the interesting things to take note of is that Quest Mindshare does not accept worldwide registrations.
They will only accept you if you are a citizen of the U.S or Canada.
Let's say that you qualify in terms of your location, can you make money with Quest Mindshare?
Let me show what previous panelists had to say after having done survey jobs.
QUEST MINDSHARE CUSTOMER COMPLAINTS OR COMPLIMENTS
---
Panelists were asked to give feedback on songs, or complete music surveys.
For completing these sorts of tasks folks would be paid $40-$70 per music survey or gift cards.
At the time of writing this post, there were 53 complaints lodged against the company. According to the BBB(or Better Business Bureau), 38 of these complaints were resolved.
What were some of the common complaints?
Folks were not credited with their payment due to incorrect geographical location.
Checks that were received from the company could not be cashed
Members account banned for no reason
Unable to retrieve account with new login details.
Does this mean that Quest Mindshare is a waste of your time? Let's first take a look at the pros and cons, before I give you my verdict.
WHAT I LIKE ABOUT QUEST MINDSHARE
---
They feature music surveys. It's different and refreshing compared to the normal surveys.
WHAT I DO NOT LIKE ABOUT QUEST MINDSHARE
---
The surveys take a long time to complete. Some folks have spent 1.5 hours to complete.
No PayPal accepted.
They pay via mailed check. Payment takes 4-6 weeks.
The opportunity is only available to US and Canadian citizens.
This is NOT a passive income opportunity.
IS QUEST MINDSHARE A SCAM? MY PERSONAL OPINION
---
I noticed that there were more complaints rather than compliments against Quest Mindshare. In all fairness though, the majority of these complaints were addressed by the company.
Furthermore, I noticed that the company stated on the BBB site that they have in fact paid out some of their users. And these users were satisfied with the response.
From these two points, I do not think that Quest Mindshare is a scam. However, I think that they could be improve upon certain issues
For one they could make the terms and conditions easily accessible.
Users spent a great deal of time doing the music surveys only to be rejected because of the incorrect geographical location. And this is according to these terms and conditions.
However, at the time of writing this Quest Mindshare review, the "terms and conditions" page could not be viewed. Even though the initial sign-up form had an option to "check it" off, the link directed straight to the Quest Mindshare homepage. Hence one could not read its contents.
So, should you join Quest Mindshare?
If you are okay with doing 3-4 hours worth of work and are willing to wait 4-6 weeks for your pay, then perhaps you can give Quest Mindshare a go.
Also bear in mind that you need to be a Canadian or us citizen to qualify. And when you get survey jobs, before you end up wasting your precious time, make sure that the area you stay in, fulfills the survey criteria.
SURVEY JOBS

DO NOT GIVE YOU CONTROL

OVER YOUR FINANCIAL FUTURE
---
The thing with doing survey jobs is that most of the time you are called upon when the company needs you. In other words, your earning potential is limited as you are not guaranteed jobs.
For the purposes of earning spending money, I think that survey jobs whether it's online surveys such as Paidera or video surveys like Mindswarms, would be a fair-enough option.
However, if you are one who is looking to make your time and effort count, then why not invest in the greatest asset: Yourself. Take the time to learn the skills and knowledge and build yourself your own online business.
Having your online business means you have more financial control and earning potential. You can reach a worldwide audience, your overheads are much lower compared to starting a traditional brick and mortar enterprise.
And the best part is you can have a business that will have passive income earning potential. In fact you can get started even if you are a complete newbie.
Take a look at my NR.1 recommended affiliate marketing business training platform that can help you to get started.
Thanks for joining me on this Quest Mindshare review.
I hope that it has helped you out.
Have you tried survey jobs before? Did you enjoy it or was it a frustrating experience?
Looking forward to hearing from you.
Regards and Take Care
FREE 7-DAY
"JumpStart Your Online Career" Course
Want To Make REAL Money Online?
Not Sure Where To Start?
No Problem. Take This FREE Course To Get Started. NO Credit Card Needed!