Welcome to my Primehost review. Is Primehost a scam, or is it a decent website hosting platform? Are you looking for the best and most secure hosting for your website? Then you might be considering signing up for the Primehost website hosting service.
Today I will show you exactly what their hosting packages are all about. At the end of the day, it's all about making sure that your website delivers fast and efficiently without your site having to suffer downtimes or have it prone to malware attacks and so forth.
And speaking of making money online, if you are not sure where to get started with building a real online business, check out my free business training below:
Who are The Owners of PrimeHost?
---
Tom Yeviskov and Firas Alameh are the founders of Primehost.
It was a bit of a challenge to learn more about the owners of this website hosting platform. Tom had launched previous products. One of them is a zoom alternative called PrimeMeet. The other one is a solution for stock trading called PrimeStocks.At the time of writing this review, there were not many views or subscribers to Tom's YouTube channel.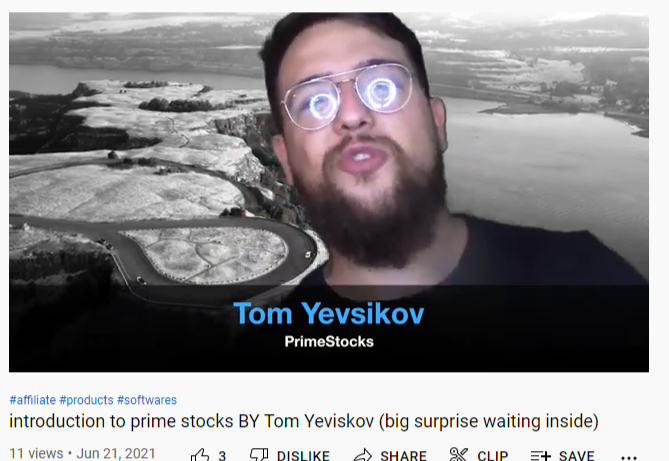 Firas Alameh on the other hand is a bit more active on YouTube. His channel has around 1K subscribers. He spends more of his time as an affiliate marketer promoting other people's products. For instance, his latest video was a review of the Systeme.io funnel builder, which is a cheaper alternative to Clickfunnels.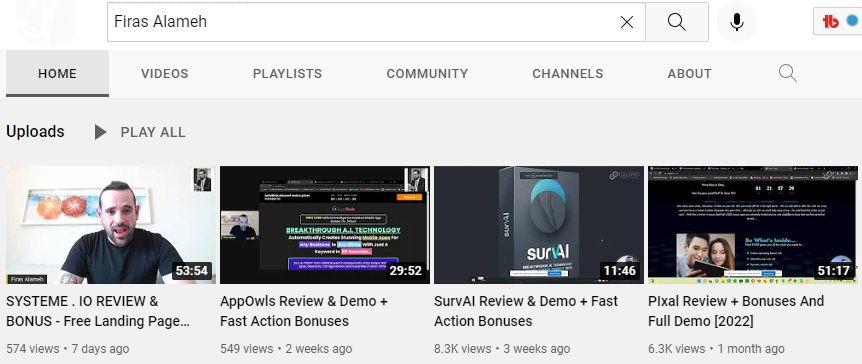 So, the good news is that at least there are real owners backing this product. And in case you are curious to learn more about Systeme.io funnel builder, check out my video below :
Let's go ahead and see what Primehost is all about.
What Is PrimeHost All About?
---
Primehost offers hosting packages for website owners. Compared to other website hosting platforms, they claim to offer "ultra-fast" hosting on "secure servers" at a one-time low cost.

What is website hosting?
When you buy a domain name, you are going to need two other things to complete the full picture.
You are going to need a CMS or content management system. This is basically the platform or canvas upon which you are going to be building your business or content.
For instance, this website, PassiveIncomeForAll.com is built using WordPress, my content management system.
Domain hosting is the final piece. According to Wikipedia.org, domain hosting is where your site would be maintained and accessible for people to view on the World Wide Web.
A platform that hosts websites will have the important task of making sure that the site is served efficiently when someone types the domain URL into the search bar.
Therefore as you can imagine, a bad hosting service will and can impact the success of your online business.
If your site is suffering a huge number of downtimes, then people will not be able to visit your site, and you will lose out on sales. The same would go if your website does not load very fast.
So, here are some of the features Primehost claims to offer in their website packages:
Host Unlimited Websites & Domains
Unlimited Free End-To-End SSL Encryption
Unlimited Bandwidth With Unlimited Databases
Super-Fast & Secure Servers for Lightning Fast Site Loading Speed
Your Own Personalized Email Account
One-Click WordPress Installation
100+ 1-Click Script Installers
Better & Easy To Use A-Panel (Alternative Panel)
According to the official Primehost website, the process of using their hosting service is newbie-friendly. Unlike other competitors, that have C-panel integration, they have an A-Panel interface, which according to them is much easier to use.
How Much Does PrimeHost Cost?
---
The cost to register with Primehost would be $97. According to the founders they are able to do away with the monthly charges seen with other major providers because their hosting services make use of their "own servers and datacenter instead of relying on third-party programs."
As a result, this reliable tech allows them to "withstand traffic and server usage without costing millions to maintain. " And that means they are able to offer a once-off price.
Can You Really Trust PrimeHost for Your Website?
---
Should you use Primehost for your most precious investment, your business?
Here are three red flags that I discovered about this website hosting service.
Red Flag Nr.1: No Customer Testimonials
There are no member testimonials. Nobody had come forward to say that they are happy with using Primehost hosting.
In fact, here is a comment from someone who is having trouble accessing the user interface.

Red Flag Nr.2: No Site Back-up Services
They do have customer support. But they do not mention anything at all about having a backup service to your website.
As you journey along with building your website, you would want to have the assurance knowing that as a new plugin, theme, or CMS upgrade come along, nothing will break your site or destroy all of your hard work.
Unfortunately, daily back-ups do not form part of their package.
Red Flag Nr.3: Once Off Fee VS Ongoing Maintenance
It takes money to be able to maintain and operate a website hosting service. There is no hosting service that does not charge monthly fees to keep up with the ongoing business and operating expenses.
It does not make sound business sense to charge a once-off fee and claim to host an unlimited number of domains and websites.
Is PrimeHost a Scam? My Personal Opinion
---
They do have a 30-day money-back guarantee. Unfortunately, 30-days might not be sufficient time to gauge whether their hosting services are good. You probably are going to invest years into your business and 30-days is too short to see whether you are happy with the hosting.
I would recommend that one exercise caution and think carefully when choosing a hosting service. Cheap hosting might not always be worth it at the end of the day.
If you are serious about making money online, then rather invest in the best tools, training, hosting, and education to get there.
The good news is that as far as hosting is concerned, it does not have to cost you an arm and leg to get top-notch website hosting.
Wealthy Affiliate

– Affordable and Dependable Hosting PLUS A Major BONUS!
---
I started my online affiliate marketing journey in 2015. Back then I signed up with an online business teaching platform called Wealthy Affiliate.
I built two websites, and to this day, my first site, which I have not worked on in 4 years, is still getting traffic. I have had to do theme changes, and numerous updates to plugins, and not ONCE were my sites ever compromised.
They provide you with daily backups to all your premium domains. They have technical support on standby 24 hours 365 days.
Take a look at the other benefits you get from hosting with Wealthy Affiliate:
You get hosting on 10 websites of their premium package
The average speed load time on their servers is 1.3 seconds
They double host your site (making sure if anything happens, you still got a mirror site that will serve your visitors)
They blocked 27,195,900 hacking attempts in the last year.
Sites are backed-up daily
They have their own hosting platform called "Site-Rubix"
How much does it cost to host your website with Wealthy Affiliate?
Compared to the other big players in the market, it's way less on a monthly basis. Take a look at the image below.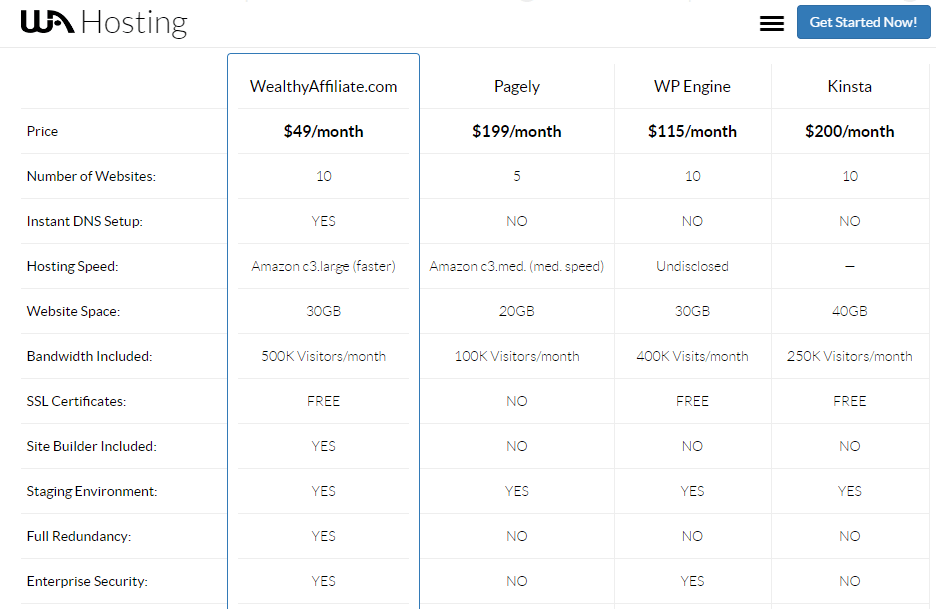 You might still feel that $49 bucks is expensive.
But there is a HUGE bonus.
With Wealthy Affiliate, you are not just getting hosting. You are getting access to FULL courses, online training, tons of support, and access to a community of like-minded individuals to help you build an online business from start!
You could say that everything that you need to start online affiliate marketing, is available to you in one place when you sign-up with them.
Wealthy Affiliate has a free membership option. Give them a try and even complete their first module of the flagship OEC(Online Entrepreneurship Course).
Thanks so much for joining me on this Primehost review.
I hope that you found this review helpful.
Have you used other website hosting services in the past? If so, what were your experiences with them?
Looking forward to hearing from you.
Kind Regards and Take Care