Welcome to this Forsage cryptocurrency MLM review. Is Forsage a scam, or is it a legit way to make cryptocurrency? Let me tell you straight out that Forsage is not the best way to make money online. There are tons of red flags floating around this business opportunity. I will highlight these and show you why investing in Forsage can lose you more than just your hard-earned money.
Let's face it these days, there are a plethora of options when it comes to learning to make money online. But not all of them are created equally.
You get the scams, those are the ones where you are guaranteed to lose your money. Then you get the mediocre ones, such as the online surveys, and GPT sites that pay very little compared to the time invested.
And of course, you get the real ways to make money online. These are the ones, that teach you high-income skills, and allow you to build a sustainable online business.
If you want to check out my recommendation for one of these REAL make-money-online business opportunities, then just click on the following link:
What is Forsage All About?
---
Forsage is marketed as a decentralized network platform that offers smart contracts. They claim to offer a zero-risk investment opportunity as these contracts run on the Ethereum network.
It's interesting to note that not much else is on offer should you decide to join Forsage.io.
The official website does not have any owners or founders on record. The only mission statement of the company is to "connect people from all over the world and open the limitless possibilities of the new economic-financial system."
In other words, as a member, you join the company, recruit others and earn from their investments. Does it sound like a Ponzi scheme?
Let's take a deeper look at how the scheme operates.
How Does Forsage Work? The Forsage Scam?
---
You cannot register on the site on your own. You would need a member's ID to join.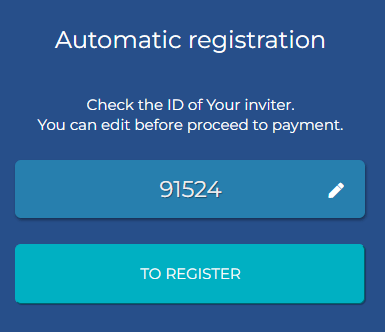 The only way that you can make money with Forsage is by investing in one of their program packages. You can buy a certain number of slots. They have a calculator that shows you the yield or profit that you can expect from your initial deposit.
Since there are no other products or services from which you can make money, your only other option is to recruit members into the scheme.
For every package and slot your referrals purchase, you, in turn, would earn a passive income.
The Forsage Compensation Plan
As a member, you can purchase the 3x or the 4x program. It just means that in the matrix, you buy more places. And when your referrals occupy the spots, under you, you can earn more revenue.

The catch is that only once you fill out each slot(with referrals), then will they pay you out. There are a total of 15 slots, and each slot is 2 times more expensive than the previous one. Both income and profits from them are twice as high!

In summary, joining Forsage is more of a numbers game. The more people you recruit, you more you can earn.
Now, let's take a look at some of the red flags of Forsage.io
Red Flags of the Forsage MLM Cryptocurrency Scheme
---
Red Flag NR.1: No REAL Products or Services
With traditional MLMs such as The AIM Companies and Zyia Active there are additional products that you can sell. This gives you the opportunity to make money with the company without having to recruit anyone.
Sadly with Forsage.io, your only source of income is generated from inviting others to join the company.
Red Flag NR.2: No Owner Information
There is no information as to who the owners or founders of the company are. Even though the company is on the blockchain and it is decentralized, there still should be someone who stands responsible for the running of the company. Unfortunately, this vital piece of information is not made public.
Red Flag NR.3: No Testimonials or Proof Of Earnings
The domain name of the company had been registered for a while now. And in that time, surely folks would have given feedback on the company. If people were making good returns, then the site would have some positive reviews. There are no such reviews on record.
Red Flag NR.4: Warning from SEC
The Securities and Exchange Commission issued a warning against the Forsage company. The company according to the commission is unregulated and does not hold the necessary license to take investments from the public.
This basically means that if you choose to do business with the company you are on your own, and worse you could even face criminal charges.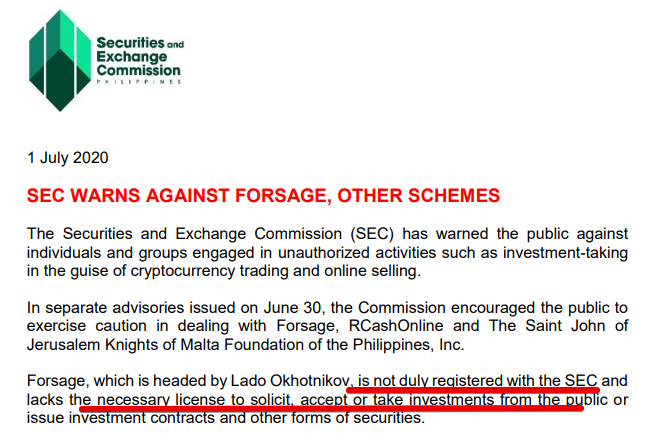 Is Forsage a Scam? My Personal Opinion
---
There are many Crypto MLM companies that are doing the rounds. Some of them that I reviewed are Bitplam, Elevate Pass, and Mining City.
They all turned out to be unregulated and fall on my list of not recommended business opportunities. And I would have to say that Forsage.io falls into this category as well.
Apart from a well-designed website, there is not much else that I could find that is positive about this business opportunity.
But let's assume for a moment that the red flags did not exist. Let's say that the company did show owner transparency. And that they were regulated with the necessary authorities, would it still be a good opportunity for you?
Well since the business comp.plan would not change, it would mean that in order for you to be a success, you would still need to focus on heavy recruiting.
Are you someone who likes the recruiting business model? Do you see yourself going out there and talking to people on a daily basis getting them to see the business?
This is one of the reasons why the MLM business model is hard. The job is tough for two main reasons. The first is that you have to get people to join the company. And the second part is that the folks you recruit need to perform just as well as you, for your downline to bring in good profits.
How I Earn a Passive Income Online
---
I transitioned from the health field to the online world. As a pharmacist, I enjoyed my profession but my own personal health challenges forced me to look for an alternate source of income. Check out my story here.
I earn a passive income online thanks to my affiliate marketing business.
The good news is that with affiliate marketing, you can build a business without having to recruit a single person. You don't have to go out there and cold-call people.
You can start as a complete newbie. You do not even need any sales experience
You can build a business based on your own passion, hobby, or interest. You can work in your own time. It also offers you the awesome benefit of earning a passive income online
It would be my pleasure to introduce you to this business model. I've been using it for five years. Let me help you to get started. Simply click on the link below to learn more
Thanks so much for joining me on this Forsage.io review.
I hope that it has helped you out.
Looking forward to hearing from you.
Regards
Roopesh