Welcome to my BitPlam review. Is Bitplam a scam? Would you like a 4% or 5% passive income return on your investment? All you have to do is simply invest any amount from $25, and just wait to collect a daily return. You do not even have to do any recruiting to make the money!This is what the BitPlam cryptocurrency business opportunity is all about.
Sound like a scam? Or is it a legit way to make money online?
There are many crypto-MLM opportunities doing the rounds on the internet. And many seem to follow a similar path. They pitch to prospects a 'sound return on their investment' and also the opportunity to make even more if they bring in more people to join the program as well.
Today, I am going to show you how Bitplam works? I uncovered some red flags that I think you ought to be aware of before you just go ahead and sign-up.
Congratulations on taking the time to do your research before you go all-in with this particular opportunity. 
There are tons of scams online. But on the other side of the coin, there is a legit way to make money online. 
Having said that, let's dive into this Bitplam review to see what this opportunity is all about.
BITPLAM CRYPTO-MLM -SUMMARY BOX
OVERALL RATING: 1.0 /5
There is no owner transparency. They claim to offer a 'guaranteed income' on your investment. However there are no testimonials or proof or earning on their official website.
There are tons of complaints on both 3rd party review sites as well as on their official FaceBook page.
Better Opportunity: If you are interested in building a business with real income potential, that is affordable to start, click below :
What is Bitplam All About?
---
According to the official Bitplam website, the company was founded back in August 2021. Apparently, a group of traders that specialize within the cryptocurrency market decided to bring forth their expertise and form the Bitplam private listed company.
Unfortunately, the website does not reveal who any of these traders or founders are?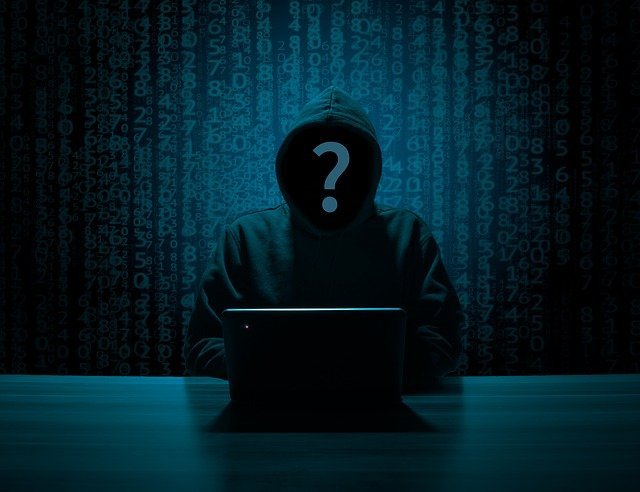 The main purpose of the company is to provide investment plans for its members. Members can enjoy a 4% or 5% return depending on which plan they join.
At the time of writing this review, the company does not have any physical products through which members can earn profits or commissions.
How To Join The Bitplam Business?
---
Membership is free.
The sign-up process is easy. All you need is an e-mail address, and you would have to create your login credentials to access the member's area.
The Members Area of Bitplam
---
Once you registered you get access to the member dashboard area. It is easy to navigate your way around.
The main sections that you will find are :
Make a deposit
Do a withdrawal
Details about their referral program
Your investment history
Marketing materials
How Can You Make Money With Bitplam?
---
You can make money in 2 ways as a Bitplam member.
The first way is by investing your funds with the platform.
The minimum investment is $25.
You can select from two investment plans. The Bitplam LITE plan or the Bitplam PLUS plan.
With the LITE plan, you can earn 4% daily on your initial investment for 30 days, and with the PLUS plan, it's 5% for 40 days.
As for making the actual deposit, you can choose from 15 different payment systems, ranging from Perfect Money to bitcoin, to other cryptocurrencies.

The second method in which you can earn is by participating in their referral program.
How does the Bitplam Referral program work?
You can earn commissions from the deposits of people whom you introduce to the Bitplam business. It's quite a straightforward compensation plan.
It works three levels deep.
You earn 5% on anyone whom you personally invite to the business. Then the second level(your first line of indirect referrals) you would earn a 2% commission. And then on your third level, (2nd line of indirect referrals), you would earn 1%.
Sounds pretty easy to make money with Bitplam, right?
But the real question is, "are people really happy with using the Bitplam service?"
Bitplam Customer Complaints or Compliments
---
Unfortunately, there are no testimonials on the official Bitplam website. I checked out the reviews on Trustpilot.com and they scored a very low rating. 1.9 out of 5 stars.
But this was not the only site where complaints were reported.
Interestingly enough, negative remarks were posted on the official Bitplam FaceBook page. Take a look below :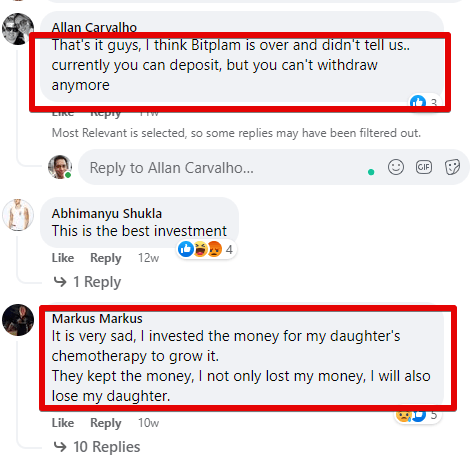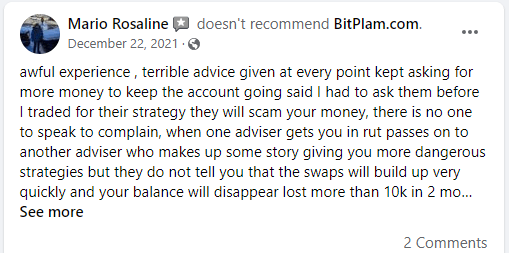 Some of the major complaints were about :
People were

not getting their withdrawal requests

processed

Their accounts were blocked

after having invested

Folks were overcharged

on withdrawal transaction fees

Poor or no support(

they claim they have a live chat feature)
So, does the mean that Bitplam is a scam? Let's take a look at some of their red flags before I reveal the verdict.
The Red Flags of The Bitplam Cryptocurrency Platform
---
RED FLAG NR.1: No Owner Transparency
There is no owner information. You have no idea with you it is that you are going to be doing business with. There is no trace of anyone who is taking responsibility for the company.
RED FLAG NR.2: There are no Member Testimonials
According to the official BitPlam website, after 22 days of launching the business, they had 6100+ users. The total number of active deposits at the time reached $2.4 million. And the company stated they paid out $316,000 in earnings.

But no proof of customers earnings are recorded anywhere on the site.
RED FLAG NR.3: Same PROFITS with Different Plans
They have a LITE as well as a PLUS plan for new members to choose from. With the LITE plan, you can earn a passive ROI of 4% daily of your investment, whereas with the PLUS plan, it's 5%.
However, when you test it out using their profit calculator, you will find that one earns the same on both plans.
It might not seem that big of a red flag. However, it does make one wonder if they are really serious about actually paying people out.
Is BitPlam a Scam? My Personal Opinion
---
Is Bitplam a Ponzi Scheme?
According to Wikipedia a ponzi scheme is defined as a form of fraud that lures investors and pays profits to earlier investors with funds from more recent investors.
The BitPlam company does not have any physical products from which folks can earn a profit. Income is purely from the sale of membership packages. It is clear that if folks stop joining the company, then existing members would not get compensated. And the scheme would eventually collapse. And this does fit the description of a Ponzi scheme.
However, they also have offered members another way to earn and without having to recruit. And because of this fact, they have covered themselves from being labeled a Ponzi on paper.
Is Bitplam a scam?
The company has no real owner, they cannot show any proof that they have paid anyone. There are more unhappy customers than anything else. They lure on people's emotions that it is easy to make money online. All you have to do is invest, and in a short period, you can make easy money. And that is simply not the case when it comes to starting an online business.
There are more questions than answers. I personally would not recommend Bitplam to anyone.
How I Earn A Passive Income Online
---
I transitioned from the health field to the online world. As a pharmacist, I enjoyed my profession but my own personal health challenges forced me to look for an alternate source of income. Check out my story here.
I earn a passive income online thanks to my affiliate marketing business.
The good news is that with affiliate marketing, you can build a business without having to recruit a single person. You don't have to go out there and cold-call people.
You can start as a complete newbie. You do not even need any sales experience
You can build a business based on your own passion, hobby, or interest. You can work in your own time. It also offers you the awesome benefit of earning a passive income online
It would be my pleasure to introduce you to this business model. I've been using it for five years. Let me help you to get started. Simply click on the link below to learn more
Thanks so much for joining me on this BitPlam review.
I hope that it has helped you out.
Looking forward to hearing from you.
Wish you everything of the best in your online success,
Kind Regards and Take Care