Welcome to this Publishing Life review. AIA Academy 2.0 is the flagship course. Is this course by the Mikkelsen Twins really worth your Time and Money?
I am going to start this Publishing Life review by being completely honest about something, …..I did not purchase any of their membership courses. So, your next question would probably be, why then listen to me? Right?
And I agree with your asking.
However, I do feel that there are some findings of publishinglife.com and the AIA Academy or Audiobooks Income Academy course that one should be aware of. It might influence your end decision or not, but I believe that I needed to write this review, to at least make people aware of both sides of the story.
And before we get started, if you want to get started with building an online business, feel free to check out the training platform that helped me to get started.
What is Publishing Life.com All About?
---
It is a website that is marketed as a way to teach people how to earn a passive income by using Amazon.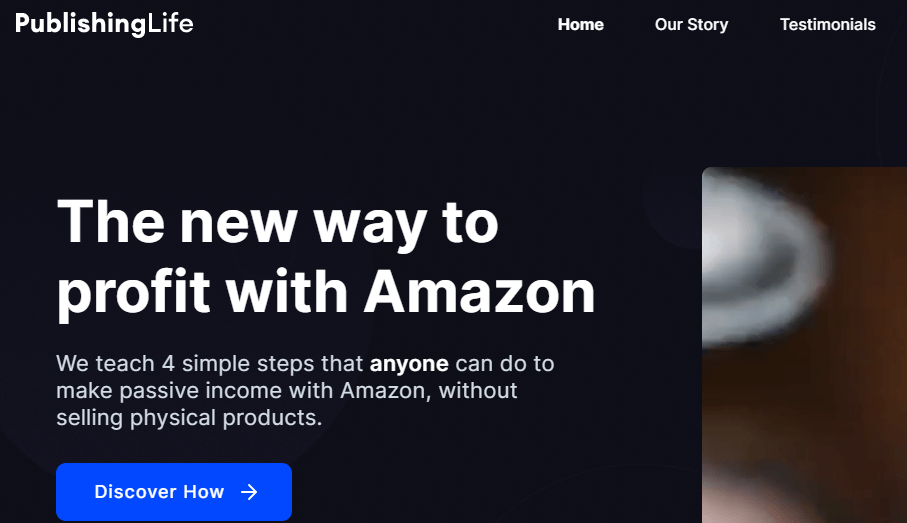 The creators of Publishing Life (I will chat more about them in the next section), want you to get your business off the ground with as little work as possible as far as creating Audiobooks is concerned. And the best way to do this is via outsourcing.
The creators have formulated a premium course that walks you through the processes of outsourcing some of the main tasks that go into getting your first audiobook listed, and ultimately making that first commission. Some of the outsourcing tasks include creating the cover, doing the narration, and formulating a manuscript for the book.
The basic idea is to get everything done as cheap and as quickly as possible so that you can get into the 'money zone' faster.
At the end of the day, you will have the full rights to the book and be able to earn a passive income via multiple income streams as one of the founders mentioned in their sales webinar.
Their AIA Academy course consists of step-by-step guides, live Q & A calls, Facebook private groups, coaching calls, and links to additional resources.
Who Are The Owners of Publishing Life.Com?
---
PublishingLife was founded in March 2020. The founders are twin brothers, Rasmus and Christian Mikkelsen.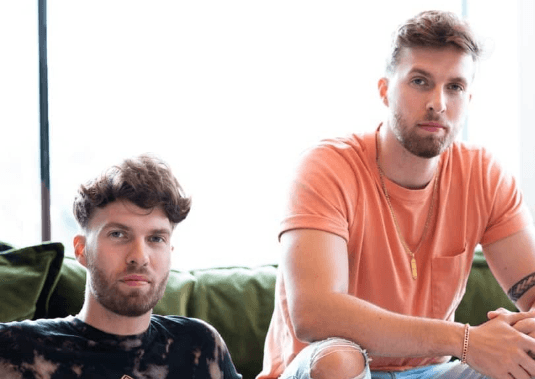 They were in a community college in New Jersey. At the time, things were rough for them, as they found themselves delivering Chinese food four days a week. They wanted to get out of the rat race and wanted more out of life.
It was in August 2016, that they ventured into the world of Amazon book publishing. And from point, their story leads to the point of becoming successful entrepreneurs.
What is The PublishingLife.com Webinar all About?
---
The Mikkelsen twins advertise free training on their official website. I thought that this would be a great starting point to see what's on offer. So I went ahead and registered.
It's a 2 hour and 20-minute long video that introduces you to their flagship course, called the AIA Academy 2.0, or Audiobook Income Academy 2.0.
They start off by mentioning after having watched the webinar, one would learn the 4 steps to generating a stress-free income without having to sell anything on Amazon. (and this apparently is a new, and unheard of, and a unique way of making money online with Amazon)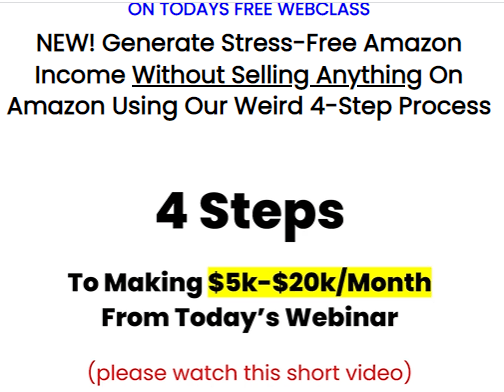 So, in the video, they start off by telling you why Amazon FBA is not a lucrative business model anymore. It takes too much effort, it's highly saturated, and it's difficult to make money with this model.
A better alternative would be to use the Mikkelsen Twins business model. Namely selling audiobooks that only require 30 minutes a day of your effort.
In fact, the webinar is filled with tons of other emotional triggers to make this business model look easy to do, and earn big money from.
Here are just some of them listed below :
$90 000 per month
Quit their job and go on vacations
Escape 9-5 forever
2 months later—-earning $4000 per month
No beginner experience…
$1,200 in the first week
No competition for audiobooks market
College student — $13,000 per month
take care of the family
$39.7337 in one month
According to the twins, the reason why they are sharing this business model with you is that they are looking for partners, like you and I.
And they incentivize you, to get you to watch the webinar.
You get a $500 cash bonus for just watching the free training and a free copy of their Freedom Shortcut book. (do you really get these bonuses? I will show you what happens shortly…keep on reading)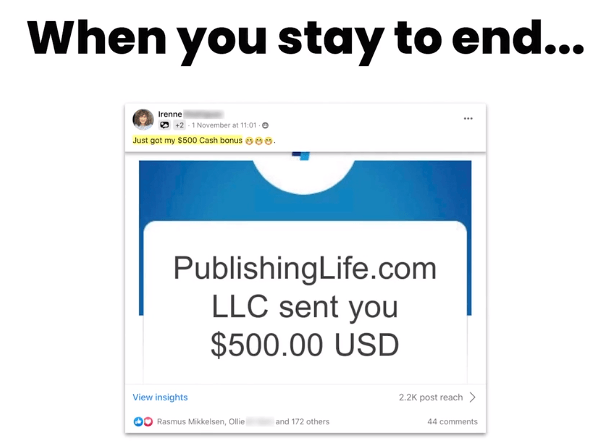 Are Audiobooks still profitable?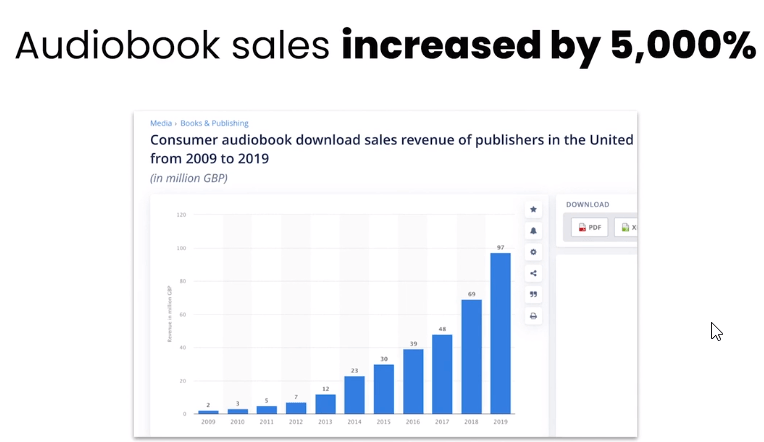 According to Christian Mikkelsen, audiobook sales have increased from 2009 to 2019 by 5.000%.
The purpose of their flagship course is to teach you how to go about creating DFY audiobooks using an app called Audible.
I have outlined their 4-step Audiobook Business Model below :
Step One : Choose Your Topic
They recommend that you stick with choosing non-fiction topics rather than fiction topics.
Step Two : Assemble 'Low-Cost' Experts
Once you have a topic in mind, it's time to start creating the book.
You would need a manuscript , someone to do the narration and artwork for the cover.
To save you time, they recommend you hire a ghostwriter for the manuscript. Christian's advice is to use low-cost ghostwriting services. He talked about using a site called UrbanWriters.com
Then comes the Narration part, using Audible. You can either share royalties with the narrator or pay them a set fee per hour.
Finally, it's getting the cover done. Using Fiverr freelancer to help you create a cover for your book.
Step Three : To List Your AudioBook
To get exposure to your Audiobook, you would have to make the choice in selecting the right keywords. You would also want positive reviews for your books. Christian suggests swopping review codes with peers(within the Private FaceBook Group) and exchanging reviews.
(I learned that giving away your audiobook codes, is a loophole that Amazon has clamped down on.)
Step Four : Multiply Your Income Streams
This step is all about converting your Audiobook into an e-Book and a print book. Then you can distribute it across various channels to earn more revenue. Some of the channels, he talked about were Draft2digital, Amazon, Publishdrive, and IngramSpark.
Then the final income stream is to create a bundle.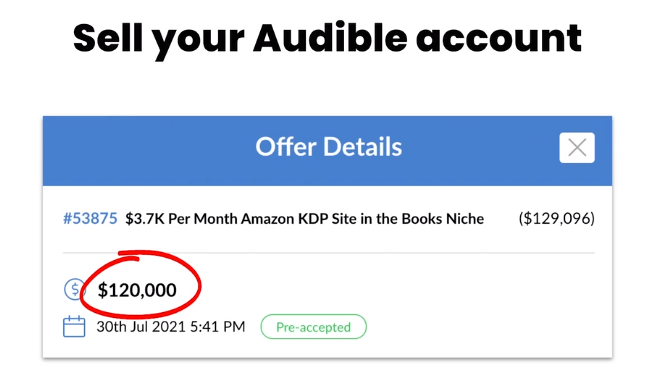 What is The AIA Academy 2.0 All About?
---
What is the Audiobook Income Academy partner program all about?
Basically, they will partner with you to help you to launch your audiobook business, by working in conjunction with their recommended 'low cost-experts"
They will take 5% off your first year of your total royalties.
Some of the bonuses that you get in the membership are :
3 Live coaching calls per week
4 one-on-one coaching calls
Access to the private AIA Community
Audiobook Creator Vault
The Audiobook Income Academy Course 2.0 Breakdown
The new Audiobook Income Academy 2.0 is a seven-week training course. Each week you get a new training module to do.
Here is the module breakdown.
MODULE ONE : The Tranformation – The Foundation To Guarantee Success
MODULE TWO : Getting Your Business Started
MODULE THREE : Creating Your Book
MODULE FOUR : Passive systems and Automation
MODULE FIVE : Launch Week
MODULE SIX: Audiobook Ascension and Amazon ADS
MODULE SEVEN : Going Next Level
How Much Does the Mikkelsens Twins AIA Academy 2.0 Costs?
---
The course cost $1995. You can choose to pay it in three installments of $999 each.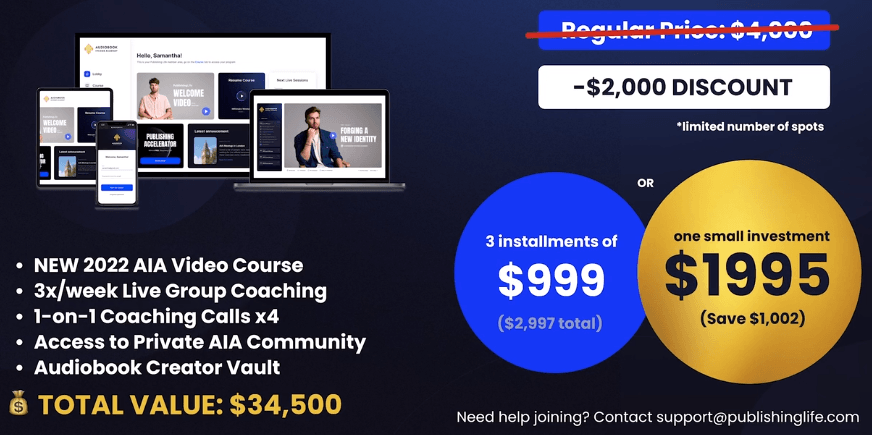 Christian offers another solution should you want to buy the course but are strapped for cash and that is -by using your credit card and getting into 'good debt.' Or alternatively, to use Paypal credit, which is only available to certain locations.
So, that in a nutshell is what the FREE training is all about.
MY VERDICT : The training was more about telling rather showing people what to do. Of course, if you want them to show you more, then you would have to buy the course. There were tons of folks showing money earnings. I would have liked to see more details here. For instance if someone earned $5000 in 30 days with a particular audiobook, they could have shown us the particular books, and it's sales statistics. Lack of transparency.
What about about the promised bonuses, did I get them?
Let me show you…
Do You Really Get FREE Bonuses With The Mikkelsen's Course?
---
They promised the $500 cash bonus just for watching the webinar. The truth is that you only get it after having purchased Audiobook Income Academy 2.0. And that too depends if you are able to successfully launch the book and get a certain amount of reviews within a time frame.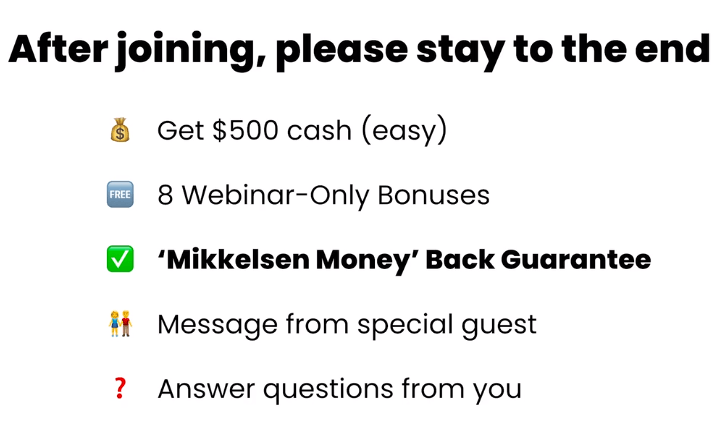 What about the FREE Book?
Nothing was mentioned of their free book titled The Freedom Shortcut.
Does AIA Academy 2.0 Have a Money Back Guarantee?
---
They will refund you in full within the FIRST 6 months. However, you need to meet these 3 conditions to qualify for the refund.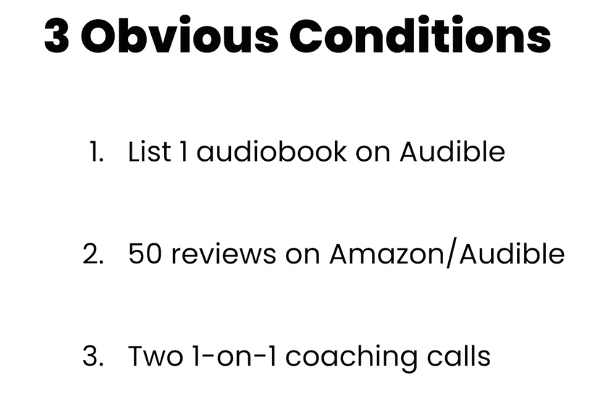 Are People Happy With The Audiobook Academy 2.0 Course?
---
So this is where it gets really interesting. I usually like to go to 3rd party review sites, to see what the general consensus is.
And at Trustpilot.com, they scored a very high rating of 4.9 out of five stars.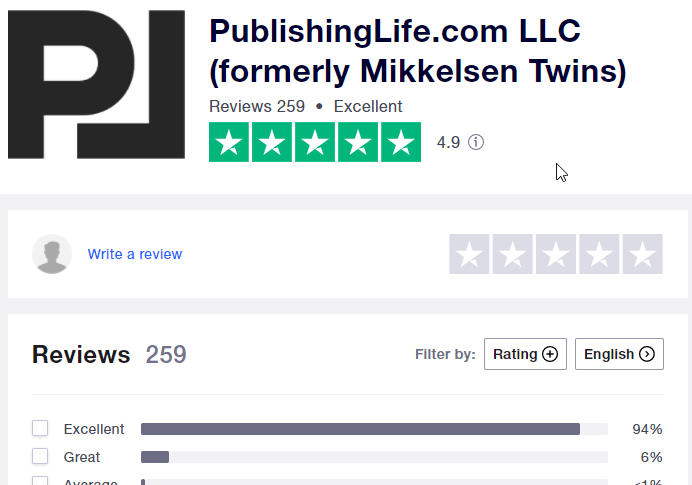 94% of the people were happy with the Mikkelsen Twins course. There was less than 1% of people who gave it a negative review.
But when I researched deeper, I found another story…..
I found a Reddit thread that showed how many folks were NOT happy with the AIA Academy 2.0 course.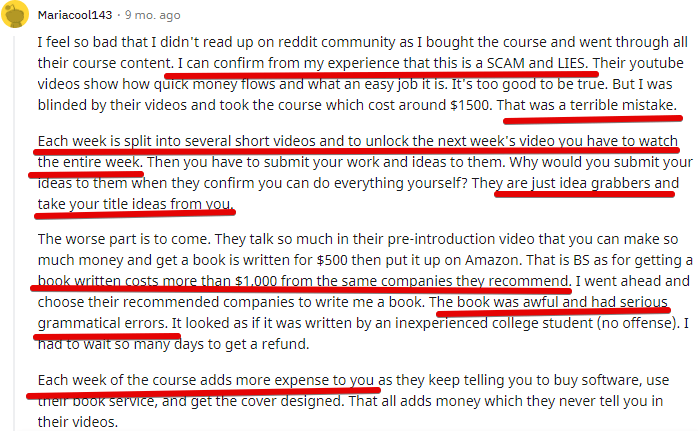 And here is a very unhappy customer who posted on ScamPulse.com
Some of the main complaints were :
Poor support
Unfriendly staff
Never received access to course material after paying
What I Do Not Like About Publishing Life.Com(or the AIA Academy 2.0 Course)
---
Very Expensive
$1500 is just the start. Should you opt for the coaching calls, it gets more expensive. In addition, they recommend you outsource using their contacts, which also are not very cheap.
2. Lots of Hype and UnRealistic Money Claims
Alternatives To The Audiobook Income Academy 2.0 Course
---
Is $1995 too much for an audiobook publishing course?
Let's check out if there are alternatives.
Google is your friend here. Simply type out how to make money from selling audiobooks, and you will be spoilt for choice.
You can visit the tons of FREE YouTube tutorials. You got access to Udemy, and they charge a fraction of the price as opposed to what the Mikkelsen twins charge.
Does this mean PublishingLife.com is a scam? It's time for the verdict.
Is Publishing Life a Scam? My Personal Opinion
---
Is Publishing Life legit?
Is AIA Academy 2.0 a scam?
I think that the course is a bit pricey. However, the twins are entitled to charge what they believe their course is worth.
As I said at the start, I did not buy the course or test out any of their material, so I cannot comment on the quality.
However, I can say this much…
The twins claim that this is a new business model, and an unheard way of making money with Amazon, and that is just not true. I personally would have liked to have seen the students from the course showing us the actual books that they have published and their success on the respective platforms.
The negative complaints on the other threads should also be taken into account when you are making a decision.
On a positive note, they offer a conditional money-back guarantee, so that's some good news.
My Final Verdict: If I were to start a business selling audiobooks, I would source the free education resources first. The topic is widely discussed, unlike what the twins would have you to believe. The Mikkelsen twins have given you their 4-step blueprint. That's a great start, work on each step on your own and see where it takes you!
You might surprise yourself and be on your way to making money selling audiobooks!
How I Make Money Online
---
I started my affiliate marketing business in 2016 and it's been a great experience. I've learned a lot and it's allowed me to work from home, which is a huge plus. If you're thinking of starting your own affiliate marketing business, here are a few things to keep in mind:
– It takes time and effort to build a successful affiliate marketing business. Don't expect to make money overnight!
– Choose products that you're interested in and know something about. This will help you write content that is both informative and interesting for your readers.
– Be patient and consistent with your efforts. building a brand takes time and dedication.
If you're looking for more information on how to start an affiliate marketing business, I highly recommend checking out this course. It's helped me learn everything I need to know about affiliate marketing and start making money from home!
Thanks for checking out my Publishing Life review.
If you have any questions please leave them below. I promise to get back to you as soon as I can.
Kind Regards and Take Care