Welcome to my All in One Profits review. Is BuildaBizonline a scam? Is it a platform where you have absolutely everything to start an online business?
You might have been asking these questions. Today I will be helping you find the answers.
And if you are wondering whether or not this business teaching platform is for you, I will be addressing that concern in this post as well, so stick around for that.
Congratulations on taking the time for doing your research. You are someone that does not take things at face value and it's a good thing. Many online business opportunities are mediocre or downright scams, and the only way to know if it's legit is to do the research. That is what you are doing, well done.
Before we get started, feel free to sign-up for my FREE FOUR DAY mini-video business course. Click on the link that follows to register.
Who Are The Owners of All In One Profits
---
One of the first things that I look for when doing my research, is to find out who the owners or founders of that platform are.No information was readily available on the official website for All In One Profits.
They tell you that they are in existence since 2012 and that they are based in Europe.
The mission statement of the company is "Empowering others to break through and achieve their goals." and they believe the best way to accomplish it is to, " cultivate the trust of our community that they can leverage the power of the Internet to their benefit."
But it's a bit ironic that if they want to build trust, they do not introduce themselves or make themselves public. How does that work?
Nevertheless, I learned that the company is run by Johan Van Geffen and Isabela Capsuna. 
What is All In One Profits?
---
All In One Profits is marketed as an all-in-one suite of tools to help you grow your online business. They claim to be a platform that has all the tools under one roof irrespective of what business model you want to follow, MLM or eCommerce or Affiliate Marketing, and it can be tailored to any niche.
Not every business platform is perfect, even my number one recommendation has some flaws. So, I will be addressing the drawbacks of All In One Profits shortly.
Apart from offering you business marketing tools, the company also has an affiliate program. So you have the option of earning commissions from promoting All In One Profits.
How Much Does The All In One Profits Membership Cost?
---
They have 3 membership packages:
1.The Basic Pack : $10 per month
2. The Pro Service Pack: $20 per month
3.VIP Service Pack: $59 per month
What Tools Do You Get With Your All In One Profits Membership
---
You get the following :
Website Hosting
Depending on which package you choose, you get a certain amount of disk space and bandwidth.
2. AutoResponder System with E-mail Campaigns
This is what you need to send out e-mails to your audience to help build a relationship with them.
3. Lead Capture Page Builder
Capture pages are important to get folks to sign-up for your lead magnet.
4.Link Tracker, and Cloaker
5."Lead Magnet" Bundle
6.e-Library
Features training courses on using PLR content in your marketing campaigns.
7.SEO Optimized Article and Blogging Platform
8.Bonuses and perks
These are an additional set of tools that you get should you decide to promote the All In One Profits as an affiliate.
One of the major drawbacks is that they are telling you EVERYTHING rather than showing you the tools.
It's not convincing enough for me.
Is it perhaps because the quality of these tools MIGHT not be up to standard?
I even checked out their official Youtube channel and they had a total of 5 videos and 69 subscribers.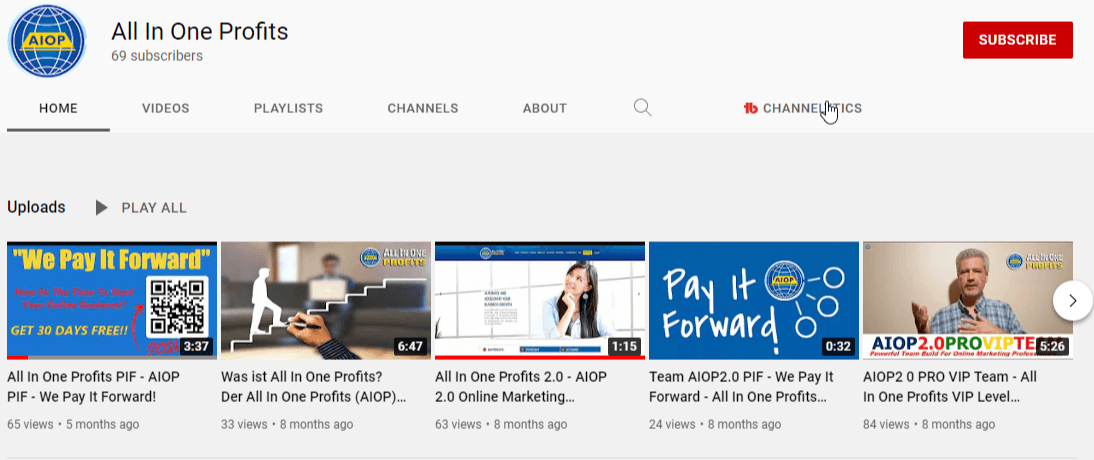 And none of these videos gives one even a tease as to what the products or training material looks like.
The other drawback is that the training on offer is outdated or incomplete. Teaching you to use PLR content, is not a good strategy to use these days. You will be using content that is generic or outdated, and will not give value to your business or your audience.
They talk about paid advertising methods. As a newbie, it's always good practice to learn free or organic traffic methods first. You save on spending money, and you can get quality traffic that will help you grow your business by taking this route.
There is no mention of training on how to utilize major social media channels such as Instagram, FaceBook, TikTok, or even Youtube.
There is a lot of emphasis placed on becoming an affiliate for All In One Profits.
In fact, they have a YouTube shorts video that generates the most views(65 views) talking about their VIP affiliate plan.
Let's see what that is all about.
The All In One Profits Affiliate Program
---
You can only promote All In One Profits,if you purchase one of the membership plans.
They have an "Even-up"compensation plan. You get paid for every 1,3,5,7 and so on…sale that you make. Every "even-number" sale gets passed up to your sponsor.
Therefore, your referrals will pass up their "even-number sales" up to you!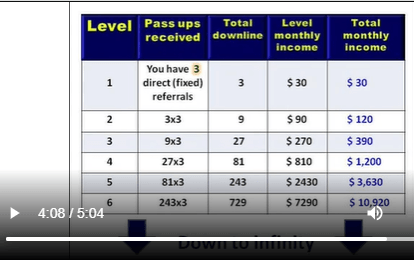 If you sell a basic plan, you make $10, for the pro you make $15 and for the VIP you make $20.
The table above projects the potential return you can make if you were to recruit 243 members.
Does this not sound like an MLM-type compensation plan rather than affiliate marketing?
Is the agenda behind All In One profits more about recruiting rather than offering business tools? Your guess is as good as mine!
Pros of All In One Profits
---
They have been around for a long time
They have member testimonials
Cons of All In One Profit
---
No owner information is readily available
You have to pay to access their affiliate program
No trial period to test their software
Traffic training is limited
You have to RECRUIT to earn commissions
Is All In One Profits a Scam? My Personal Opinion
---
In my opinion, All In One Profits is not a scam. They are in existence for a while, but I still think that they could change a few things to gain more people's trust. For instance, they should add some information about who the owners are. It would add more credibility and show that they stand by their product.
I believe that All in One Profits is more of a marketing tools platform rather than an all-in-one business education platform.
Having all the tools is just one piece of the puzzle to building a successful online business. If you are a newbie or someone serious about wanting to make money online, then you certainly going to be needing more than just tools.
Here are some areas that I think All In One Profits falls short of :
You going to be needing comprehensive step-by-step but easy-to-follow training to build that solid business foundation. But you will also need training that will prepare you mentally to start the journey. The journey to online entrepreneurship is filled with challenges and rewards. You need to be mentally prepared for the challenges.
Then you also would need to connect with other like-minded folks where you get motivation, inspiration, and support.
If you join a business teaching platform, that offers one-on-one coaching, then all the better. You will learn from someone who knows the ropes, and you just have to follow his or her coaching.
I think that All In One Profits lacks the above criteria. I would recommend these alternatives if you are looking to build a solid business on a full-time or part-time basis:
How I Earn A Passive Income Online
---
 I transitioned from the health field to the online world. As a pharmacist, I enjoyed my profession but my own personal health challenges forced me to look for an alternate source of income. Check out my story here.
I earn a passive income online thanks to my affiliate marketing business.
The good news is that with affiliate marketing, you can build a business without having to recruit a single person. You don't have to go out there and cold-call people.
You can start as a complete newbie. You do not even need any sales experience
You can build a business based on your own passion, hobby, or interest. You can work in your own time. It also offers you the awesome benefit of earning a passive income online
And one of the important benefits is that it is a low-risk business model, and it does not cost much to get started.
It would be my pleasure to show you more about how it works. I've been using it for five years. Let me help you to get started. Simply click on the link below to learn more
Thanks for checking out my All In One profits review.
Hope that it has helped you out.
Regards and Take Care
Roopesh