Welcome to my BuildaBizonline review. Is BuildaBizonline a cash gifting scheme? Is BuildaBizonline a scam, or is it a legit business teaching platform? You might have been asking these questions. Today I will be helping you find the answers.
And if you are wondering whether or not this business teaching platform is for you, I will be addressing that concern in this post as well, so stick around for that.
Congratulations on taking the time for doing your research. You are someone that does not take things at face value and it's a good thing. There are many online business opportunities that are mediocre or downright scams, and the only way to know if it's legit is to do the research. That is what you are doing, well done.
Before we get started, feel free to sign-up for my FREE FOUR DAY mini-video business course. Click on the link that follows to register.
Who Created BuildaBizonline?
---
Ian Stewart is the founder of BuildaBizonline.According to Ian, it only takes four things you need to do, to build a successful online business.
The first thing is choosing a profitable niche. A niche is simply your audience. Is your business going to be serving people in the weight loss and fitness industry, or maybe the relationship niche, or the make-money-online niche? It can even be the sporting industry.
The fact is that almost every niche can be profitable. And I do agree with Ian, that choosing the right niche is the first step going forward.
Then the second thing according to Ian is to have a "capture page" or a "landing page." The idea behind the capture page is to get your visitor's e-mail address.
The third thing is to send offers to your "list." If you are affiliated with an Amazon product, then you can write to your list about a particular product in your niche that you are promoting. It can be any offer or product that you are affiliated with.
The fourth thing is of course all the tools to make your business happen. You need website hosting, capture page software, link rotators, an e-mail autoresponder, funnel builder, etc. And Ian claims that Buildabizonline has "everything under one roof" for the aspiring affiliate marketer.
What is BuildaBizOnline?
---
Basically, Buildabizonline is a platform that provides tools for the digital marketer. You get all the tools that I mentioned above as well as other items. You get business cards, a banner builder, a URL rotator, and a logo building tool.

The main idea as an affiliate marketer is to use the tools to promote the Buildabizonline business. I will show you what the compensation plan is all about shortly. And that is why as a member, you're given affiliate links, custom splash banner pages, and swipe files.
It's all to promote Ian's program.
How Much To Join Build A Biz Online?
---
There are three BuildaBizOnline memberships available.
You get a basic or free membership. There is a $10 per month option as well as a $14 per month option.
Inside Buildabizonline
---
With the $10 option you get :
Promotional links and banners.
Pre-written email swipes.
Email marketing training.
BABO business cards. These are simple cards to help you promote Buildabizonline.
HTML Editor.
Two banner builders.
URL rotator.
Logo building tool
With the $14 option, you get all the above tools, plus a blog, Auto-responder, and Cpanel Hosting.
With these tools at your disposal, you can make money by promoting BuildABizonline. Anyone who signs up for the programs, and takes up any of the paid membership options, would receive a commission in return.
Buildabizonline Compensation- How Much Can You Make From Promoting BuildaBizonline?
---
You get $6 from anyone who purchases the $10 package. You get $10 from anyone who purchases the $14 package. They do not make mention of how much commissions one can earn if you are a free member.
As I was doing my research for this post, I read various other Buildabizonline reviews talking about the platform involving cash gifting.
Is BuildaBizonline a cash gifting scheme? I could not find any information about this. Perhaps they might have remodified their comp. plan.
Pros of BuildaBizOnline
---
The packages are cheap
2. They have a real owner
3. They teaching a legit business model- affiliate marketing
Cons Of BuildaBizOnline
---
There are insufficient member testimonials
Only one traffic method was taught (paid advertising)
Low commission payout
Mediocre training
Who Is BuildaBizonline for?
---
BuildaBizonline is NOT a newbie-friendly business teaching platform. Yes, they might have all the tools in one place, and it might also be cheap, but sometimes cheaper does not always mean better.
I went through some of the training modules, and in my personal opinion, I feel that there are other software programs that can make the job much better and easier.
For instance, like the logo creator tool, you can use Canva. To create beautiful and easy landing pages, I would recommend an all-in-one tool called Systeme.io. In fact, I am using that at the moment. It also allows you to create an autoresponder sequence and build your e-mail list. And they have a free option too.
You can check out Systeme.io here.
And lastly, one of the main things that are often overlooked in an online business course, is the traffic teaching methods. What sort of training, is Ian offering to get fresh eyeballs to your business?
You can have a gorgeous landing page or website, you can be promoting a $10 product or a $1000, product, but you will NOT make any money if you are not getting fresh eyes to your business every single day.
The answer is that as a BuildaBizonline member, you will only be taught paid traffic method.
They have various advertising packages that you can choose from. Take a look.

And that's another reason why I don't think that BuildaBizonline is newbie friendly.
Paid traffic can become costly. I would advise anyone who is brand new to starting an online business to first master free traffic methods such as social media, blogging(SEO), e-mail marketing, video marketing, etc. first.
Here are my top 3 business teaching courses that I recommend for anyone(whether you are a newbie or an experienced marketer)
Is BuildaBizOnline a Scam? My Personal Opinion
---
In my opinion, Buildabizonline is not a scam. It has been around since 2008. The site does have some member testimonials. It shows that folks are making money from it.
Is Buildabizonline for you?
The positive thing about this platform is that they are teaching you affiliate marketing. A business model where you earn commissions from promoting other people's products and services.
I would not recommend buildabizonline.
The commission payout is low. On the high-ended products, the maximum amount of money that you can make is $10 per month. Yes, it might be a recurring income, but you would have to do lots of work and sell many packages, and you also need to spend money to make money. Remember they are only teaching you paid advertising!
And if you were to take a look at their leaderboard, you would find that only one person made six sales.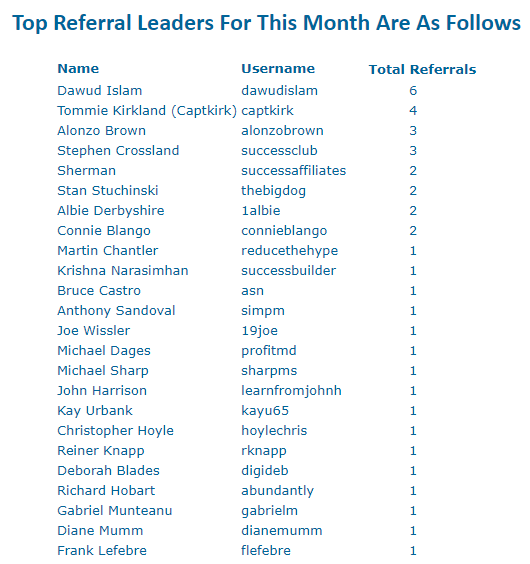 Is it really worth your time and effort?
In my opinion, there are far better business teaching platforms that show you many traffic methods and offer high-end commissions. So, you would be doing the same work, but earning higher. Does that make sense?
How I EARN A Passive Income Online
---
 I transitioned from the health field to the online world. As a pharmacist, I enjoyed my profession but my own personal health challenges forced me to look for an alternate source of income. Check out my story here.
I earn a passive income online thanks to my affiliate marketing business.
The good news is that with affiliate marketing, you can build a business without having to recruit a single person. You don't have to go out there and cold-call people.
You can start as a complete newbie. You do not even need any sales experience
You can build a business based on your own passion, hobby, or interest. You can work in your own time. It also offers you the awesome benefit of earning a passive income online
And one of the important benefits is that it is a low-risk business model, and it does not cost much to get started.
It would be my pleasure to show you more about how it works. I've been using it for five years. Let me help you to get started. Simply click on the link below to learn more
Thanks for checking out my BuildaBizonline review.
Hope that it has helped you out.
Regards and Take Care
Roopesh