Welcome to my Ecommerce Empire Ventures review. Is Ecommerce Empire Ventures a scam?
Does it sound like a pain to build your very own eCommerce store from scratch? Would you rather prefer to buy a profitable eCommerce store? Now you can, and if you want, you can even sell your existing eCommerce website for a market-related price!
If you are interested in buying or selling an eCommerce website, then you might be interested in joining Ecommerce Empire ventures. Is this site legit? I am going to show you what it's all about. And if you are wondering whether investing in an eCommerce website is the right move for you, I will be helping you answer that as well.
My name is Roopesh. I started my online business back in 2015. I reviewed several make-money online business opportunities. If you are looking to get started with building your own online business, even if you might be brand new to the process, then click on the link that follows to learn more.
Who Created Ecommerce Empire Ventures?
---
Peter Pru is the founder of Ecommerce Empire Ventures. His flagship course is the Ecommerce Empire Builders. Peter started his journey into eCommerce when he was just 18 years.
Peter is a highly successful Youtuber with a current subscriber base of 61 000. His initial venture was a training course called Six Number funnels. And at the time, Peter simply wanted to share his eCommerce strategies with people.
Things took off for the better and he now has launched his third business opportunity involving buying and selling profitable e-commerce businesses.
What is Ecommerce Empire Ventures All About?
---
Ecommerce Empire Ventures is the next-level business opportunity by creator Peter Pru and his team. The first one was his Ecommerce Empire Builders. It was a course that helped folks to get started in the eCommerce world. Dropshipping was the business model that people were taught.
Recommended Reading: What is the Difference between Dropshipping and Affiliate Marketing?
In addition, people were taught how to effectively utilize sales funnels based on the success hacks that Peter used in his own business.
How Ecommerce Empire Ventures was born?
This was an idea that was formulating in Peter's mind for a long time. He believes now is the right time to launch this phase to the public.
Peter and his team purchase "already running eCommerce businesses." They make them more profitable and then flip them on the other side.
As a customer, you are given the opportunity to sell your business to him. Peter believes his company will offer better valuations than competitors such as Empire Flippers or Flippa.com. He does not recommend selling your website on those platforms at all.
At the same time, Ecommerce Empire Ventures allow you the opportunity to also buy an existing business from him.
How Does Ecommerce Builders Ventures Work?
---
The first step is to book a consultation with Peter's team. You can do so by visiting their official website. Just let them know whether you would like to buy a business or sell your existing business to them.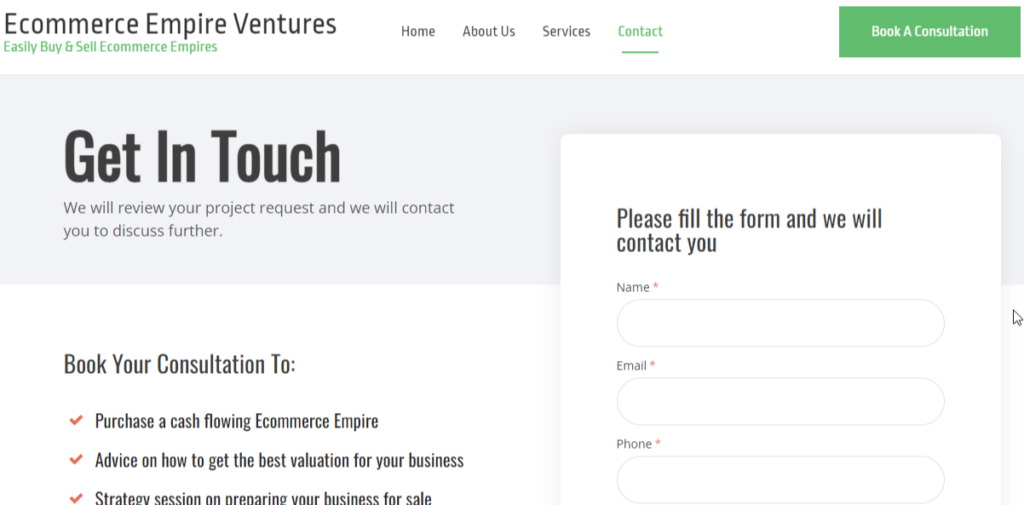 They need some basic information about your business before they can start diving into doing deeper research about your brand. This is if you intend to sell your business.
If you want to buy an existing business, then you need to have an idea of what your budget is. Naturally, if you have a higher budget, then you stand a chance of getting a more profitable business.
It also helps if you have an idea of the amount of monthly cash flow that you would like to receive. It can be from 5K to 10K net profit or more, or even $100 000 it's really up to you.
Are people buying built-up e-commerce businesses?
Let's take a look in the next section.
Is The Ecommerce Flipping Business Big?
---
Peter dedicated a special private FaceBook group for investors. On the eCommerce Builders Ventures group, you get an idea of how big the market is but also how quickly profitable e-commerce businesses sell.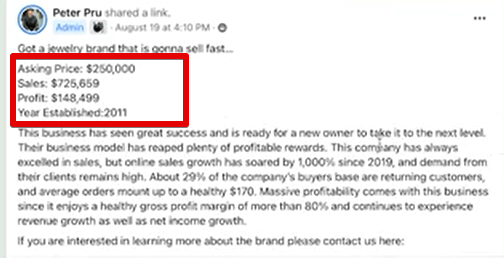 For instance, the above post has details for a particular jewelry brand's online store. The site came into operation in 2011. The site is making a profit of $148, 499. And the asking price is $250 000.
When Peter showed this post in his Youtube video, the sale was already pending as of the 19th of August. It's less than a month since I wrote this post and this business is close to being sold!
Peter tells you as an investor when these sorts of posts are made public, and if you are interested, then you need to act fast! According to him, they sell quickly.
How Much Do You Need To Invest With Ecommerce Empire Ventures?
---
To be granted access to the Private Ecommerce Empire venture Facebook group, you need to answer a couple of questions.
One of the criteria to be accepted into the group is that you need to be willing to invest at least $50,000 in a venture.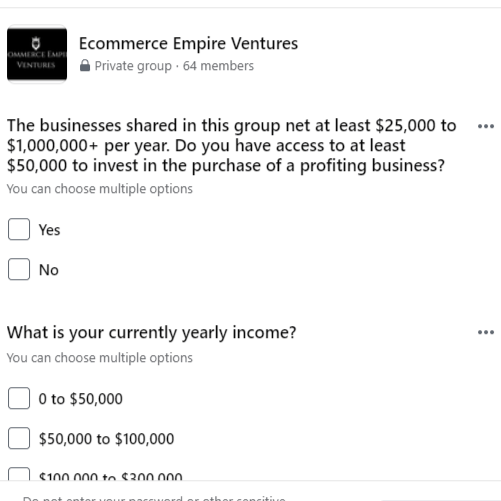 The good news though, is that you do not need to buy the business with 100% down. You can discuss payment options with Peter and his broker.
How Do You Get Started With Ecommerce Builders Ventures?
---
There are two ways that you can get started. The first is to register on their official site and book a consultation with Peter and his broker. Alternatively, you can join the Private Facebook group and communicate with their team from there.
Pros of Ecommerce Empire Ventures
---
They have owner transparency- he has a proven track record of success
Cons of Ecommerce Empire Ventures
---
The site is still new so no testimonials or customer feedback
You need lots of capital to invest
Not clear on after-sales customer support
Is Ecommerce Empire Ventures a Scam? My Personal Opinion
---
This business venture is still new, so it is hard to make a decision just yet. There is no customer feedback or testimonials. I would give it time to hear from people's experiences before making a judgment.
It would be interesting to see what sort of after-sales support one gets after having purchased an up-and-running eCommerce store. Do they provide you with training on how to maintain the store if you are a newbie purchaser? And if so, will the training be at an additional cost?
I guess that sort of information might be explained more with a consultation call with Peter and his team.
The one certain thing is that Peter is a legit entrepreneur. His previous business opportunity the Ecommerce Empire Builders has got lots of praise. I am certain that if they maintain the same standards that this one will have rave reviews as well.
Is Ecommerce Empire Ventures For You?
---
Ecommerce Empire Ventures is the right option for you if :
1. you have the capital to invest,
2. you are passionate about the eCommerce business model, or you are willing to learn more about it.
What if you do not have $50 000 to invest in a profitable online business?
Answer: you can start building your very own profitable business.
Look it might take some time. You have to learn some new skills. But hey, you know what they say, "Rome was not built in a day."
And here is the positive to building your own business. The skills that you would be learning will be with you for life. Nobody can take that away from you. And you do not have to depend on others to build you a business.
You can build as many profitable businesses as you like! The key is to start with one!
So, if you would like to learn the secret to building a recession-proof online business, click on the link that follows.
How I Earn A Passive Income Online
---
I transitioned from the health field to the online world.
As a pharmacist, I enjoyed my profession but my health challenges forced me to look for an alternate source of income. Check out my story here.
I earn a passive income online thanks to my affiliate marketing business.
The good news is that with affiliate marketing, you can build a business without having to recruit a single person. You don't have to go out there and cold-call people.
You can start as a complete newbie. You do not even need any sales experience
You can build a business based on your passion, hobby, or interest. 
You can work in your own time. It also offers you the awesome benefit of earning a passive income online
And one of the important benefits is that it is a low-risk business model, and it does not cost much to get started.
It would be my pleasure to show you more about how it works. I've been using it for five years. Let me help you to get started. Simply click on the link below to learn more
Thanks for checking out my Ecommerce Empire Ventures review.
Hope that it has helped you out.
Regards and Take Care
Roopesh