Welcome to my Land Profit Generator review. Is Land Profit Generator a scam, or is it a legit business opportunity? Are you thinking of getting into the Real estate business? Thinking of making money from flipping land?
Then you might be considering purchasing the Land Profit Generator program. You want to know if this program is legit. You might have even asked yourself "is the land flipping business for me?"
Today I am going to help you answer these questions.
My name is Roopesh and I have been doing my online business since 2015. I have reviewed several programs and courses over this time. If you are looking for a way to make money online, then feel free to register for my FREE 4-day Business course by clicking on the following link :
What is Land Profit Generator?
---
Land Profit Generator is marketed as the "most comprehensive Land Investing Coaching Program in existence."
According to the official Land Profit Generator website, by getting into the land investing business, you can earn huge returns with little competition and bring in a reliable 6-figure income.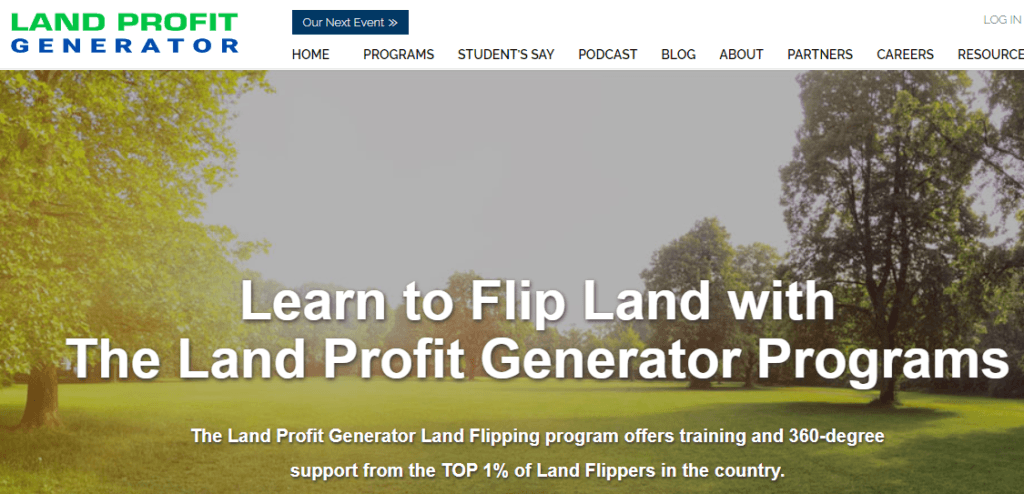 One of the main benefits of selling land versus selling property is that you do not have to concentrate on renovating the actual property.
The only two things that you need to concentrate on would be :
to purchase land below the market evaluated price, and
and sell for a profit
Who are Jack and Michelle Bosch?
---
They are the founders of the Land Profit generator land flipping program. Jack is an experienced business owner, entrepreneur, real estate investor, respected industry leader, speaker, educator, parent, and husband.
Jack also has a financial literacy book on Amazon called "Forever Cash." It got an average rating of 4 out of five stars.
Since 2002 Jack and co-founder Michelle have purchased and sold over 4000 + properties. They developed an investment method called "Land for Pennies" which became highly successful earning them a million in just 18 months!
They have a Youtube subscriber base of 6,000.
They will be having a live event in Arizona. All of their videos, masterclasses, and programs are developed with the goal of "creating millionaires and impacting the lives of many more."
Are Jack and Michelle Bosch legit?
In my opinion, I believe that they are legit.
How Does The Land Profit Generator Program Work?
---
The main purpose of their programs is to teach you the land flipping business.
There are folks out there who have vacant land, and all they are doing is just paying taxes as the months and years go by. The Land Profit Generator programs are designed to teach you how to get in touch with these people, buy the land from them and flip it for a profit!
They have four main programs that you can choose from to learn how to start your very own land-flipping business.
They are :
LPG Success Package
Land Profit Maximizer
Land Profit Coaching
Investment Dominator CRM
Unfortunately, no prices for any of these courses were made public. You have to either book a consultation call with the company or register for their masterclasses to learn more.
However, with research, I learned that their packages are not cheap. For instance, their LPG Package is around $2,497 and they do offer payment options. You get access to software that will help you track all of your deals.
The Land Profit Maximizer is a 2-day hands-on workshop that is priced at $8.000.
The Land Profit Coaching program will walk you through starting up your business to earning that 6 or 7-figure point.
In their coaching program you get the following :
ONE on ONE coaching with our Master Coaches who each do between 30 and 300 deals per year.
Daily group coaching calls with our Master Coaches, 7 days a week.
A 6-week Quick Start Intensive program to get your business ramped up FAST.
An Accountability Partner by your side 365 days/year to take you to the finish line.
One Family ticket to our 2.5-Day Land Profit Maximizer Workshop.
Their industry-leading Deal Management CRM System to help you (12 months of access included!).
Videos, checklists, and detailed guides on our 7-figure land flipping system.
All the advanced contracts and process documents you need to succeed.
My guess is that this one will carry a hefty price tag. You book a 20-minute consultation with their team to learn more about this program.
Are People Happy With The Land Profit Generator Program?
---
There are several success stories on the official Land Profit Generator website. I would search other third-party review sites or social media, to get a better idea.
They do have their own Facebook support group where you learn about people's progress.
Is Land Profit Generator a scam? Let's check out the pros and cons before I give you my verdict.
Pros of Land Profit Generator
---
They have owner transparency. They have a proven track record of success.
They have real testimonials
Cons Of Land Profit Generator
---
The course is expensive
Selling land is a long-term strategy to make money- apart from investing in the actual property, you have to have PATIENCE.
Is Land Profit Generator for You?
---
Should you get into the 'Real Estate' game or rather the land flipping business?
Is it for you?
It might be for you if you have the capital to invest in the training program.
I would not recommend it if you are looking at it purely from the point of "just wanting to make money." With any business venture you undertake, you should have a passion for it, or at the very least an interest to learn more as you go along.
And lastly, be patient in this business. So many factors can influence how quickly you make the first sale. The important thing is to always have that hope.
To summarise, this business model is for you if you have (a) capital, (b) passion, and (c) patience.
You Don't Have To Spend CRAZY Money To Own "Real-Estate"
---
You do not have to restrict yourself to buying and selling physical "real estate." The internet opens an exciting opportunity for anyone to get their share of digital real estate without having to break the bank.
You can buy and sell domain names.
I made a video review of a site called BrandPa.com. You can come up with your funky domain name and list it on the platform for a minimum of $1000.
The other way to build an online asset is to launch your mastermind, coaching, or consulting program. And this platform shows you how to get started.
Then my favorite one is to learn skills to build your website. You can do blogging, and promote other people's products or services. Your website becomes your digital asset once it starts earning a passive income for you!
And the business model that I am referring, to is affiliate marketing.
I created a FREE 4-day video course, to show folks how powerful this business model is. If you would like to learn more, just click on the link that follows:
How I Earn A Passive Income Online
---
I transitioned from the health field to the online world.
As a pharmacist, I enjoyed my profession but my health challenges forced me to look for an alternate source of income. Check out my story here.
I earn a passive income online thanks to my affiliate marketing business.
The good news is that with affiliate marketing, you can build a business without having to recruit a single person. You don't have to go out there and cold-call people.
You can start as a complete newbie. You do not even need any sales experience
You can build a business based on your passion, hobby, or interest. 
You can work in your own time. It also offers you the awesome benefit of earning a passive income online
And one of the important benefits is that it is a low-risk business model, and it does not cost much to get started.
It would be my pleasure to show you more about how it works. I've been using it for five years. Let me help you to get started. Simply click on the link below to learn more
Thanks for checking out my Land Profit Generator review.
Hope that it has helped you out.
Regards and Take Care
Roopesh