What is Elite Downline Builder all about? Welcome to this Elite Downline builder review. You might have been approached by someone to join this company, or you might have seen an ad. Whatever the case is, it caught your curiousity.
You might have asked yourself, "Is Elite Downline Builder a scam?" And today I am going to show exactly what it's all about and whether or not it will be worth your time and effort.
My name is Roopesh and I have been doing affiliate marketing since 2015. I have reviewed over 400 make-money online business opportunities. Yes, many mediocre and downright scams show up regularly on the internet.
But on the flip side, some top-notch business teaching platforms show you the right way to build a sustainable and profitable online business. Check out my NR.1 Recommendation by clicking on the link that follows:
Who Is The Owner/ Founder of Elite Downline Builder?
---
David Hurley is the founder of the Elite Downline Builder business. He has got his very own YouTube channel, with a current subscriber base of 357.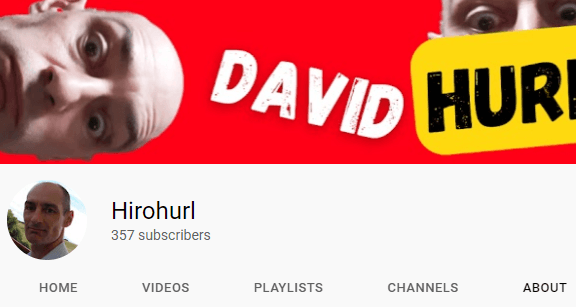 David is a self-employed English teacher in Japan. He also has an interest in online affiliate marketing and crypto-accumulation.
His favorite affiliate programs are those that specialize in having the tools to help someone in their ongoing affiliate marketing business. Some of these tools are traffic generation services,website hosting platforms, and autoresponder services such as Systeme.io.
Elite Downline Builder came into existence in 2017. The purpose of this program is to help others make money with affiliate marketing.
What is Elite Downline Builder?
---

Elite Downline Builder is marketed as a program where you can build 5 income streams, with leads coming to you and the whole system takes just 10 minutes to set up! And you can get it for FREE!
It sounds pretty exciting.
I mean who would not want to have 5 passive income streams? And who would not mind investing just 10 minutes of their time to have it all up and running?
The truth is that it's not as easy and quick as they say to have money coming in from these 5 sources. I will explain why shortly. And secondly, whilst it might be free, it will limit you in terms of how much you can make. (in other words, you have to pay)
In essence, Elite Downline Builder works in two ways.
The first way is where you as a member, will get one link to promote 5 affiliate programs.
The second way is where you as a member, can participate in their compensation plan and earn money by introducing more people to join the program.
How Does Elite Downline Builder Work? Inside The Member's Area
---
Once you register, the first thing that you need to do is :
Load a picture for your profile

, then

Set up your Elite Downline Builder account

, then

Register with the five affiliate programs to get your affiliate links

, then

Use the paid advertising banners, texts, and other tools to promote these programs

, then
Use the ad credits to promote the Elite Downline Builder program.
The Affiliate Marketing Side of Elite Downline Builder
---
I told you earlier that promoting these 5 income streams will not be as easy as they make it out to be. In this section, I am going to show you WHY.
Firstly here are the five programs that you will be promoting :
2.Prosperity Marketing System
3.LeadsLeap
4.ListNerds
5.TheClickEngine
I am very familiar with Wealthy Affiliate. To this day, I am a member of Wealthy Affiliate and they are a legit affiliate marketing teaching platform. You can check out my Wealthy Affiliate review here, or visit their sales page here.
I am not sure about the rest of the programs. They claim that they are legit though.
The main way in which they want you to promote these programs is via paid ads. So, you will be paying money to drive cold traffic straight to the main offer. And that is already a BIG MISTAKE or problem in your affiliate marketing business.
It's a problem because, you, like the rest of Elite Downline Builder members are going to be using the same generic ads. They are not teaching you how to send traffic to a funnel- the purpose of which is to get your leads to become acquainted with you.
Once they get to know you, like you and trust you, they might be inclined to buy from you. The bottom line is that they are not teaching how to stand out from your competition and be unique.
That's why I believe that getting conversions this way is hard. Take a look at my video where I show you how affiliate marketing is done in 3 steps.
The Elite Downline Builder Membership Package and Compensation Plan
---
As a free member, you can only make a 10% commission from your referrals, and you get 1000 free ad credits.
They have different membership packages that you can buy into.
Silver package

– $7, you get 2000 ad credits and you make 15% commissions.

Reader bonus

– $14, you get 3,500 ad credit, and you make 20% commissions

Gold package

– $27, you get 5000 ad credits, and you make 25% commissions

Platinum package

– $47, you get 7,500 ad credits, you make 35% commissions

JV Diamond package

– $77, you get 10, 000 ad credits, you make 50% commissions
You have a 3-day refund policy after purchasing a package. These are lifetime packages.
I showed you the potential challenges that you can face by promoting the 5 programs. The second way that you earn is by participating in their compensation plan and recruiting more members to Elite Downline Builder.
The higher the level you are at, the higher the commission rate you can earn. But you need to focus on numbers, the more people you enroll in the program, the more you can earn.
Sounds easy?
Is Elite Downline Builder a scam? Let's a quick look at the pros and cons before I share my verdict.
Pros of Elite Downline Builder
---
They have a free membership option
They have owner transparency
The membership packages are reasonably priced
Cons of Elite Downline Builder
---
It's not newbie friendly
They teach paid advertising
No testimonials or track record of success
Mediocre looking website
You have to recruit to earn the higher paychecks
Is Elite Downline Builder a Scam? My Personal Opinion
---
The positive about Elite Downline Builder is that there is a real owner, and he stands by his product.
The not-so-good part is that there are no real member testimonials. Or no success stories.
Is Elite Downline Builder a scam?
I would not say that it's a scam, but I also would not recommend it.
The affiliate marketing training from Elite Downline Builder is not complete. They are only talking about using paid ads. As a newbie, it's always a good idea to learn organic or free traffic methods FIRST, before diving into Ppc(pay-per-click) or paid advertising.
They are NOT teaching you how to offer value in your campaigns, and that's another reason why I will not recommend this program to newbies.
As for the RECRUITING side, if the focus is placed purely on getting people into buying ELITE PACKAGES, then it can be viewed as a pyramid scheme. Another reason why I will not recommend Elite Downline Builder.
How I Earn A Passive Income Online
---
I transitioned from the health field to the online world.
As a pharmacist, I enjoyed my profession but my health challenges forced me to look for an alternate source of income. Check out my story here.
I earn a passive income online thanks to my affiliate marketing business.
The good news is that with affiliate marketing, you can build a business without having to recruit a single person. You don't have to go out there and cold-call people.
You can start as a complete newbie. You do not even need any sales experience
You can build a business based on your passion, hobby, or interest. 
You can work in your own time. It also offers you the awesome benefit of earning a passive income online
And one of the important benefits is that it is a low-risk business model, and it does not cost much to get started.
It would be my pleasure to show you more about how it works. I've been using it for five years. Let me help you to get started. Simply click on the link below to learn more
Thanks for checking out my Elite Downline Builder review.
Hope that it has helped you out.
Regards and Take Care
Roopesh