Are you struggling with getting website traffic? Is Social Media and Paid Ads just taking too long for people to see your articles? Can Moneyline help you with these problems?
Hello everyone and welcome to my Global Moneyline Review.Launched earlier in 2016, this company is making headlines ever since.With the heart of Moneyline being its ever growing FREE money list and unique compensation plan, one can't help but ask, " Is there something of value here? "
Let's see what the hype is all about and if it can help you out….
Ready? Great…lets start.
What Is Moneyline all about?
---
In a nutshell,Moneyline is a global community whereby people join for FREE and are automatically part of an online global List.
When you sign up, you will be added to the community.As time goes on, and more folks join up, they will follow suit underneath you. Before you know it, you already have a huge number of members.
Why would people join the Moneyline list?
The answer is —–because of the list. Remember joining up is free and we all know how hard it is to build an e-mail list or social following.So Moneyline delivers on these two important parameters that are crucial to any online business.
You GET TO join for free and
You get to advertise your website on the list for FREE. A list that is already built and is  continuously growing!
Isn't that exciting? That's only the one part of Moneyline. Moneyline offers you the opportunity to earn as well. More about this later on.
Is there Really a Moneyline list?
---
I was first introduced to Moneyline from a very good friend.He is someone who always tests the waters and brings sound decent money making opportunities to the table.
As he invited me to join Moneyline via his personal link, I thought to myself , " yeah it's Free, why not?"
Believe it or not, after three weeks, without even logging back into my account, my Moneyline had grown to 14000 members.

How long do you think it would take for you to get 13 000 people on own your list using social media?  If you have to do a paid campaign, how much would it have costed you to get that many clicks ? There is some potential here….
Sure not every single member is going to visit your site. Even if you get 5% of these folks visiting your website, isn't that good enough? Let's not forget it's all FREE.
Global Moneyline is not Just about a Money list, it's about Building a Business
---
Moneyline is not just about leads generation, but it is a two edge sword that gives you an ability to earn both website traffic as well as ongoing revenue.
How Does the Global Moneyline compensation plan work?
As I mentioned before, the membership is free and you are not pressured at any time into signing up for the business side. As a free member, you will still be able to send messages and communicate with your list on a one to one basis.
On the other hand, choosing to become a member is a once off thing. You get more flexibility in the sense that you can send out multiple messages at the same time to your ever growing list.
I chose to become a member and will include some details of how compensation works, in this global Moneyline review.
The Unique Compound Leverage Compensation Plan
In order to qualify to start earning revenue, you have to make three sales, one of which will be your own!
Everyone starts off at the bronze level, which costs you 20bucks!
Thereafter every sale (after these three sales) that you make, you earn yourself $20. It works the same on the other denominated levels as well.
The other unique part of the Compound Leverage compensation plan is that
You are paid code bonuses to unlimited depth and width
You are paid HOURLY
The plan works on a geometric growth system, making it a fair and leveled paying system
You can get paid from anywhere in the world!
There are short and easy to understand videos within Moneyline that go into more detail about the compensation plan as well as how the entire system works!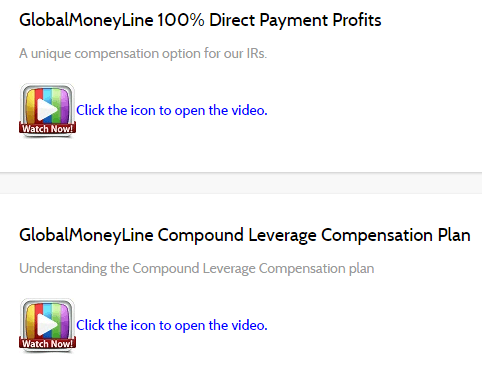 You can Join MoneyLine By Invitation Only!
If you are interested, then feel free to join using my link below
Conclusion
---
At the end of the day, I was looking for a way to improve traffic to my website. I will most definitely continue using my Social Platforms and follow SEO techniques religiously as I believe, that the best way to get traffic to your website is the old-fashioned way, by providing quality and helpful and engaging content.
To be honest with you,I joined Moneyline as I am intrigued to see the impact it would have on my websites as time goes on.
Perhaps it may help you too. If website traffic, referrals, and income are what you looking for, then Moneyline could give your site that boost that you looking for. It's FREE to join and it only takes 2minutes to sign up! (YOU DONT HAVE TO TAKE OUT ANY SUBSCRIPTION)
Hope that you have found this Global Moneyline review helpful?
Anything on your mind, or you still not sure about something? No hassle, give me a shout and I will get back to you!
Thanks for joining me today.
Have a blessed day
To your Success
Roopesh