Welcome to this Lost Creator Academy review. Are you passionate about photography? Would you like to make money creating videos? Even if you are an amateur at photography or video creating, you can still learn the skills to take things to the professional level. And Lost Creator Academy is marketed as a course that will help you to do just that.
Is Lost Creator Academy a scam, or is it a legit course? If you were to check out Udemy, you would find a number of courses that can teach you photography, and video content creation, and many of them will be a fraction of the price as to what Lost Creator charges?
So, why then should you purchase the Lost Creator Academy course? In this review, I am going to show what the course is all about, how different it is, and even help you to decide if it's the right fit for you.
Congratulations on taking the time to do your research before you go all-in with this particular opportunity. 
There are tons of scams online. But on the other side of the coin, there is a legit way to make money online. 
Having said that, let's dive into this Lost Creator Academy review to see what this opportunity is all about.
LOST CREATOR ACADEMY -SUMMARY BOX
OVERALL RATING: 4/5
The LCA Course is designed to help people create content for their photography or video business. You can use the skills, to build your very own freelance business.
The course is not just for beginners but for people who already have started their business. In addition, it is also not limited to the travel niche.
The only downside is that it is expensive.
My Recommendation: If you are interested in building a business with real income potential, that is affordable to start, click below :
Who Is the Owner of Lost Creator Academy?
---
Lost LeBlanc aka Christian LeBlanc is the founder of the Lost Creator Academy course. If you check out his social media profiles, you will find that Christian had built quite an impressive following on these channels.
For instance, his YouTube channel has like 1.93 million subscribers. He started this channel back in 2015 using his GoPro. At the time, he shared his experiences of traveling Southeast Asia.
According to the introductory video, Christian claims that he struck up endorsement deals with big names such as Nikon, Google, Samsung, DJI, and Air Canada. And it's not really that hard to believe. Gauging from the quality of his videos, you can see that Christian is passionate about his Vlogging business.
One of the aspects that he stresses, is that business does not have to be just about business. To him, it's also about building a community and bringing like-minded people together.
And here is a video of Christian initiating a 'travel challenge to the community members of LCA. It's a race around Mexico and following through with various tasks. And whichever team completes the tasks successfully makes it to a certain destination first, wins $10 000.
So, what is the LCA course all about? Let's take a closer look.
What is the LCA Creator Course All About?
---
The Lost Creator Academy is a course designed to help you to create unique and engaging content for your photography/video business. The course is for both newbies who have not picked up a camera as yet, as well as for folks who have already got started with their business.
Is the LCA course restricted to folks who are within the travel niche?
No, according to Christian the lessons can help you to create content if you are a personal trainer, a beauty vlogger, even a food blogger, or anyone who wants to get started within the world of online business.
By the way, if you are interested in starting a food blog, then check out my review of a premium course called Food Blogger Pro
The LCA course is made up of around 170 hours of training videos. In addition as a member of the LCA academy, you get :
Direct mentorship – access to Christian and his team
Access to the Private LCA FaceBook Group
Lifetime access to all course material (including ongoing future updates)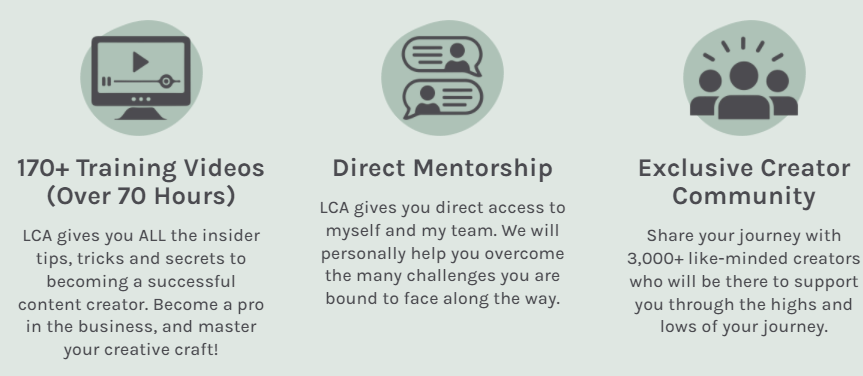 One of the main objectives of this course is to equip you with the skills to become a successful freelancer doing videography and photography gigs.
How Much Does the LCA Course Costs?
---
There is a once-off lifetime membership fee of $799. Alternatively, you can opt to pay for the course in three monthly installments of $225.
They also offer a 30-day conditional money guarantee. The condition is that the refund will only be honored if you have not completed 50% of the course material.
Inside the Lost Creator Academy Course- The Membership Area
---
In total, the flagship course consists of 6 modules.
Here follows a detailed breakdown of the course modules…
Module One: Content Creator Fundamentals
As a photographer, it's important to choose the right camera. And if you are brand new to the world of photography, then this module will help you to get started in the right direction.
Here you will learn about some of the best photography software programs that are out there. Christian will teach you how to master your camera and share with you his top camera picks. He will walk you through how to select the best camera for the job.
But taking photos is just the start. You need to know how to tell a good story, and you will learn to do that in this module too.
Module Two: Master Your Photography
This course is all about helping you to master the craft of photography. Christian shares with you the techniques he used to land gigs. You learn about capturing those eye-catching images for Instagram.
Christian will share with you what his best and worst thumbnails are for his images. You will also learn how to edit the photos to get the best images to use for your portfolio.
Module Three: Becoming a Master of Videography
People are visual by nature. And these days videos play an extremely important part to deliver the message, be it for entertainment or educational purposes. Just take look a look at YouTube, and you will realize why it is the 2nd largest search engine in the world!
You can create SEO content on Youtube, and get your business in front of millions of people. Christian teaches you how to tell a visual story using video and how to expand your reach to get in front of the right buyers.
Module Four: Build a Profitable Business
Do you really need a social media following to build a profitable online business? Lost LeBlanc teaches you how to go about negotiating and landing your first paid deal. You will learn how to get collaborations without needing a huge social media following.
You will also learn how to build your action plan and charge the right prices for your services.
Module Five: Taking Your Brand To The Next Level
This module is about expanding your social media reach. Here you learn how to become an influencer on Instagram, and YouTube.
Module Six: Creator Coaches
In this module, you get to work with coaches on LeBlanc's team.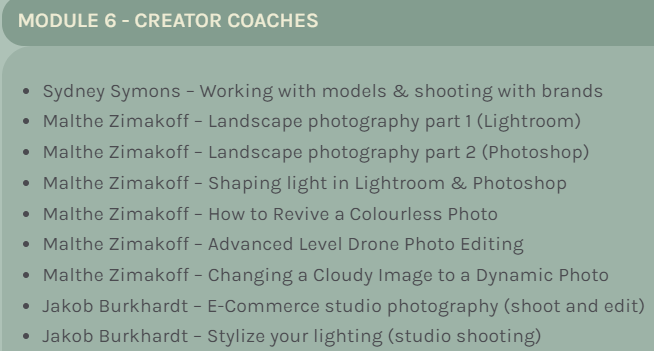 What I Like About The Lost Creator Academy Course
---
There is a real owner.
In addition, he is not just making a living from selling the course, but whatever he teaches, he implements into his business as well.
2. There are REAL member testimonials
3. There is a money-back guarantee
4. The course is not geared towards one single niche
What I Do Not Like About The Lost Creator Academy Course
---
It's expensive
You will have to invest in equipment incurring more expenses.
Is Lost Creator Academy A Scam? My Personal Opinion
---
Is Lost Creator Academy really worth it? Let's face it $800 is a lot of money for a course. However, the cool part is that Christian LeBlanc does have a free 1-hour webinar that you can sign up to. In this way, you will get a taste of what the course is all about without investing huge capital.
In my opinion, Lost Creator Academy is not a scam. As a paid member, there are three things that stand out from this course.
The first is that you get lifetime access. So, any new training material that Christian adds, is available at no cost to you.
The second thing is that you get access to their private Facebook group. And here you can connect with 3000 members. The journey with starting your online business can be lonely and having the motivation, support, and ongoing help from other like-minded individuals can make all the difference in the world.
And the third bonus is the mentorship calls you get with Christian himself. Some courses just to get access to the owners or founders comes at an additional charge. And that is certainly not the case here.
That concludes my review of Lost Creator Academy. Is the LCA course for you?
$800 might be not affordable for everyone.
If you are strapped for cash at the moment, then do not stress. You can learn the skills to build a REAL profitable online business for a fraction of the cost. Just click on the link that follows, to check out my NR.1 Recommendation.
How I Earn A Passive Income Online
---
I transitioned from the health field to the online world. As a pharmacist, I enjoyed my profession but my own personal health challenges forced me to look for an alternate source of income.
I earn a passive income online thanks to my affiliate marketing business.
The good news is that with affiliate marketing, you can build a business without having to recruit a single person. You don't have to go out there and cold-call people.
You can start as a complete newbie. You do not even need any sales experience. And you do not have to create your own product.
You can build a business based on your own passion, hobby, or interest. You can work in your own time. It also offers you the awesome benefit of earning a passive income online
It would be my pleasure to introduce you to this business model. I've been using it for five years. Let me help you to get started. Simply click on the link below to learn more
Thanks so much for joining me on this Lost Creator Academy review.
I hope that it has helped you out.
Looking forward to hearing from you.
Wish you everything of the best in your online success,
Kind Regards and Take Care