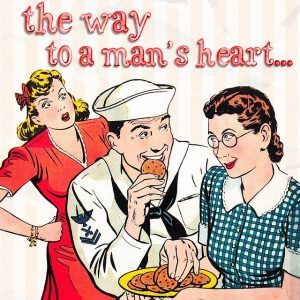 Recently there has been an exceptional increase in the number of reported incidents regarding online dating scams in South Africa.
From reading about stories of extortion to one losing their life savings, to some even losing their life, this is something to be cautioned of before you get your Heart and Mind lost in Cupid's matchmaking game.
Online Dating Scams that Took Place
Women lost $6428(around R90 0000)
This is a story of a scammer going by the name of Alex Wilson. He made contact with a South African woman via the Badoo dating website and was wooing her for close to six months before she finally had realized that she was a victim of a nasty dating scam.
Mr. Wilson painted a lovely picture of the widowed man with a son, staying abroad in the U.K. He lost his wife in a car crash and seeks companionship and promises to meet up with the victim, a Cape Town schoolteacher very soon. In an attempt to show his sincerity, he goes to the point of asking for her ring size and maintains that he intends showering her with gifts. And to prove this point, he tells her that one of the so-called gifts is awaiting her collection from the UK.
All excited, this woman gets a notification as per e-mail that to receive this gift, she would need to pay $6400 towards immigration services. She goes ahead and pays the amount.
When there is a second request for another $5700(around R80 000), it eventually hits home that she was scammed.
"I feel sick.I don't know how I could be so stupid,I borrowed that money from my widowed aunt."
No Proposal! No Ring! Just a Broken Heart.


2. The Scam Gang
On July the 7th, the South African Police Services(SAPS), arrested a 31-year-old Cape Town Woman and her Nigerian husband along with four other Nigerian accomplices.
The gang was involved in creating fake accounts on online dating sites. It was believed that seven victims had come forward and were collectively scammed out of a staggering $28571 (around R400 000, by this group.)
How Do these Scammers get it right on the Online Dating World?
---
Victims on these dating sites are essentially looking for companionship, love, someone to trust and to talk to.As soon as a scammer is able to pose as this 'perfect' friend or companion, then it's just a question of playing the victim into their web of mind games.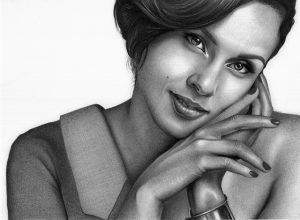 At an incident that took place in the UK, whilst police were raiding the place of a conman, they found a copy of the seduction handbook called, "THE GAME " by Neil Strauss.
The book contained step by step instructions on how to lure victims and featured topics such as 'Select a Target,' Isolate the Target,' and 'Create an Emotional Connection,'' to name a few.
With these mind games and guilt trip strategies, scammers are able to perfectly execute a plan of attack, on even the most 'educated, successful and responsible' of people by hitting where it hurts the most, the heart ( and then the purse or wallet.)
How Common is Online Dating Scams in South Africa?
---
If you happen to look at the UK for instance, it has been reported that dating scammers who were found, had managed to con their dates out of a staggering 33Million Pounds.
Things are heating up in South Africa too. Online dating scams in South Africa, have certainly been on the increase. CEO, Kalyani Pillay, of the South African Banking Risk Information Centre(SABRIC),   maintains that though online dating scams have been doing the rounds, perpetrators are getting more sophisticated as more people gravitate to using online dating sites.
Here is what she said recently,
"Not only do they(criminals) rob people of their money, they rob them of their self-esteem as well."

"Most people are on social media these days, and its a great way to communicate. What these perpetrators do is they scout all of these platforms when your security levels are not set at their highest… They are able to select their interests well"
Here are what other South Africans have to say regarding the dating scams as well.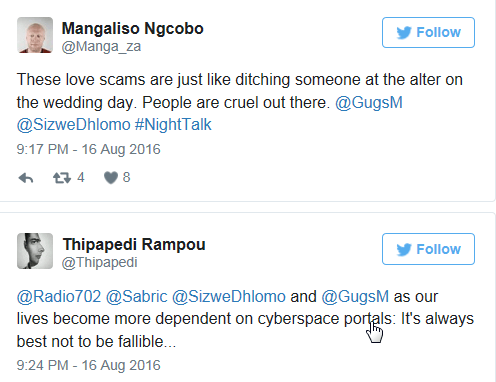 Let us take a look at Five important steps that we can take to avoid getting scammed through online dating.
How You Can Avoid Online Dating Scams
---
Safeguard Your Personal Information
Protect personal data such as telephone number, address, and e-mail particulars.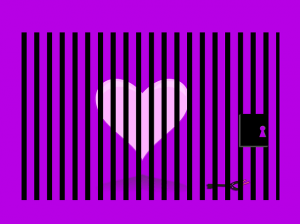 Divulge ONLY when you feel comfortable. The same applies when it comes to the posting of your treasured pictures and videos.
Be on high alert especially when the person is pressurizing you to give personal information, such as financial status within the early stages of the relationship.
Equally, be just as careful, when the person open ups to you too early with their information. At times, they may be 'baiting' for you to disclose information to them.
2. Keep Things within The Site Boundaries
Registering with paid dating sites can filter out some of the scammers from joining because they would have to use a credit card which can be used to track them.
Unfortunately, this may NOT deter all of these predators. At least, by keeping things on the site, you have the playing field on your side.
Scammers often use words such as 'my membership is expiring soon," in a bid to get YOU to agree to continue the relationship via personal e-mail or telephonically.
One other thing, giving them your e-mail gives them the opportunity to send you phishing scam e-mails. This allows them to get access to sensitive information which may be stored on your computer.
If you are interested in learning more about Phishing Scams, check this article out
Scammers often push to get the relationship this way, as it allows them to go back to prey upon another victim without getting noticed or even leaving behind any trace.
3. Do Some Detective Work
Scammers love to use images of military personnel , attractive models and steal pictures from other people's Facebook profiles.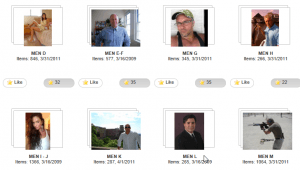 Use tinyeye.com or Google images, to cross check the person's images.
As Barbara Sluppick of Romancescam.org pointed out
" Anyone who has images posted anywhere on the internet can be a photo victim."
Check to see if you can find a match with the person's name amongst any common social media platform such as

LinkedIN , Facebook, Twitter etc.
Poor Grammar– If you are chatting with someone who claims to have a graduate degree and displays poor writing or language skills, this should sound off some warning bells.Some scammers from West Africa, have English as a second language.
Sites like pigbusters.net or romancescams.org, constantly update their databases. Check to see if your 'companion' has been busy elsewhere.
4. Don't Fall For Sad Tales
As you now know, in the first story, there are many online dating scams that end up with the victim falling for the sad or tragic story of the suitor.
Either he or she
had lost a spouse

, child or parent

have a sick relative

to see to,

have no close family

or friends to turn to,

have an emergency

that is preventing them from visiting you.
Working on your emotions is their ultimate goal and for some victims, they fall really hard 'in love,' to a point of things becoming really dangerous.

5. DO NOT WIRE ANY MONEY- WHATSOEVER
Whether it's for a plane ticket or a taxi fee, or if your 'digital' lover is stranded at sea, do not pay any money.
Once you pay, they will ask you for more until you either say NO or until you Don't have anything left.
Do Not let it happen to you.
These are the 5 important tips. Keep them in mind and keep your heart in check. You should be fine.
I have been asked about the dating sites themselves, with regards to protecting their users.
What are Dating Sites doing to Protect the Online User?
---
Is it safe to go online and use dating sites?
Apart from the usual disclaimer, some sites are doing their share by making the experience more safe and enjoyable.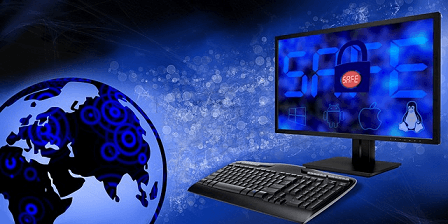 Some of them have installed automated defenses that are able to pick up suspicious language patterns or even block accounts with IP addresses linking to high alert countries such as Nigeria and Ghana.
A spokesperson for the Match.dom website said that if a user's behaviour is flagged by other members within the sites, then the user's account is immediately shut down. All new profiles are monitored for any inappropriate content.
Some sites go as far as employing Social Authentication methods to match the information against the user's various social media accounts.
Conclusion
If you look at it, online dating is accepted much more, today, then it was 10years ago. People find it a good way to meet others. With the mobile apps usage and/or online dating sites having tripled since 2013, this shows that online dating is here to stay.
Scammers are everywhere, be it online or offline.Its about being vigilant and using your mind and intuition or gut feeling, when things don't seem right. Whether you are in South Africa, the U.K. or USA, these tips outlined above should be at the back of your mind when using online dating sites.
The only way we can prevent getting scammed is to be equipped with the necessary knowledge.
If you are interested in learning more about online scams, then perhaps you may want to check out other articles that I've written hereof.
or
Thanks folks for joining me today.
Have you been scammed before using an online dating service? Or, do you know anyone that has been scammed?
You are welcomed to share your thoughts and/or experiences.
Happy Dating and Be Safe

Regards
Roopesh