Welcome to my Pureprofile review. Are you searching for a decent survey-paying site?
If you've ever dabbled in the world of online surveys, you know how it feels to spend precious time answering screening questions only to find out that you don't qualify for the main paying survey.
It's like getting so close to the finish line, only to stumble at the last hurdle. But don't worry; you're not alone in this frustrating experience.
Did you know that on average, survey takers get disqualified from surveys almost half the time?
Yes, that's right!
According to a fun survey statistic, nearly 50% of respondents find themselves getting screened out of surveys due to various reasons. It's a common struggle, and that's where survey platforms like PureProfile come into the picture.
Today, I am going to talk to you about an online survey site called PureProfile.
Is PureProfile legit, or is it a scam? Is it worth your time to join PureProfile and explore the world of survey jobs? Let's dive in to uncover what PureProfile is all about and whether survey jobs in general are the right business opportunity for you.
Overview of PureProfile
---
Name: PureProfile
Availability: Restricted
Payout Threshold: Varies by location
Price: Free
Overall Rating: 2 stars
What is Pureprofile All About?
---
Pureprofile serves as a platform connecting two parties: companies and researchers.
Companies seek valuable customer insights about their brands and products, and Pureprofile conducts market research on their behalf.
On the other side, individuals like you and I can participate in these market research activities and get rewarded for our efforts.
By completing surveys, you can earn rewards in the form of cash or points.
Recommended Reading: Is MindSwarms a Scam? [Get Paid Doing Short Video Surveys, Legit?]
How To Join PureProfile?
---
Joining Pureprofile is a simple and free process.
All you need is an email address and a password, and you're ready to go.
However, it's important to note that Pureprofile is not available in every country. Currently, citizens of Australia, New Zealand, Singapore, the United Kingdom, and the United States of America are eligible to join.
If you're from a different country, don't worry; I'll provide an alternative option later in this review.
How Do You Earn With PureProfile?
---
There are two ways you can earn as a Pureprofile member.
Answer Surveys
Your journey to earning with PureProfile begins by sharing your opinions through surveys.
Enhance your chances of receiving more surveys by ensuring your profile is fully completed.
By providing comprehensive information, you enable the platform to match you with surveys tailored to your interests and demographics, paving the way for increased survey opportunities and higher earnings.
Referral Program
Amplify your rewards by participating in the PureProfile referral program.
Invite others to join their platform, and when they sign up and complete two paying surveys after verifying their email address, they become eligible for a payment.
The amount you earn from referrals may vary depending on your country of residence.
Are People Happy With Using PureProfile?
---
At Trustpilot.com, Pureprofile scored a low user rating of 1.8 out of 5 stars.
66% of these ratings were 1-star reviews, indicating significant dissatisfaction among users. Some common complaints included automatic suspension of accounts when attempting to withdraw funds and delays in receiving payments.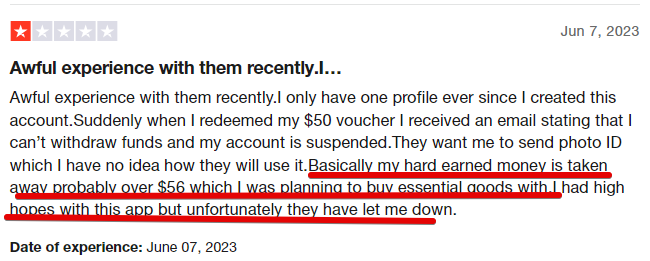 One user reported earning around $170, only to struggle to get the money paid out.
While it's commendable that Pureprofile has taken the time to respond to these complaints, the issues seem to persist.
Pros of PureProfile.com
---
Established Presence: Pureprofile has been around for a while, indicating its longevity in the market research industry.
User-Friendly Website: Navigating Pureprofile's website is straightforward, making it easy for users to access surveys.
Free Registration: Signing up with Pureprofile is free, allowing users to get started without any initial investment.
Cons of PureProfile.com
---
Limited Availability: Pureprofile is not a global opportunity; it is only available in a select few countries.
High Payout Threshold: The payment threshold to withdraw earnings can be relatively high, requiring substantial survey completion before payout.
Customer Complaints: Numerous negative reviews and poor user ratings raise concerns about the platform's reliability and customer support.
Location-Dependent Earnings: The earning potential may vary based on your geographic location.
Not a Passive-Income Opportunity: Engaging in online survey jobs requires active participation to earn money.
Is PureProfile a Scam? My Personal Opinion
---
Pureprofile is a legitimate company that has been operating for a considerable time.
While it may have been a reliable source of paid surveys in the past, its standards seem to have declined, leading to numerous complaints from users.
While there are members who have had positive experiences, the increasing number of negative reviews raises doubts about its current reliability.
Should You Rely on Survey-Paying Jobs?
---
While survey sites like Pureprofile can provide opportunities to make some extra money online, they should not be relied upon as a primary source of income.
Challenges such as limited earning potential, time-consuming tasks, and high payment thresholds may hinder your ability to earn substantial income.
Moreover, not all survey sites are trustworthy, with some being scams aiming to extract personal information from users.
If you're still interested in survey jobs, consider signing up with multiple sites to increase your chances of receiving more surveys and earning more money.
However, if you want to make your time and effort truly count, I recommend checking out alternative ways to earn a passive income online.
How I Earn An Income Online
---
My journey from the health field to the online world led me to discover affiliate marketing, a business model that allows me to earn a passive income. Read my story here.
With affiliate marketing, you can promote products or services without engaging in recruiting or direct selling. It's an ideal business model for beginners, even if you lack marketing or technical experience.
Affiliate marketing provides the freedom to build your business around a topic or niche that interests you, and you're not limited to promoting only one product or service.
If you're curious about how affiliate marketing can help you achieve financial freedom, click the link below to learn more about my recommended business opportunity.
Thank you for joining me on this PureProfile review. I hope this information has been helpful in guiding your decision. If you have any questions or thoughts, I look forward to hearing from you.
Regards,
Roopesh