Welcome to my SouthWestern Advantage Review. Is SouthWestern Advantage a pyramid scheme? Are you a student? Are you looking for a way to pay off your student loan? Or how about learning some leadership and entrepreneurial skills?
You might be considering joining the SoutWestern Advantage program. You might have been invited to sign-up with them, and you are not sure if SouthWestern Advantage is a scam.
Today, I am going to show you what the company is all about, and what they are offering. At the end of this review, you will have a clearer picture of what is going on, so that you can make an informed decision.
My name is Roopesh. I am a pharmacist turned affiliate marketer. Crazy jump, right?
Let's just say my hearing was NOT very good at the time, and I was forced to look for a backup plan, as it was affecting my work. You can read my full story here.
Anyway in that time, I have reviewed over 400 make-money business opportunities. If you would like to check out my newbie-friendly business recommendation, feel free to click on the link that follows:
What is SouthWestern Advantage All About?
---
The Southwestern Advantage company was founded in 1868. Dan Moore is the president of the company.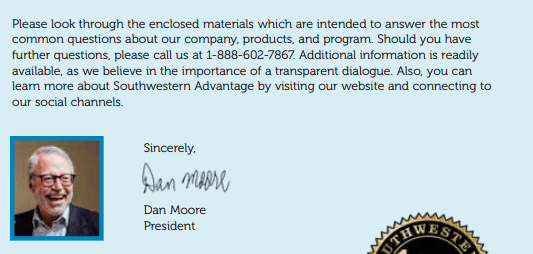 The Southwestern Advantage is a program that is customized for college or university students. The company's mission is to empower students with the necessary training, tools, and skills to build their own businesses whilst they are still studying.
Southwestern advantage operates on a direct selling principle. As such they are registered with the DSA(Direct Selling Association). The products that are marketed by the company's student reps are aimed at helping children to excel in school and as well to learning life skills.
Southwestern Advantage only recruits students from the United States and Canada.
How Do You Make Money With SouthWestern Advantage?
---
When you sign up with Southwestern advantage, you would do so as a student rep. The company would provide you with extensive training to work as a door-to-door representative.
Your job in your free time(like the summer vacation) is to go from house to house marketing the various company products to families. I will show you what these products are in the next section.
You get paid for every sale that you make.
Since it's a direct selling company, the company does not advertise its products to the public. This is a good thing for you, as it means that people can only buy from their reps.
However, on the flip side, it also can be competitive as many students are already in the game. Basically you would have to work really hard to make those sales.
Let's take a look at the products.
The SouthWestern Advantage Products- What Will You Be Selling?
---
The company has got an extensive product portfolio. They have products that cater to all age groups right up to adulthood.
They have books, websites, and apps that helps kids to broaden their classroom knowledge as well as life skills.

The video below will give you an idea of some of the products that you will be marketing.
Are The Training and Support Any Good?
---
To get started with your SouthWestern Advantage business, you are required to complete a 1-week training in Nashville before you are relocated to the area in which you will be repping.
They will cover topics such as :
face-to-face communication
fundamentals of running a small business
safety
money management
self-coaching
You will get to role-play various scenarios before you take on your first assignment. As for safety, students are taught to check in with local authorities and law enforcement to ensure that they are always under a watchful eye.
For instance, females are given additional training. And students are also encouraged to join host families to keep expenses low and for that added extra protection.
At the end of the day, the training is designed to empower you with leadership skills and other valuable skills such as :
the ability to work in a team
problem-solving capabilities
strong work ethic
entrepreneurial skills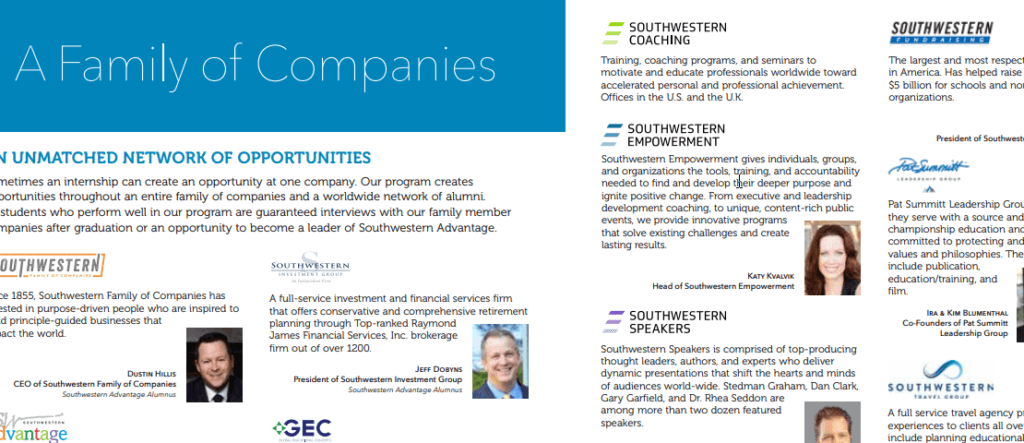 Southwestern Advantage is part of a larger organization of companies. As a student, you also will have the opportunity to advance within the other companies if you choose to.
How To Join SouthWestern Advantage?
---
If you are interested in getting started with your own Southwestern Advantage business, then you simply fill out the form to apply for an interview.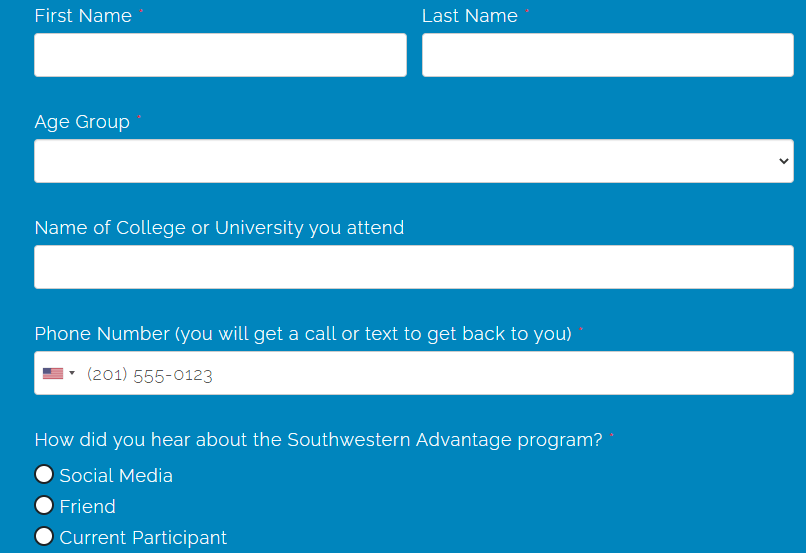 Is SouthWestern Advantage an MLM?
---
They do not regard themselves as MLM. One of the key characteristics of an MLM is that a member's income takes into account his or her sales along with a percentage of the team sales. So, in an MLM, the more people you recruit, the more money you can earn.
According to Southwestern Advantage, the students receive no income for recruiting but from the sales results of the team.
The companies also claim that they have no quotas, and all initial sales supplies & materials are purchased by the company and provided to participants free of charge.
Is SouthWestern Advantage A Pyramid Scheme?
---
This question gets asked quite often in forums. And the answer is the Southwestern Advantage is not a pyramid scheme.
According to Wikipedia, a pyramid scheme is a "business model that recruits members via a promise of payments or services for enrolling others into the scheme, rather than supplying investments or sale of products."
A pyramid scheme is illegal and not everyone who joins will be able to make a profit or even recoup their initial investment. The individuals at the top are the ones benefitting the most from the money coming in. They pay a certain percentage from the new members to the existing members.
And if money stops coming in, the scheme collapses and the newer members are the ones to lose out the most.
Southwestern Advantage is far from the pyramid scheme business model. As a student rep, you do not get awarded for recruiting.
Is SouthWestern Advantage A Scam? My Personal Opinion
---
Southwestern Advantage is not a scam.
They have been around for a while. They have students who have achieved success. They also have an income disclosure so one does have an idea of how much money they can make as a student rep.
The only drawback is that the business opportunity is only available if you reside within the US or Canada.
Is The SouthWestern Advantage the right business opportunity for you?
That really depends on you.
Are you the type of person who would enjoy going from door-to-door selling the company product lines? Remember, you only get paid for every successful sale you make.
It's not easy work, as one member recently posted in a Reddit forum.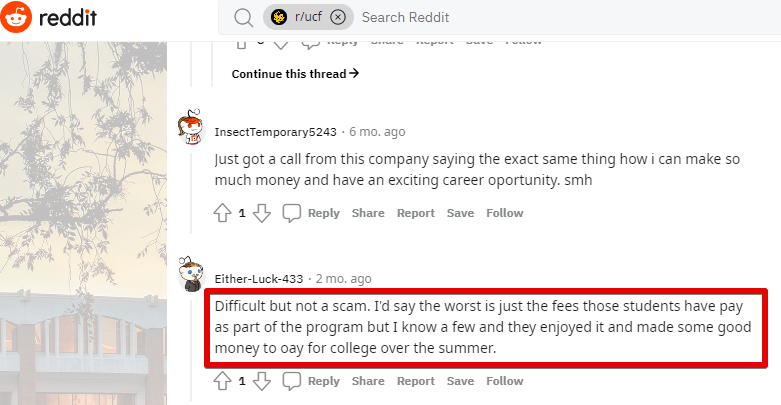 The other drawback is that this is not a passive income business opportunity. If you do not work, you cannot earn. If you would like to like to build a passive income online business, the check out my post where I discuss the best jobs for college students.
And lastly, your earnings are dependent on how much time you invest. Since you can only work on this during your vacation period, you might not be able to earn as much as you would like to.
With an online business, you can work on it at anytime, and can earn throughout the year.
How I Earn A Passive Income Online
---
I transitioned from the health field to the online world.
As a pharmacist, I enjoyed my profession but my health challenges forced me to look for an alternate source of income. Check out my story here.
I earn a passive income online thanks to my affiliate marketing business.
The good news is that with affiliate marketing, you can build a business without having to recruit a single person. You don't have to go out there and cold-call people.
You can start as a complete newbie. You do not even need any sales experience
You can build a business based on your passion, hobby, or interest. 
You can work in your own time. It also offers you the awesome benefit of earning a passive income online
And one of the important benefits is that it is a low-risk business model, and it does not cost much to get started.
It would be my pleasure to show you more about how it works. I've been using it for five years. Let me help you to get started. Simply click on the link below to learn more
Thanks for checking out my SouthWestern Advantage review.
Hope that it has helped you out.
Regards and Take Care
Roopesh