Welcome to PassiveIncomeForAll.com, your trusted resource for discovering online money-making opportunities. If you're intrigued by the idea of making money by testing apps, websites, or even trying out physical products like smart vacuums, then Betatesting.com might have caught your attention.
In this Betatesting.com review, we'll delve into the world of Betatesting.com to determine if it truly provides a legitimate way of earning money online or if it's just another scam.
As we explore the workings of Betatesting.com and its earning potential, you'll gain valuable insights to make an informed decision.
What is Betatesting.com All About?
---
Betatesting.com plays a crucial role in the product development process by connecting companies with real people like you, who can offer valuable feedback on their products or services before they're officially launched to the public.
For businesses, this is an essential step as it helps them avoid potential losses by ensuring they release products that resonate with their target audience. As a Beta tester, you'll have the unique opportunity to contribute to this process while getting paid for your valuable insights.
Betatesting.com has been serving as a bridge between companies and testers since 2012. Over the years, it has amassed an impressive community of around 350,000 testers representing 150 countries worldwide.
The platform has worked with a diverse range of companies, from startups to well-known brands like LEGO, SleepWAVE, and Roku.
Recommended Reading: Userfeel Review – Can You Make Money as a Website Tester?
How to Join Betatesting.com
---
Joining Betatesting.com is a simple and free process.
After visiting their website, you'll be guided through a quick and user-friendly questionnaire to create an account. The registration process ensures that you provide relevant information about yourself, enabling Betatesting.com to offer you more tailored opportunities suited to your profile.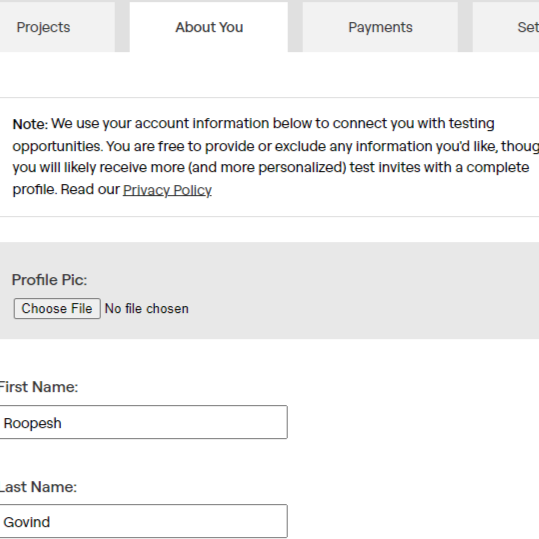 Once registered, you'll receive notifications about available testing assignments.
These assignments can vary from testing apps and websites to even trying out hardware products like smart vacuums, TVs, and media devices.
This diverse range of opportunities means that Beta testers get to experience a variety of products and services.
Betatesting.com prides itself on being a platform that accommodates both startups and established companies, giving testers the chance to work with a mix of clients.
This variety not only adds to the overall experience but also widens the potential for more testing opportunities.
Earning Potential with Betatesting.com
---
The potential earnings as a Beta tester on Betatesting.com are not set in stone, as they can vary based on several factors.
The number of testing jobs or surveys you receive largely depends on how well your profile matches the requirements set by the companies seeking testers.
Factors such as your country of residence, demographics, and interests can all influence your chances of getting selected for specific assignments.
According to Betatesting.com's official website, most Beta testers receive between 0 to 5 opportunities per month.
However, you can enhance your prospects of receiving more testing jobs by consistently delivering high-quality results in your previous assignments.
The compensation for each test is determined by the client, and the time required for most tests falls within the 45 to 60-minute range. Generally, Beta testers can expect to earn between $15 to $30 per test.
User Feedback and Verdict – Does Betatesting Work?
---
As an unbiased reviewer, I understand the importance of user feedback when assessing the legitimacy of a platform like Betatesting.com.
While external user ratings and reviews are scarce, I managed to find some insights from both a company intending to hire Betatesting services and an actual Beta tester.
On a Reddit forum, a company seeking to hire Betatesting.com services inquired about the platform's worth. Although no direct answer was provided, a Beta tester who had completed over 20 tests with Betatesting.com shared positive feedback.

The tester acknowledged that the quality of participation, as well as the alignment of demographics and technical expertise, played a pivotal role in securing more testing jobs.
It's essential to recognize that these incidents took place three years ago, and the current state of Betatesting.com might differ due to the limited data available.
Pros and Cons of Betatesting.com
---
Before making your decision, let's sum up the pros and cons of Betatesting.com:
Pros:
Free registration process that is quick and straightforward.
No prior experience required to become a Beta tester.
Cons:
No guarantee of regular testing jobs

, as the frequency depends on your profile matching the requirements.

Limited to a maximum of 5 jobs per month

, which may not be sufficient for some users.

The earning potential might be relatively low

compared to other online opportunities.

Not a passive income-earning opportunity;

Betatesting.com's model requires active participation for earning.
Is Betatesting.com a Scam or Legit? My Personal Opinion
---
In conclusion, Betatesting.com is a legitimate company that has been operating since 2012.
While it can be a suitable option for those interested in occasional testing jobs and earning extra cash, it may not be the ideal choice if you're seeking a substantial income or a passive earning opportunity.
For those looking for a more sustainable and potentially lucrative online income approach, I recommend exploring affiliate marketing.
This model has enabled me to transition successfully from the health field to the online world. It offers the freedom to build an online business around topics or niches that you are passionate about, without the need for traditional sales techniques.
If you're interested in discovering how affiliate marketing can work for you and want to leverage your time and effort for a more fulfilling online income, click here to learn more about my journey and how you can get started.
Thank you for joining me on this comprehensive Betatesting.com review. If you have any questions or thoughts, I'm eagerly looking forward to hearing from you!
Best regards, Roopesh