Welcome to this Surveyeah review. Is Surveyeah a scam, or is Surveyeah safe? Would you like to make money from doing online surveys? Online survey job opportunities have been around for a long time now.
And it also has its fair share of scams and legit opportunities. You get some of them, where they simply serve as hubs- or a portal that would redirect you to other survey sites. You get some whereby they promise you great rewards for your effort and in the end, they do not really deliver.
So, the big question is, is Surveyeah a site that you can trust? I signed up with this site, and today I will share my opinion of this site. At the end of this review, you will have a better on how Surveyeah works, so that you can make an informed decision on what to do.
Congratulations on taking the time to do your research before you go all-in with this particular opportunity. 
There are tons of scams online. But on the other side of the coin, there is a legit way to make money online. 
Having said that, let's dive into this Surveyeah review to see what the company is all about.
SURVEYEAH REVIEW-SUMMARY BOX
CREATOR:  Unknown
PRICE TO JOIN: FREE
Do I Recommend it? No, it is not a sustainable way to earn a real income.
OVERALL RATING: 1 /5
There are NO real owners to this course. The site is user-friendly. It's free to join.
They have a very high threshold when it comes to exchanging your points for vouchers. You have to do lots of work, and spend a great deal of your time just to earn a few points.
Recommended Opportunity: If you are interested in building a business with real income potential, that is affordable to start, click below :
What is Surveyeah All About?
---
Surveyeah is marketed as a platform that provides "paid online surveys to its members." According to the official Surveyeah website, they have been around since February 2014.
And this is actually true. I checked out the Whois domain registration, and the site was created in 2013.

The other positive about the website is the fact they make mention of the following, "although we probably will not make you rich…" And I can appreciate this sort of honesty.
There are some online survey sites like this one I reviewed, that claim you can get rich overnight. At least, they are setting the record straight and telling you, that an online survey is not the path to building a sustainable income online.
How Does Surveyeah Work?
---
In exchange for completing these online surveys, you will receive dollars or pounds convertible via Paypal, Skrill/Western Union/Moneygram, and Amazon Gift vouchers.
Registration is free to Surveyeah.
Once you are in the member's area, you will find a tab that reads, "surveys." Click on this tab to check out the available survey jobs.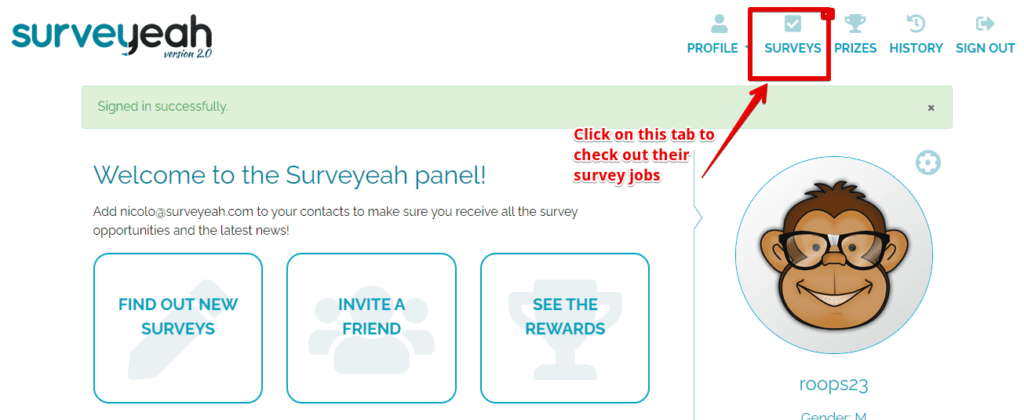 You will then find various options. You can see how long each survey would take, as well as the corresponding points that you would earn.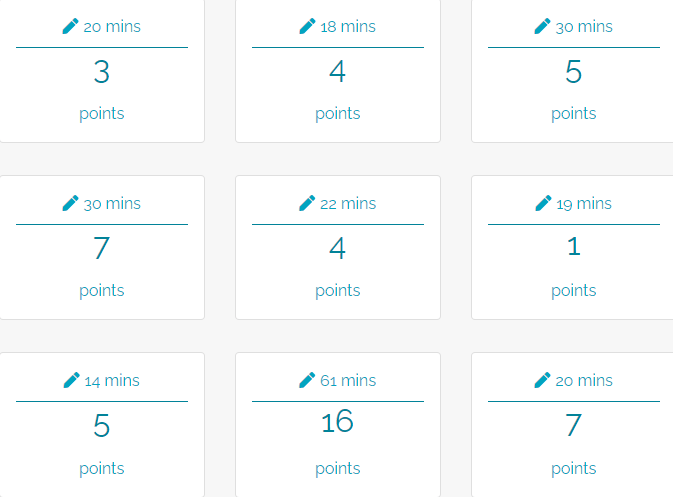 Once you attained a certain amount of points, you can exchange them for a reward.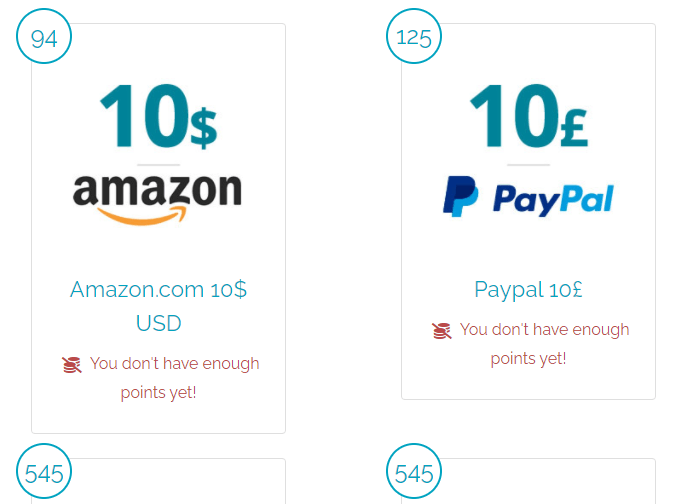 As you can see in the image above, for 94 points, you can get a $10 Amazon voucher, and for 125 points, you can get a 10 pound Paypal voucher.
Are People Happy With Using Surveyeah?
---
Whilst there were a few testimonials on the official Surveyeah website, I decided to rather check out 3rd party review sites.
On Trustpilot.com. Surveyeah scored a 2.5 out of 5 ratings.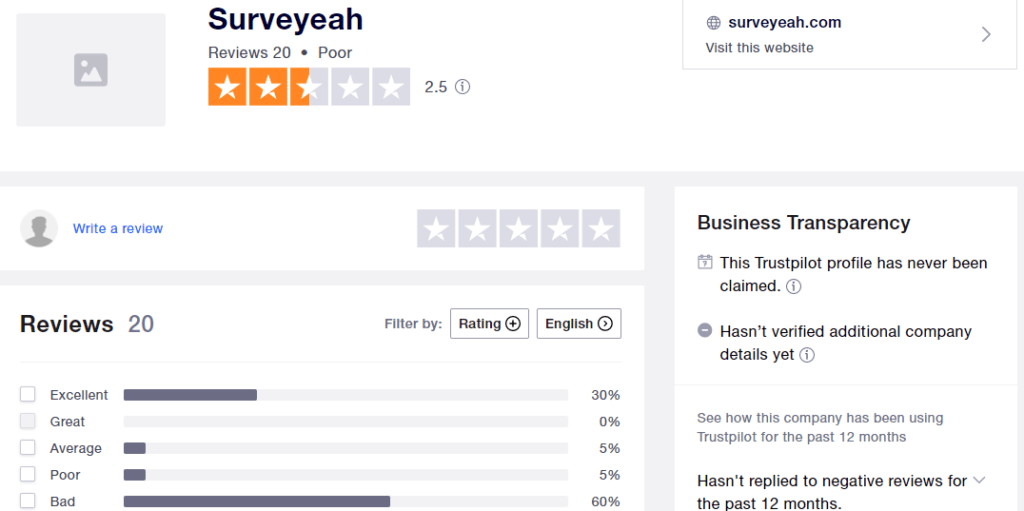 60% of people were not happy at all with using Surveyeah, whilst only 30% found it to be excellent.
So, does this mean that Surveyeah is a scam? Let's take a look at the pros and cons of this online survey business opportunity.
What I Like About Surveyeah
---
Registration is Free
Interface is simple and easy to use.
No false 'get-rich-quick' promises
What I Do Not Like About Surveyeah
---
No real owner information
High-payment threshold
Poor customer ratings
Low compensation per task
No guarantee of survey jobs
Is Surveyeah a Scam? Is Surveyeah Safe? My Personal Opinion
---
Let me share my experience of having used the Surveyeah platform.
The first survey was a quick 5-minute survey. It was more of a profile survey, where I had to answer questions relating to my personal circumstances. For that five minutes, I would be credited 1 point. And they did credit my account with that point.
But after that, things did not run very smoothly.
I chose to do an eighteen-minute survey for 4 points, and it was tiresome and pointless. Firstly the survey turned out to be a screener. In other words, they wanted to know more about me. And it took forever, much longer than 18 minutes. And secondly, because I did not meet their criteria, I did not qualify for the main paying survey.
In other words, I did not earn ANY points. It was a total waste of my time.
Is Surveyeah a scam? I think that it demands lots of time just for a few measly points. Like 21 minutes for 4 points. And that to me, is simply not worth it.
Is Surveyeah safe? I am not sure about this. Will they sell your information to other 3rd parties? It is possible, only time can tell.
But what I am certain about, is that this website is not a very good option if you are intending to make money online.
It takes away, too much of one's time. I would rather recommend you invest the time and energy into learning the skills to build an online business. That would be a far better investment with your precious time.
Making Money Online is A REAL Possibility
---
If you are looking to make real money online, then why not consider building your own online business?
You may think that the process of building an online business is complicated and is only reserved for technically-mind folks. That is NOT true at all.
You can get started even if you have no experience at all. You can build a business based on your hobbies, passion, or interests. You also do not have to do any recruiting or cold-calling.
The last benefit, which in my opinion is the most attractive, is that you can build a business that will have passive income potential. In other words, your business will be working hard at paying you.
Take a look at my NR.1 affiliate marketing training platform to get started.
Thanks so much for joining me on this Surveyeah review.
I hope that it has given you the insight that you needed to make an informed decision.
Have you had previous luck with survey jobs? Or are you someone who chokes when survey jobs are mentioned?
Looking forward to hearing from you.
Kind Regards and Take Care