Are you looking at earning some money from taking surveys?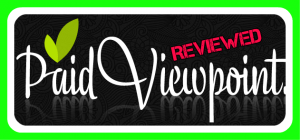 You may have come across ads promising you big money via taking a survey. You may have also come across some of these survey companies who are downright scams.
The worst feeling is to do a survey that takes 15 or even 20minutes of your time after which you find out that you DO NOT qualify as a suitable candidate

. In other words, you wasted your time on a 'screen' survey. Other survey scams, scheme their way out by paying you in vouchers or sweepstakes entries.
What is PaidViewpoint and can you really make money from it? Is this survey company like the rest of them out there?
Do you really get paid every time after having done a survey? The short answer is Yes. The bigger question is how much is the pay and is it worth it?
Today I am going to share my personal experience of PaidViewpoint with you and give you the answers that you are looking for.
Let' s get cracking on the Pros and Cons of PaidviewPoint.
The Pros and Cons of PaidViewpoint
---
PROS
Quick surveys(under 3minutes)

No personal details

required

It's FREE

Guaranteed Payment

after each survey
Referral program
Your personal details are not solicited
CONS
Limited daily surveys
Payment is only processed once threshold is met
Limited earning potential
Payment is only via Paypal, and in certain countries only
How does PaidViewpoint work?
---
The sign-up process is actually very easy and straight to the point. As I've mentioned, these guys don't request your personal particulars during the sign-up process. There are no screenings and in under a minute, you are ready to start taking surveys.
There are three types of surveys that you can qualify for,the 'trait' surveys, personality surveys and the other ones are the 'market research surveys'
The 'trait' surveys are broken down into ten questions. You simply indicate your answers by ticking off the appropriate boxes. What I particularly like about these questions, is that NONE of the questions request 'typing' of long end answers. It's quick and easy!
You can finish a complete trait survey in under 2minutes! I will chat more about the 'market research' surveys later on.
What is the Support like at PaidViewpoint?
---
The support at Paidviewpoint is good.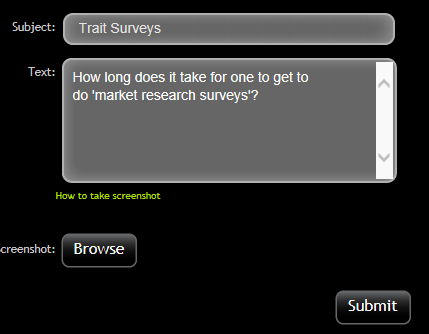 I lodged a query via their support channel at 10.02pm on the 24/10/2016 through my Dashboard access. .
I received a really detailed reply via e-mail and I am happy with the answer that I was given.
How does the Payment Structure work at PaidViewpoint?
---
I am guessing that this is the part that you are most interested in reading about. We established earlier on that these guys pay you every time you take on a survey.
Whilst it is awesome to receive guaranteed payments, it may NOT always be feasible.
Here are some setbacks I found with PaidViewpoint
You don't get paid BIG bucks per survey, and
The surveys don't come very often
When I first started, which was back in August, I got really excited, that finally, I can earn some decent money taking surveys. I thought that my 'skepticism' would be dispelled and I would be proven wrong about Paidviewpoint.
To some extent, I was proven wrong as this is an online survey company that pays you every time and that's where things stopped.
How much do they pay you for a trait survey?
Answer : $0.03
Yes, that is it! Don't believe me?
Look, in all fairness, the survey took me under a minute. Furthermore, as an international member, these personality and trait surveys only generate 3 cents each.
I guess from that point, they are justified in their remuneration deal.
There is something else to this whole thing. These surveys come only ONCE a day!

Yeap so your opportunities of earning more money in a day are really limited.
You CANNOT get the money straight away. Only once the earned amount reaches $15, will you be able to withdraw the funds from your Paypal account.
Note: depending on the Paypal associated charges, you may not even come home with the full 15 bucks to your name.
If you had a look at my account balance above as at 25/10/2016- 3months later, you will notice that I am just a few cents short of reaching my $2.00 mark.
How long do you reckon will it take me to reach my $15 mark?
What are 'Trait'  and 'Personality' Surveys?
---
These surveys are designed to learn more about the survey taker. They help in giving more information about your interests, demographics, and traits.
By taking these surveys, it allows the folks at Paidviewpoint to structure surveys that are fun, relevant and interesting. In addition, taking these trait surveys helps you to up your trait score.
The trait score system is able to identify whether or not a member is a good survey taker. By this I mean if the member is been honest about their demographics or traits and conforming to good practices.
What are Market Research Surveys?
---
These surveys are conducted on behalf of Paid Viewpoint for clients of their parent research company called AYTM.
They choose the demographics and traits and the number of respondents they want.These are paid surveys with the main aim of testing new product ideas and seeking opinions about designs, things like logo's and branding.
I learned that these surveys are 'time-sensitive.' once the quota is reached, the survey is closed and no more participants are allowed to enter. The member will be notified of the survey and must act fast to take on these types of surveys.
In my case, I did not get the opportunity as yet to do a 'Market Research Survey.' These are not sent as often to international clients unless there is a reasonable sample size that can be surveyed.
It is my opinion, that these surveys have higher payouts than the 'trait surveys.' Unfortunately, for now, I cannot confirm any of that with you.
My Final Verdict of PaidViewpoint
---
What is PaidViewpoint and can you really make good money from it? You know now what this survey company is all about and you have seen my earnings over the past two and a half months.
Will I recommend it?
For someone who is looking at earning serious money, I don't think it is a suitable choice.
To be honest with you, a friend of mine was earning some good 'gas money' from PaidViewpoint and I thought it would work out the same for me. I realized that he was in a different country and perhaps the surveys were more suited to his situation than mine.
Look, you've got nothing to loose except two or three minutes of your time. Its free to register and it is easy. Who knows your story may be better than mine. I certainly would not discourage you from joining, as money is still money at the end of the day.

If you want to register with them, here is the link to get you started.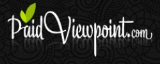 What about Making serious money?
I thought you would never ask. I love earning online through a tried and trusted way and one that many regular folks are making a decent living with. And that is through affiliate marketing.
This is the process whereby you earn profits by promoting other people's services or products. For instance, you certainly have heard of Amazon. All you have to do is promote any product from Amazon and once people buy that product, Amazon pays you a nice commission.
There are tons of affiliate merchants like Amazon out there and thousands of products that people are searching for every day. In fact, the scope for affiliate marketing is huge, with access to over 2billion people on the internet, your earning potential is not limited, to say the least.
As for the website and training, this is where things get really exciting. I learned affiliate marketing via an online company called Wealthy Affiliate.

They have top notch training, a community of over 800 000 active members to help you every step of the way and every single tool, (along with 24hour, 365 days support) that you need to start your online campaign.
In fact, you can test out their 7 Day Beginners course right here for FREE! Yes, you don't have to sign up with any credit card, The registration is completely obligation free.
The best part is that as a FREE member, you will get TWO FREE websites, to start your online journey to make earning passive income a real possibility.Check out my detailed review of Wealthy Affiliate here

Conclusion
Thanks for joining me today. I hope that this article has helped you about learning more on what Paid Viewpoint is all about.
If you're going to take the survey route, I would like to wish you every success along the way.
If you need to know anything else, about Wealthy Affiliate or PaidViewpoint, please let me know in the comments section below
Take Care
Roopesh