Welcome to this Black Digital Blueprint review. Is Black Digital Blueprint a scam or is this business course really worth your precious time and money? eCommerce is a big business. You do not have to look any further than the giant money-maker, Amazon, to see its potential.
There is still plenty of room for you to make money online if you want to start your very own online e-commerce store. Having said that, you probably might be considering joining the Black Digital Blueprint course to get started.
But is this course really worth it? When it comes to the world of making money online, there are many different options available. Is e-commerce the right business model for YOU?
Today I am going to show you what the Black Digital Blueprint Course is all about. And I am also going to show you what it takes to make money with e-commerce. By the time you have completed this review, it is my hope that you will have sufficient information to make an informed decision,
Congratulations on taking the time to do your research before you go all-in with this particular opportunity. 
My name is Roopesh. I am a pharmacist turned affiliate marketer. Crazy jump, right?
I started my online journey back in 2016. At the time, I had to start looking for a backup, as my job was hanging in the balance. You can read my full story here.
Over this time, I have reviewed several make-money-online opportunities.
There are tons of scams online. But on the other side of the coin, there are legit ways to make real money online.
Feel free to check out my FREE 4-Day Video Course where I reveal the 4 Core Secrets To Building a Massively Powerful Online Business here.
Having said that, let's dive into this Black Digital Blueprint review to see what this opportunity is all about.
BLACK DIGITAL BLUEPRINT REVIEW-SUMMARY BOX
CREATOR:  Danielle Holmes
PRICE TO JOIN:  $5000
Do I Recommend it? No, it is an expensive course. It's focused on teaching one to use paid advertising. This is not a newbie-friendly way to start an online business.
OVERALL RATING: 2.0/5
There is a real owner to this course. The owner also has a track record of success.
There are not many testimonials. The course is expensive. The course is about using paid ads to get leads to an eCommerce store. eCommerce itself is a tough business model. You have to sell high volumes to turn good profits. In addition, if you do not use paid ads correctly, you can burn lots of your money. This is not a newbie-friendly business course.
Recommended Opportunity: If you are interested in building a business with real income potential, that is affordable to start, click below :
Who is The Owner of Black Digital Blueprint?
---
The cool part about this course is that there is a real owner. She goes by the name of Danielle Holmes.
I could not find much info on her on Linkedin or YouTube. But the official Black Digital Blueprint website gives a good enough description of her background.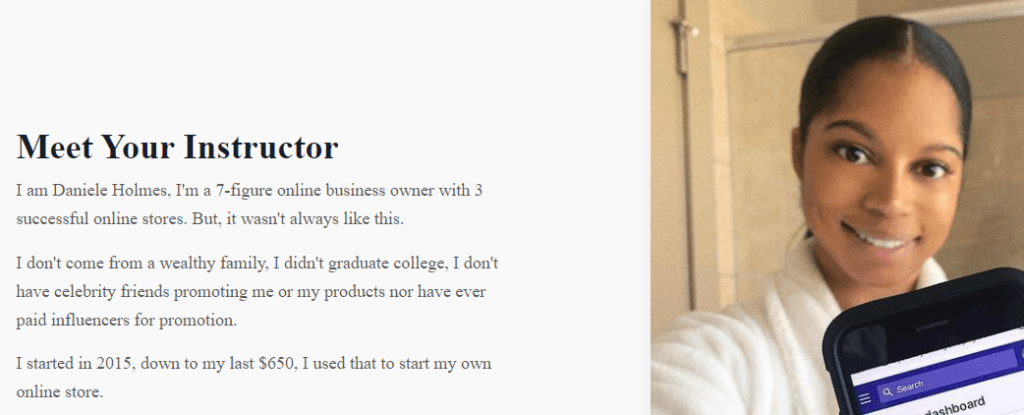 She did not come from a wealthy family, and neither did she graduate from college. She started her online journey back in 2015 with just $650 to her name.
Within two years, she went from making $20,000 to $800 000 in her third year. The game-changer for her was using paid advertising, and essentially this is what her course is all about.
What is Black Digital Blueprint All About?
---
The Black Digital Blueprint Accelerator program is a 6-module course. According to Danielle, it's a step-by-step program that is designed to help you to get more leads to your online e-commerce store. And the way in which she will show you how to do it is through the use of Facebook and Instagram ads.
Is Black Digital Blueprint suitable even if you do not have an online store already set up?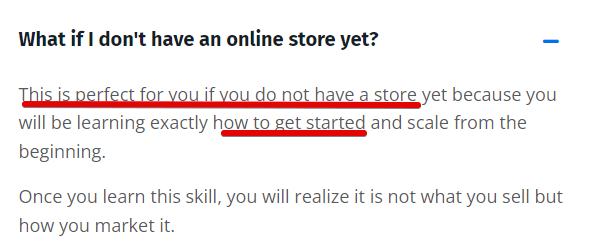 Danielle says that she prepared the course with the newbie in mind and that she will show you everything to get started. In fact, according to her, "it's not what you sell but how you market it."
And that's the main skill that you will learn should you purchase her course. Let's take a look at the course breakdown.
The Black Digital Blueprint Course Breakdown.
---
The main course is broken down into 6 video modules as well as PDFs.
MODULE ONE: Finding Your Target Customer and Creating Your Customer Profile
It is all about doing research to find your target audience. Who is your business going to serve? How will the products help them, and what are your client's main pain points?
Information like this is important, and it helps to steer your business in the right direction.
In the online world, they call the target audience a 'niche.' Check out my blog post on Some Good Niches to Start an Online Business.
MODULE TWO: Customer Psychology
The best way to sell is to get into the customer's mind. It's to give them the answer to those all-important questions before they buy.
And once they feel that they are been heard too, they are more likely to listen to you, and eventually buy from you.
MODULE THREE: Copywriting and Creating High-Converting Ads
This is where Danielle shows you her ad copy strategies that have helped her to generate consistent '5-figure income' days.
She will also give you insight as to how big brands use ad copy to create high-converting ads.
MODULE FOUR: Introducing FaceBook Business Manager
Here you will be introduced to the main advertising platform called the Facebook Business Manager. This is where you will learn how to go about creating your first Facebook or Instagram ad.
Truth be told, there are tons of FREE tutorials on how to use Facebook Business Manager. Here is a video from YouTube.
MODULE FIVE: Going Deeper into Facebook Manager
Here you will be taught how to analyze your Facebook ads. See what's working and what is not. And then scale your campaigns using lookalike audiences and retargeting ads.
MODULE SIX: Outsourcing and Growing Your Business
This module is all about scaling your business. Here you can contract out some of your job duties so that you can focus on the main areas of your business, or even get it to the point of running almost automated.
What else is included in the Black Digital Blueprint course?
You also get access to their Private Facebook Group. You can reach out to other members of the group for help. Danielle stated that she too will be available within the group.

And she also holds live Q & A sessions within this private Facebook group. These sessions are held on the 1st and the 15th of each month.

So, how much does this course costs?
Let's take a look.
Recommended Reading: Invincible Marketer Review, What is All About
How Much Does Black Digital Blueprint Cost?
---
The full cost of the Black Digital Blueprint course is $5000.

They do however have various payment plans.
You can choose from the following options :
$875 a month for 6 months, or
$850 bi-weekly, or
$2000 down then $650 per month for 5 months, or
$2500 down then $525 bi-weekly for 5 weeks
All of these payment plans add up being more than $5000.
And depending on which plan you choose, your modules will only be released every week or every 2 weeks. Only if you pay the full 5K, will you have access to the full course material.
And you only have a full 12 months to complete the course. This is regardless of which payment plan you go for.
Is there a Money-Back Guarantee or Refund on the Black Digital Blueprint Course?
---
Danielle states clearly in her "refund policy" section that there are NO REFUNDS or NO CHARGEBACKS on any memberships taken with her course.
What I Like About Black Digital Blueprint
---
There is a real owner.
What I Do Not Like About Black Digital Blueprint
---
It's Expensive
No Refund Policy
Insufficient Number of Testimonials
Paid Advertising
It is not a newbie-friendly way to get started with an online business
Is Black Digital Blueprint A Scam? – My Personal Opinion
---
I do not think that Black Digital Blueprint is a scam. However, I would not recommend this course to someone who is just starting out with their online business. And there are two main reasons for this…
The first reason is that the course is costly. There are many other business models, where you can get started for much less. Feel free to check out my NR.1 recommendation is to make money online here.
And the second reason is that on top of the course, you still would have to pay for running your ads. And Danielle recommends spending a minimum of $25 per day on ads.
Based on these two reasons, I would not recommend it to a newbie. You can get lots of quality traffic to your online business using FREE methods. You can use SEO(Search Engine Optimization), YouTube, e-mail marketing, TikTok, Instagram, etc.
I started my online journey using these methods. Then once I found what pages or videos were converting, then I would do small paid ads, And that too, not much of.
Is Black Digital Blueprint for you?
Is this course for you?
It entails building an eCommerce business. Whilst it is a legit business model, it's also a hard one to execute. Remember, if you are selling products on your site, you have to focus on volume.
It really does depend on your income goals. If you want to make a decent profit then most likely you would have to concentrate on pushing out high quantities to meet your desired goals. And when it comes to selling physical products, your profit margins are relatively lower than selling digital products.
Now you have a clear picture of what an eCommerce business is all about. And you also know what Black Digital Business Blueprint is all about.
Do you see yourself fit for the eCommerce world?
If not, then you can check out high-ticket affiliate marketing. You are promoting other people's products or services.
The highlight of this business model is that you are marketing high-priced, high-quality items. So, if you earn a $600 or $1000 commission per item, you only need to focus on maybe three or 4 a month. If that is what your income goals are.
And the beauty of it is that you do not need to do paid advertising to get leads. Check out my video below.
How I Make Money Online
---
I started my affiliate marketing business in 2016 and it's been a great experience. I've learned a lot and it's allowed me to work from home, which is a huge plus. If you're thinking of starting your own affiliate marketing business, here are a few things to keep in mind:
– It takes time and effort to build a successful affiliate marketing business. Don't expect to make money overnight!
– Choose products that you're interested in and know something about. This will help you write content that is both informative and interesting for your readers.(And the bonus is that with affiliate marketing, you can specialize in selling digital products. That means higher commissions for you.)
– Be patient and consistent with your efforts. building a brand takes time and dedication.
If you're looking for more information on how to start an affiliate marketing business, I highly recommend checking out this course. It's helped me learn everything I need to know about affiliate marketing and start making money from home!
Thanks for checking out my Black Digital Blueprint review.
If you have any questions please leave them below. I promise to get back to you as soon as I can.
Kind Regards and Take Care
Roopesh