Name of Product: Market Buster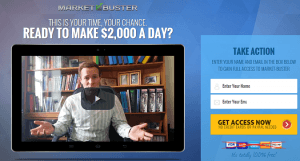 Website : www.market-buster.com
Price : Start off price from $250
Owner : Ethan Taylor
Overall Rank : 20 out of 100
What is the fuss about on Market Buster?
---
In a nutshell, Market Buster is a software application. According to the creator, Mr Ethan Taylor, the Market Buster is the only "money making machine," that you will ever need.
The point of this application is to take out all the guess work from doing online trading and make you heaps of cash  even if you do not have any  prior knowledge.
When you visit the official website, you are will have watched a rather hyped-up sales video whereby you are quickly introduced to success stories on people testifying to earning up to "$800, in less than an hour." or you hear of someone making their first "million dollars in seven months!!!"
Wow!!! That is something….
About Chuck Taylor…
From the sales video, you learn about how he first started off in the online security business and become quite popular. After which he then claimed, he was asked to render his services in the financial sector.
Within twelve months in this industry, he stated that he played a part in developing security protocol for major players, with the result having exposure to the likes of ,"SSL, Mcafee, Firewall, Symantec," to name a few.
The exposure from here he believes, has helped him to learn about the "money workings" and as a result after two years of applying these skills,  he was able to develop his "Market buster." application.
His ultimate claim, is that this application can earn you a minimum of $2000 per day!!!
How does the Market Buster Application work?
---
It is based upon an algorithm software which is able to detect any fluctuations or movements within the market.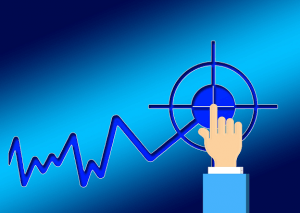 These movements give rise to what he calls "trade signals." The point is to tell you whether the market is on a rise or is dipping.So, it sort of predicts to you the direction of the market.
Having this knowledge, one is then able to comfortably make money on a regular basis.
In addition, he claims that his software is "idiot-proof."So just about anyone can make mega bucks.
Lets look at the pros and cons of this program in more detail.
Pros and Cons
---
 Pros
No Credit Card Information Needed
Free Sign up
Free Software ( Trial Period of 6months)
No Education or Experience Needed
Cons
No support
Un realistic Financial Projections or Earnings.
No Money Back Guarantee
No training
Is Market Buster for Everyone?
Unless you are interested in earning money using binary options, I would stay far away from this as possible.
In fact, I would recommend you check out other educational software, such as e-toro, that you can use to earn money this way.
What about the training and tools of Market Buster?
---
Let me break this whole Market Buster app deal for you.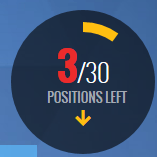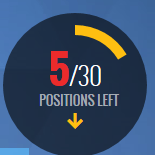 If you look carefully at the screenshots above you will find a bubble denoting a number. This is a common ploy of "limited time offers," to get you to sign up, that the marketers of Market Buster use.
You will then be directed to another page asking for your day time telephone number.
The final step is whereby you receive a call asking you to sign up with a software called , "Opeck." to do your trading.
As I mentioned above the start up fee is $250, and this where your money goes to activate your trading.
So in essence the tool you will be using is a broker software called Opteck to do the trades. Remember, this is just a software, you still need training and knowledge on how to use it.
Unfortunately, there is none of that after you have parted with your hard earned cash.
Bottom Line
You've downloaded this Opteck app and transferred your money to start the trading, but guess what else happened ?
Mr Taylor just made a commission from your sign up.
My Final Opinion of Market Busters
---
Before I give you my opinion, let me point out some red flags that I picked up during my investigation.
Red Flag nr 1.
I was intrigued when the advert first came as a pop-up on my screen, So, with the curiosity getting the better of me, I gave my details in the opt in and decided to check it out.
With all the hustle and bustle going on, I checked that I had two replies in my email on two separate days from the support team of Market Buster.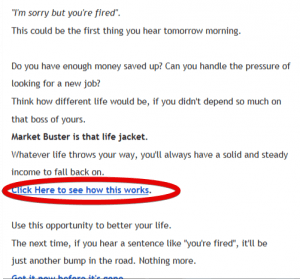 So I decided to check this link out and guess what happened?
Every single link of their's redirected me to a 404, which means that the site is offline or non-existent.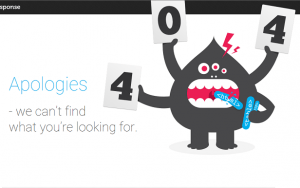 Red Flag nr 2
"Making $2000 in a single day."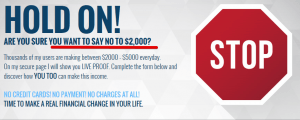 Tell me, did this not get your warning bells all lit up? To come across an opportunity that delivers such a bold statement would warrant a deep and thourogh investigation.
I got excited when I saw that no credit card is needed. But then the guys used other taglines such as "free" and "no risk".
If you read up on my post titled," Free thing…..", NO Credit Card information is one of my criteria to consider, when an opportunity like this is presented to you…But there certainly is a RISK, as everything has a risk and nothing ever comes for Free!!!
Thirdly, if Mr Taylor had taken close to three years of his life to develop the Market Buster application, why would he give it away for free?
Red Flag Nr 3 : Telephone Details
The second an opportunity asks you for your telephone information, it can only mean one thing. They are going to solicit information out from you.
In this case, though not exactly solicit, but you will be contacted to deposit money into the Opeck account.
I am weary when it comes to giving out my telephone number.
Red Flag Nr 4 : Testimonials
Yes, there are tons of testimonials of people who have reached the pinnacle of successes with the  "so-called," Market Buster.

It just bothers me that the video starts off with these success stories and later on he says, "if you are tired of making so much of money, you can stop with the program."
Who would ever want to stop making money?
and….
Are these real testimonials? For all we know they could have been paid actors?
Red Flag Nr 5 : Who is Chuck Taylor?
As I mentioned earlier, I received e-mails from this guy hounding me to sign up.
But at the end of the day we only hear his voice in the sales ad. Is this really someone that you can trust?
So what do I say?
I really do not fancy someone who puts up a show and makes the folks pay for something, which he does not deliver upon. In fact, this entire thing is all about commission.
Yes, Mr taylor is an affiliate who earns by referring people to the Opeck company. Any sign up that Opeck receives as a result of his referral will earn give him a lovely commission.
Yes, I agree affiliate marketing is the way to go. But not by deceiving people. In my books, this is not fair play and without hestitation, I am rejecting this program with a big NO!!
Alternate Options
I personally at this point can not recommend or offer any sound advice on choosing an opportunity within the binary options, or stock market.
I can however tell you that if you want to make money online as an affiliate marketer, there is an awesome teaching platform for this.
Its takes you through the basics, it's honest and fair and the tools and training are really top notch, to say the least.
The best part is, that there is a whole community of people helping each other out, over and above building their own internet businesses. You also do not need your Credit Card to join them!!
So you've got nothing to loose. Check it out.
Thanks for joining me today on the Market Busters Review. I hope that it has shed more light on this company for you.
Did you ever have any experience with them? If so, let us know how it went.
Till next time, Take Care
Roopesh
Market Busters at a Glance
---
Name of Product: Market Buster
Website : www.market-buster.com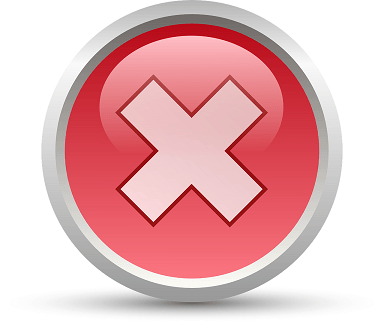 Price : Start off price from $250
Owner : Ethan Taylor
Overall Rank : 20 out of 100
Verdict : Not legit!!!