NAME: MegaTypers
WEBSITE: www.megatypers.com
OVERALL RATING : 2 Out of 5 Stars
This megatypers review is based on my very own experience of how this 'data entry service' company works.
Is their online earning potential good? Can you make residual income from using this platform?
I am going to show you the core aspects of Megatypers that may help you in deciding if this is something that you would like to sign up to.
Let's jump right in and see what is the positive and negative about this company.
The Pros and Cons of MegaTypers
---
PROS
CONS
Join By Invite only
You only get paid once you reach a certain threshold
Lots of Complaints
Certain aspects of the system comes across as 'bullying'
What is Megatypers all about?
---
You probably may have stared at that last 'CON' and wondered what is he talking about?
The one where I said that the system can be bullying. Trust me, this is not an over exaggeration. Keep reading, and you will see that it will all make sense later on.
Basically your job at Megatypers is to solve 'CAPTCHA IMAGES.'
Here is an example of one of these images.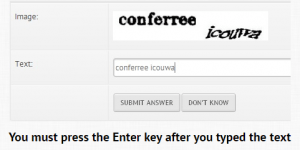 You simply have to decipher the 'code' and enter it into the box. That's It! That's how Megatypers work.
But, there is a catch……
You have to enter this code..
Within a given time frame

(within 15 seconds),

As accurate as possible

.
You're probably thinking at this point that ' that's not too hard'.
The truth is that at times it can be a bit 'nerve wrecking' and keeps you on your toes. (More about that later on.)
Is MegaTypers for Everyone?
---
Anyone new to this would just have to refer to the dashboard section and read up their guidebooks and tutorials to familiarize themselves with how the system works. Megatypers is suitable for anyone with basic typing skills.
However, since there is a time limit given to solve this 'captcha's,' you've got to be fast at typing. This is the main 'skill' that I think you should have if you want to join Megatypers.
What happens if you don't figure out the code within the time?
The system gives you a warning, that if you don't co-operate, you will be kicked out…

Now, do you see what I mean when I say that it can be a bit of a bully? And I thought that my days of getting bullied stopped at high school. Boy! Was I wrong!
Whilst Megaytpers is open to everyone, it does not exactly pay you heaps of cash. So, if you're considering joining Megatypers, thinking that you will get rich quick, just by typing some 'numbers and letters' all day long, you may just be disappointed.
You've actually got to spend a considerable amount of time, if you want to make a decent amount.
Next up– how the  Megatypers compensation plan works.
How Does Megatypers pay You?
---
The Megatypers currency is called the 'Typercredits."
1 TyperCredit(TC) = 1 Dollar
Megatypers also have their own pay rate. This rate fluctuates every hour, it can be 0.15TC for one hour and 0.91TC in the next.
If you happen to be within a timeslot that pays 0.80TC, then you will earn more for your efforts, during that session. Notice something else?
These pay rates are per 1000 images.
My Personal Experience with Solving 'the MegaTyper Riddle.'
I allocated just half an hour a day for 'Solving Captcha Images". I did this over a period of seven days. With the exception of Saturdays, where my pay rate was 0.6TC and 0.5TC respectively. The rest of the days of the week, my half an hour got me a pay rate of 0.8 and 0.9. (I did it at 8 pm every day!)
This is how much I earned in that week.
What do you think of that?
In summary
Total Hours Invested: 3.5Hours
Total Amount Earned: $0.1632 or 0.1632TC
That is not even a dollar for my 3hours of work! Is it really worth all the trouble?
Let's look at how and when Megatypers pays you out…
When Does Megatypers pay you out?
---
ONLY once you accumulate $3, are you then eligible for your first withdrawal. If you opt to be paid out in Bitcoins, you can get your money out a little sooner!
So, how long do you reckon it would take me to get to my $3 goal? Probably forever….
Some MegaTypers Complaints
---
While we're talking about getting paid, my research led to me some rather interesting findings. I learned that there were tons of complaints from previous Megatypers Participants.
Some of them, after having reached that $3 threshold, found to their dismay that they were kicked out of the system. There were also complaints of people not having received their pay.

Others are still awaiting news regarding their membership status.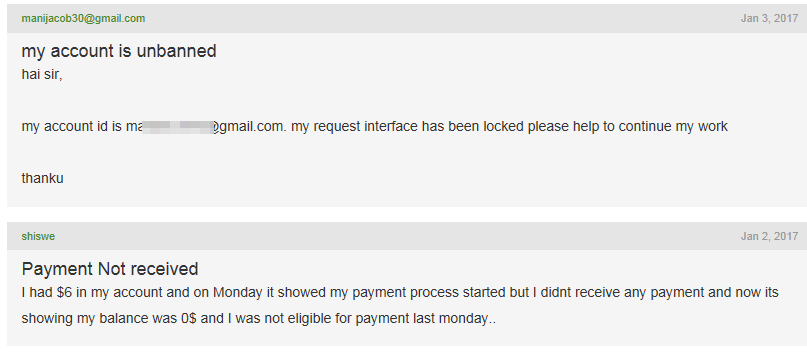 My Final Opinion of MegaTypers
---
Before I end this megatypers review, there are two things that I want to bring up.
Time Consuming
Whilst the payment issue may be something to be concerned about, there is something else that I think is more important and should not be overlooked. And that is YOUR TIME.
For me spending that 3.5hours and earning so little was a total waste of time.
That's just my 2cents, actually my 0.1643 cents! Just kidding!

2. Images were Not Loading all the Time
It's absolutely irritating when you are waiting for an image to load, and the system just keeps on refreshing. You get an image or two, then the system refreshes again! Even though my pay rate was high, as a result of images not loading, I could not earn that much.
Check out my video to see what I mean.
To add to the frustration, when some images did come on, they were in a foreign language. This means that if I click on the 'I don't know tab' the system then gives me a warning!
IS THIS A PASSIVE INCOME FOR ALL OPPORTUNITY? – In my opinion, I don't see a possibility of building a solid online business using this system. You would just be investing lots of time and have very little to show for it.
You can try it out and have fun with the contest and compete with other participants. Perhaps, you may even find the solving images exciting and a thrill to do. Just don't rely on it to earn you big money.
If you want to Join Megatypers : Here is the INVITATION CODE : RG771
Personal Recommendation: If you have half an hour a day to spend, why not put your efforts into building your own REAL online business.
Something that can be built around your passion or interests and will give you an opportunity of earning a passive income.
This is what I am doing and I started from knowing nothing at all. The online program that I used taught me the true meaning of what an online business should be about.
Conclusion
---
Hope that this Megaytpers review has helped you out?
Would you give them a go?
It's been great to talk to you today.
Till we meet again… All the best in your online success.
Regards
Roopesh