WHAT IS OFFERNATION ALL ABOUT?
---
Offernation is a GPT or 'Get Paid To'  site that pays you to take surveys and do other tasks. Is Offernation a scam or can you really make some good money here?
When I first visited the official Offernation website, I was immediately surprised by the praises that member's were giving this site. Can this be a cut above the rest? Can you really make money with Offernation?
So, I decided to give it a try and see what the fuss was all about. Let me share with you my experience.
THE OFFERNATION INTERFACE IS 'CLEAN' 
---
I've got to admit, unlike other GPT sites, Offernation has a really professional and neat looking interface. 
Everything is displayed within the member's area, with the exception of the 'survey' jobs and 'other tasks to do'.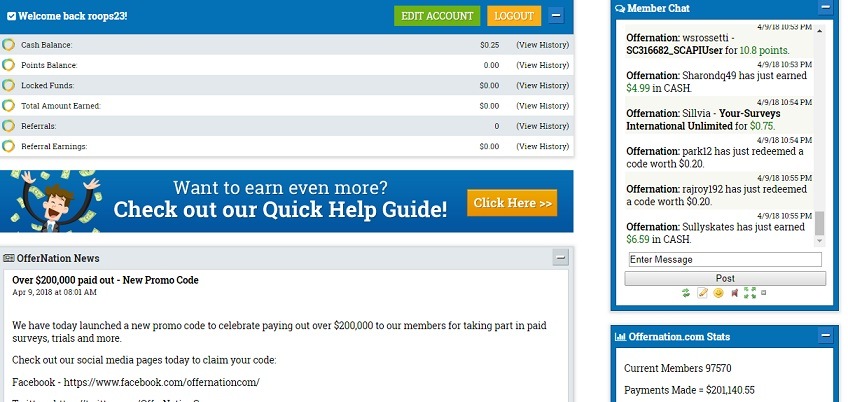 You get to see your account history, the cash and points balance, amount of referrals, etcetera. Then on the right-hand side, you've got a member's chat going on. And finally at the bottom is the news area, which, mind you, is up to date.
By the way, they give $0.25 for signing up. Cool!
So, that's all a good thing. The design is great, but, let's get under the hood and see how good the make money-making opportunities are.
⇒START BUILDING A SOLID ONLINE HOME BASED BUSINESS.LET ME SHOW YOU HOW⇐
OFFERNATION SURVEYS- IS IT MORE SCREENING THAN PAYING?
---
When it comes to taking online survey jobs, I often have the misfortune of getting more screening surveys, than the actual paying and qualifying jobs.
In other words, most of the time, I do not get paid as I do not gain 'entry' to a qualifying survey.
Not sure if you have had a similar experience?
Anyways…I wanted to see if my luck would perhaps be better, here at Offernation.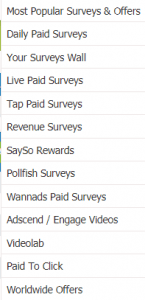 There are a host of survey opportunities offered. So, let me get started right away!
I clicked on the 'Most Popular Surveys' tab, and it brought me to a screen with a range of survey options. I chose one of these options.
I then had to sign up with a 'third party' survey company called RevenueWall.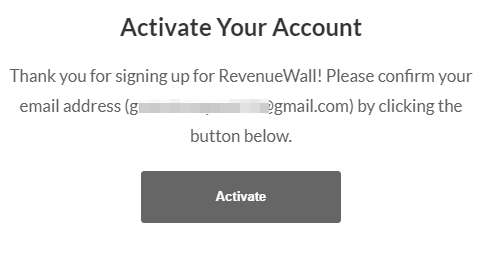 After successful registration, I could start taking the assignment. The online survey took around 15 minutes to complete thereafter.
Low and behold, I was successful!

Okay, it's all nice that my quality score increased by 5. But what about the money? Will I be compensated?
To my surprise, I was indeed paid. For having completed that survey I had earned $0.35 (35cents)
!
Check it out below,

Things were looking good.
Sadly, however, it was short-lived.
As I advanced through the survey tasks, I discovered that many of them were restricted to only certain countries such as the US, UK, and Canada. In summary, these were the survey tasks that I could not do:
Live Paid Surveys

Tap Paid Surveys

Revenue Surveys

Videolab

and,

Worldwide Offers
The other disappointing experience was that one of the options that were available, like the Daily Paid Surveys, I was rejected, on more than one occasion, from taking the qualifying survey.
Another option that was open to me was the 'PAID TO CLICK' section.
Basically, all you need to do here is open the website in the browser for 60seconds or so, and they will credit you in return.
You can get paid from $0.001 to $0.01 per task.These were my 'jobs' below.

All in all, with this section, I made myself a total of $0.015.
Perhaps, if you sign up, you may qualify for more than I did, and as a result, you may make more money.
Apart from the survey's, Offernation offers you another way of earning money, and that's by carrying out certain tasks.
THE OFFERWALLS- A HOST OF TASKS TO DO AND POINTS TO EARN
---

Every single one of these option jobs is a "points based" task. In other words, after successful completion of a specific activity, you will be rewarded with the number of points that are allocated for that particular assignment, None of these will pay money.
You can earn points by taking surveys, or by downloading and testing certain apps, by watching videos (which was not available in my country), or even by playing games.
Basically, for every point that you earn, you can convert it to $0.01 cash amount.
THE OTHER WAYS TO EARN MONEY ON OFFERNATION
---
THE OFFERNATION REFERRAL PROGRAM
There is a 25% revenue share incentive for every referral that you bring into Offernation. You will earn 25% of whatever they earn.
   2. CASH CONTESTS
I've got to admit that this part really got me a bit excited. It's actually the first time that you see a few good earners.
Offernation runs a contest that awards the top 20 members who earn the most money within a certain time frame.
Their current contest runs till the 30th of April 2018 and the prize fund is a $1000. The contest is open to everyone.
Take a look at the past winners.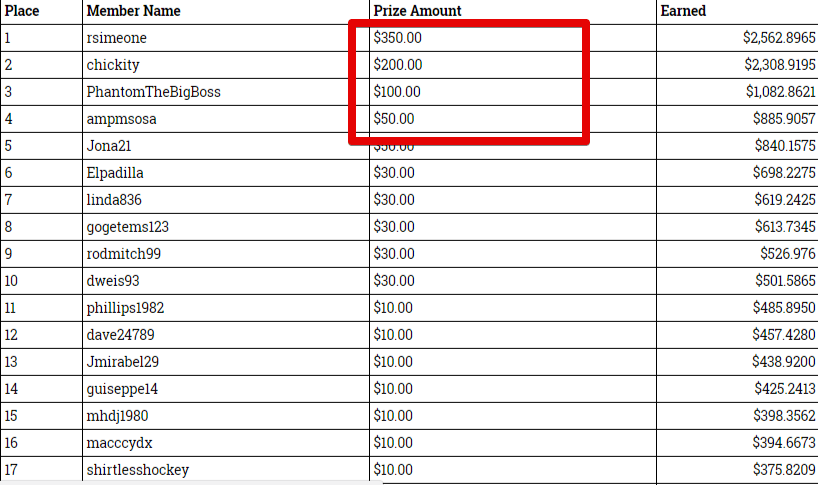 Think you are ready to win the contest? You can sign up for your free Offernation account here.
IS OFFERNATION LEGIT? – MY PERSONAL OPINION
---
Apart from the contest, I also found a section of recent payouts that the 'normal' members received.

In my opinion, I do not think that Offernation is a scam. Can you make really good money with Offernation, that is a different story altogether.
Whilst the platform does pay, as you can see in most cases, it is, however, not one where you will be able to earn a consistent and decent passive income.
Let's be honest, if you want to be one of those contest winners, you need to have lots of gigs in your favor and you need to spend a considerable amount of your time. 
Its also no fault of Offernation's, as some of the assignments like the offer walls are provided by 3rd party advertisers.
Though some members gave their positive testimonials, I must make mention that this for me, personally, is not a viable 'make money' opportunity.
IS THIS THE MAKE MONEY OPPORTUNITY FOR YOU?
---
That is entirely up to you!
What is Offernation? Now you know what its all about and what you have to do. It's up to you, should you want to give it a go.
I hope that this Offernation review has helped you out.
Are you a fan of 'Get Paid To' sites?
Have you tried them before?
Looking forward to hearing from you.
Kind Regards and Take Care
Roopesh