OVERVIEW OF FLIPP MASTERY
---
What is Flipp Mastery all about? This is a course for those folks out there who want to get into the domain flipping business. Can you make $400 per day following their guide?
Basically, domain flipping is when you buy domain names, and then sell it at a higher price for a profit. It's something similar to the real estate business where the realtor earns his or her commission from selling homes.
Is the Flipp Mastery training adequate enough to teach you how to do domain flipping for a profit? Let me share with you my experience of having used it myself.
WHO IS BEHIND THE FLIPP MASTERY CREATION?
---
Sasha Ilic and Brian Savic. Apparently, Sasha started with selling domain names at $1, then it went up to $80 and then so forth.
Brian, on the other hand, is the video expert and producer and started his offline marketing with PBN'S.
Let me dive right into the training and show you what this platform is about.
THE FLIPP MASTERY TRAINING 
---
There are four training videos that you get to watch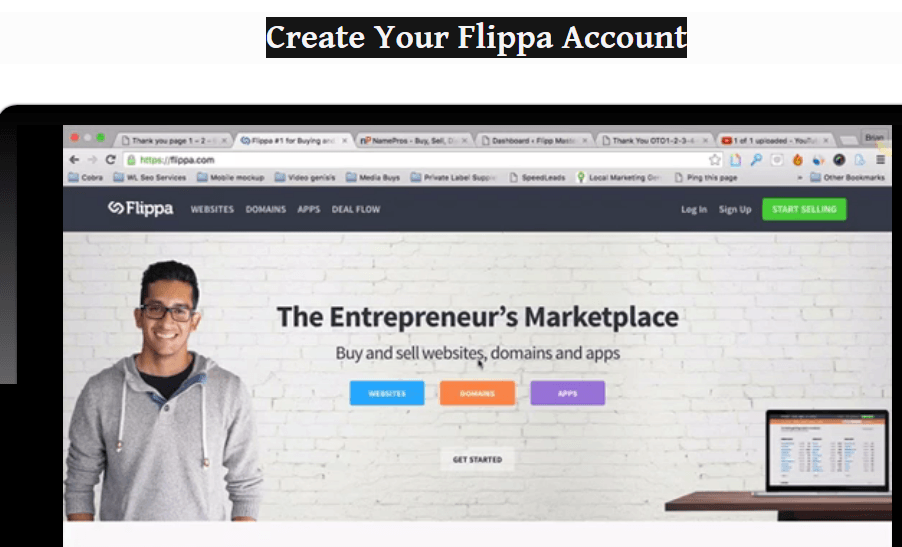 Introduction (and Webinar Details)
Walkthrough
Create a NamePROS Account
Create a Flippa Account
Thus far the training is pretty basic. The first video went into detail about a webinar that will take place in July only.
Apparently, this webinar is going to reveal a domain flipping software that will be unavailable to the general public but will be released exclusively to members only.The webinar will also talk about the 'secrets' that Brian and Sasha use to buy domain names, access buyers and how to flip domain names for a profit.
The webinar is set for the 20th July. When the time comes, I will update this post and give you some feedback on that.
Apart from these videos, there are TWO PDF'S  for you to download.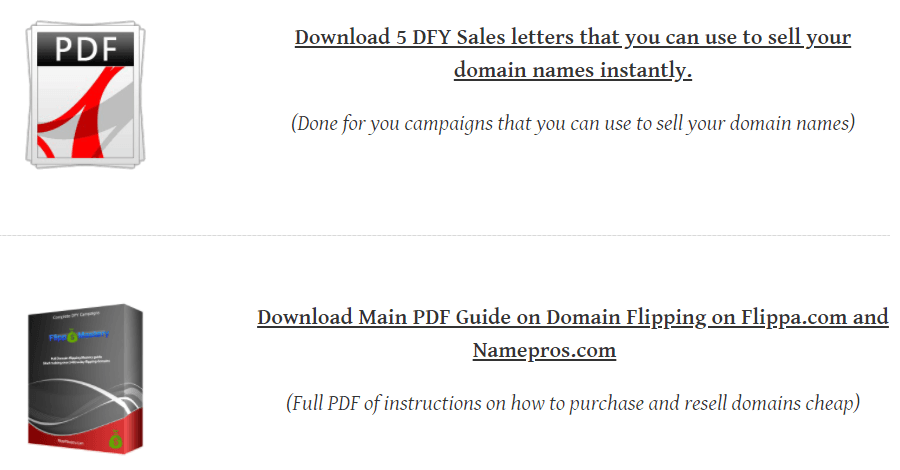 The first is a set of 5 Do-it-For-Yourself sales letters. They are word documents, that you can implement in your sales strategy when selling your domains on sites such as Flippa.
The second PDF is the main one. I guess you can call it the core of the Flipp Mastery package. They make mention of using auction sites like Godaddy, to find .com, .net or .org domains.
They list a few criteria that one should follow when buying these domains. They then go on to mentioning a couple of tools, such as keyword research  tools, and domain appraisal sites, to help you choose, ' high-value domain names.'
The downside with the training is that they do not take you through the actual process of how domain flipping works.
So, if you are a newbie, the information may serve as a fair introduction, but is far from intensive training. There are platforms that teach you how to start building an online business in a step-by-step fashion, with easy to follow, yet detailed lessons. Here is my review of one such platform.
On with the training. They continue by talking about how to sell a .io domain name. These domain names have gained interest a while back. Not to say that you can't make money with them today, however, you should know how to go about doing it.
I was chatting with someone on Namepros, and he made mention that the tech .io names have more value as opposed to the generic.io names. In other words, if you were sitting with a domain name like seo.io that is what folks would be more likely to purchase than a kitchen.io domain name.
And if you are starting off, it's also a good thing to first try your hand at a .com domain first.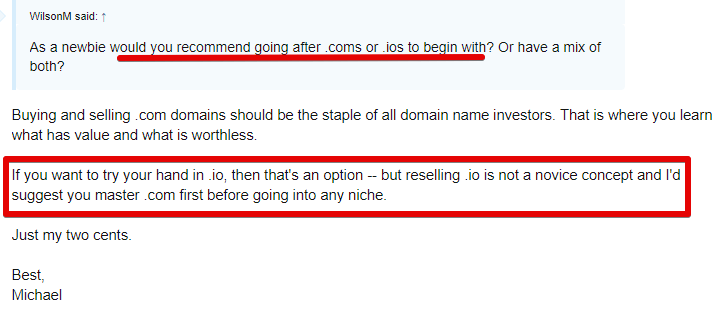 Nevertheless, the training in the first section makes mention of the Flippa platform as well, to help sell these .io domains. They suggest using domain registrar's like Namecheap to find .io domain names.
The third section talks about looking for previously owned domain names that are similar to the one that you intend to sell and to contact these owners. Its a case of pitching to them what you have and hoping that they would be in the market to buy. (This is where you would use the sales letters).
The training ends off with mentioning an alternative to Flippa, a site called Namepros.com that you can use to Flipp your domain.
That, in a nutshell, is what you would be getting, upon signing up for the standard Flipp Mastery course.If you like what you see, you can sign up here.
There are a further four upsells offered to you towards the end of this training.
THE FLIPP MASTERY UPSELLS
---
Upon purchasing the initial Flipp Mastery package, there is an additional one-time offer(OTO), that they promote, to you.
It consists of:
DFY PACKAGE(OTO-1) – COSTS $17.47
PDF Guide with Videos– (how to find domain buyers)
5 DFY E-MAIL Swipes
30 Domain Names
Extra Bonuses and Resources
FLIPP PROFITS(OTO-2) -COSTS $27.47
Mastermind Group
PDF on how to purchase 3-4 letter domains
PDF on how to become a domain broker
Fast acting bonuses
FLIP A DOMAIN IN 24 HOURS(OTO-3)-COSTS $67
1 Hour Skype lessons
Insights into finding domain names
Short PDF
PRIVATE ONE MONTH LESSONS(OTO-4)-COSTS $297
⇒STILL INTERESTED IN JOINING FLIPP MASTERY? YOU CAN SIGN UP HERE⇐
IS FLIPP MASTERY WORTH IT? MY PERSONAL OPINION
---
The training is basic and offers one a brief outline of how to do domain flipping for a profit. If one had to visit sites, like Flippa, they would get a better idea of what domains are selling.
A site like Namepros has interactive forums, and one can pick up a fair amount of knowledge from there as well. In addition, there is a wealth of information on the internet that can teach you all about domain flipping.
If you're just starting out, then it can end up being pretty pricey if you buy all these OTO'S. Can you really make $400 per day?
That depends on what sort of domain you're sitting with, and how much of a demand it has.
DOMAIN FLIPPING IS NOT THE ONLY WAY TO MAKE MONEY ONLINE
---
There are other ways to make money online. I do it via a concept called affiliate marketing. You do not need any experience to start this sort of business, and there is an amazing platform that I use that allows you to try them for free.
They take you by the hand and show you what to do, and there is a vast interactive community to help you build your business.
or
I hope that this Flipp Mastery review has helped you out.
If you have any questions or comments, please do not hesitate to ask them in the comments section below.
Looking forward to hearing from you.
Kind Regards and Take Care
Roopesh