OVERVIEW OF 60 MINUTE PROFIT PLAN
---
Would you like to earn $32,000 a month? How about having all your loans paid off, and being able to afford that long, well deserved holiday? Doesn't that sound wonderful?
That is the promise of 60 Minute Profit Plan. Is 60 Minute Profit Plan a scam or is it the opportunity that you need to grab with both hands?
Their plan entails using certain methods that can get you to earn within the first hour of purchase. Apparently, no experience is needed and these methods are all as simple as ABC? 
I will reveal exactly what ' the secret loophole' is that they are talking about. I will prove to you whether their earnings are legit or not and also bring some rather interesting findings. But firstly my overview of this platform.
AN OVERVIEW OF 60 MINUTE PROFIT PLAN
---
PRODUCT NAME: 60 MINUTE PROFIT PLAN
WEBSITE: www.60minuteprofitplan.com
OWNERS: Brittany Francis
OVERALL RATING: 2 OUT OF 5 STARS
WHAT IS THE 60 MINUTE PROFIT PLAN PRODUCT ALL ABOUT?
---
During my research on 60 Minute Profit Plan, I came to learn that the contents of the initial 60-minute package are of mediocre standards, to say the least.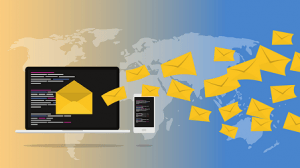 There are 12 videos that cover the subject of e-mail marketing, Whilst e-mail marketing is certainly a legit way of making money online, it's NOT one that will get you to start earning straight away.
I mean no one is just going to give you their e-mail address and allow you to spam them till they go blue in the face. It's about gaining their 'trust' and you need to build a reputation with your audience. That takes time and patience is needed as well, before you are able to begin promoting anything to them, for that matter.
There is also a video that talks about doing online surveys.
Honestly speaking, I cringe when I hear someone say to me that online surveys can make you rich. Perhaps, it's my bad luck that I always drew the shortest straw when it came to this opportunity.
But as far as my experience with online surveys is concerned, more often then not, I ended up wasting a considerable amount of my time on screening survey's and earning only a few cents in the end.
If you want to try online surveys, then this company is okay Stay away from this one. Anyway, coming back to 60 Minute Profit plan, I don't see how including online survey's can get you to earn $100+ in 60 minutes! Nevertheless, its one of the methods that Brittany is selling to you.
I discovered that another method that they included was on becoming a 'user tester.' Basically, you get paid for testing out app's, games, sites etc. Once again, these kinds of 'gigs' do not always spring up on a frequent basis, and it's highly unlikely that one can end up making 30 grand by using this method solely.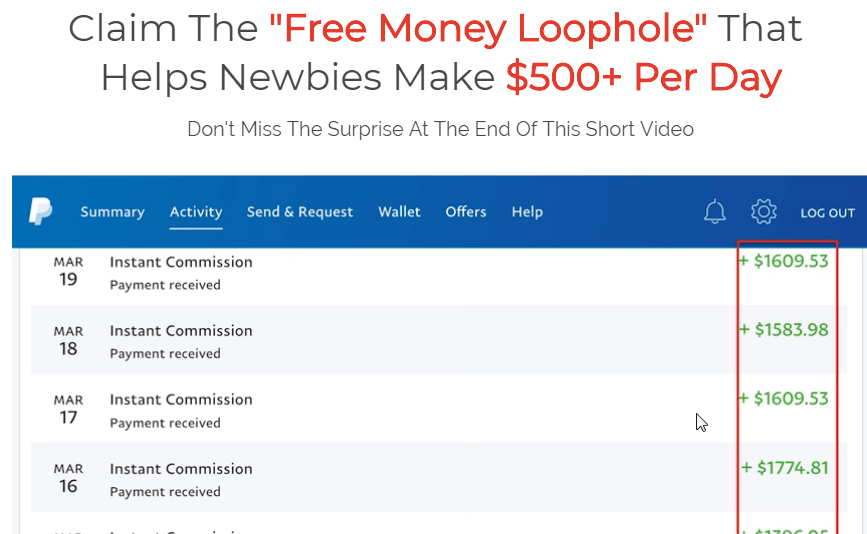 So, is there really a secret loophole when you buy the 60-minute profit plan? There is nothing secret about e-mail marketing or online surveys.
The only secret here is, how do they still manage to openly market to people, mislead them and give them false hope? That is anyone's guess!
I want to be honest and open with you, and tell you that I did not purchase the product. The above is my research and there is a lot of evidence on the sales page alone, that helped me to make my mind up about 60 Minute Profit Plan.
Before we get into that 'evidence', I would like to tell you about the first of many lies, that were revealed. 'Brittany' made mention towards the end of the 25-minute long video that there would be no further up-sells. It turned out that there are a further two up-sells at $97 each. One of them being an upgrade to their Pro Version.
Let me show you the other lies.

THE 60 MINUTE PROFIT PLAN FAKE TESTIMONIALS
---
As you indulge yourself by watching the video, you are going to come across some rather convincing stories of how the 60 Minute Profit Plan helped make some people rich.
These testimonials are NOT real. They are all done by actors who were hired to read out a script and make the tale sound as convincing as possible, to get you roped in.
Let me show you another one.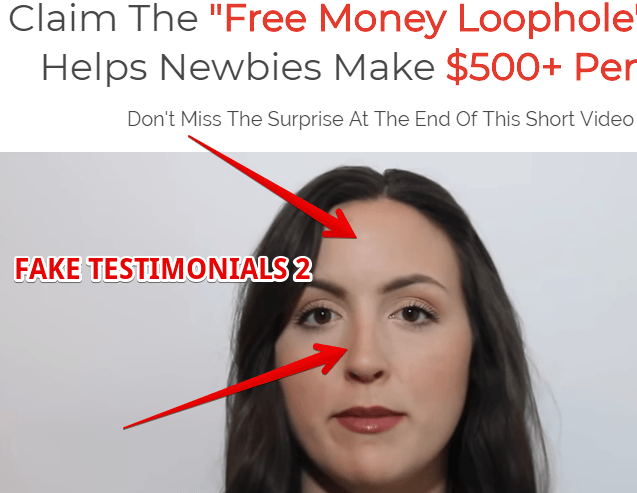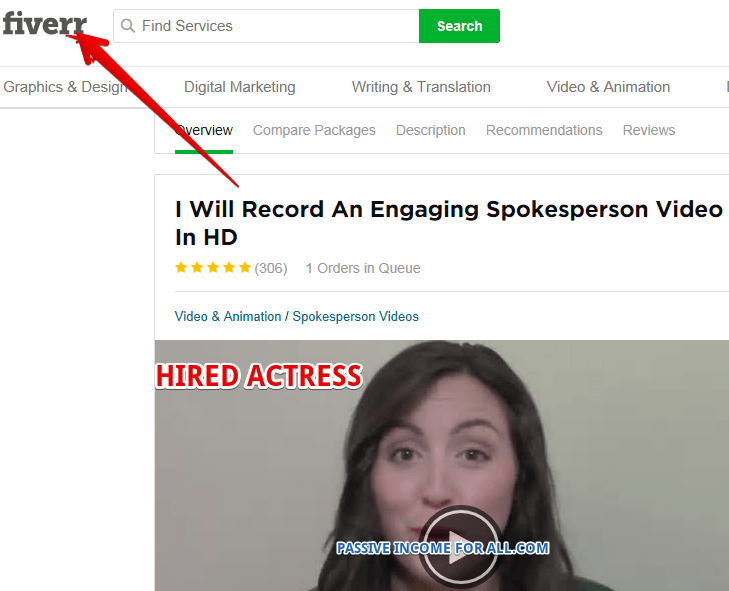 After finding this out, I could not help but wonder if perhaps the owner of 60 Minute Profit Plan is really who she claims to be.
This is what I had found out.
IS BRITTANY FRANCIS REALLY THE FOUNDER OF 60 MINUTE PROFIT PLAN?
---

On further investigation, it turns out that the same photo is used in various other instances.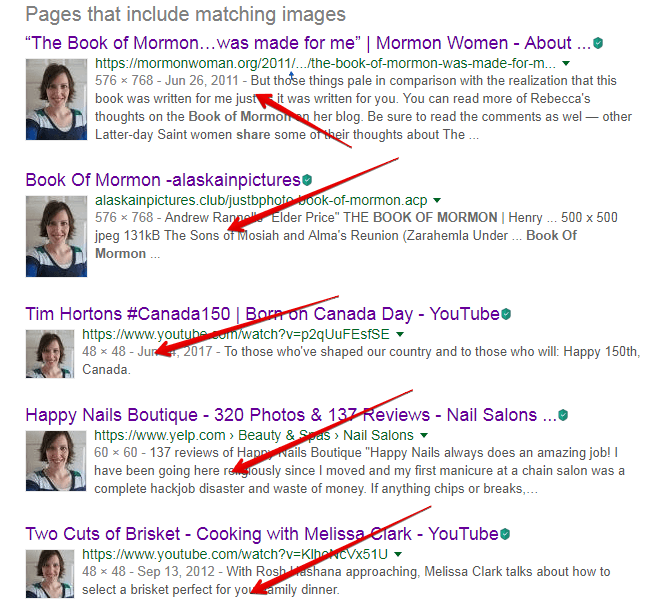 Bottom line: There is no way to assign any real owner or founder to this platform.
Whilst there is some good news, in a sense that it's a Clickbank product and you can get your money back, it still does not give me a good enough reason to buy the product,
I mean you are going to buy something that may probably end up wasting a huge chunk of your precious time, which you can put towards building a solid online business. And secondly, why spend your money, when 'Brittany' or whoever it is, are not real people to start off with.
IS 60 MINUTE PROFIT PLAN A SCAM?
---

They offer you the promise of making $500 + a day or even $30k a month! I've showed you earlier on, that the potential returns on the products are far from the over hyped and unrealistic claims that they make.
My 60 Minute Profit Plan review also showed you the fake testimonials that they used, not forgetting that an unknown person claims to be the owner. To me, its all a bit shady and I would not recommend it to anyone.

NO TRIAL, NOTHING UNDER THE HOOD
---
The 60 Minute Profit Plan sales video did not even hint at what the system was all about. They did not offer you a trial run either. Usually, it's a sign that they have very little or nothing to offer at all, if you do end up seeing the real deal. Now you know what is really under the hood.
Making money online is a real possibility. Do not think that everything you come across, are all just scams. I did not know that a different and exciting journey would open up for me in the online world.
Today, I am a pharmacist turned internet entrepreneur and I am making money online. It's all thanks to an awesome business platform that I signed up for about three years ago. They have a free trial and you can test them out without the need to use your credit card.
Sometimes, the best of things come to us when we least expect it.
I hope that this 60 Minute Profit Plan review has helped you out.
Have you been scammed before? Share your feelings here.
Looking forward to hearing from you.
Thanks once again for your awesome company. You have been a star.

Kind Regards and Take Care.
Roopesh