AN OVERVIEW OF ZARFUND
---
What is ZarFund? Some folks call it the Bitcoin MLM business opportunity. Is ZarFund a scam, or can one really make passive income from it?
Hannes Jordaan, a South African online entrepreneur, is the brainchild behind this crypto-biz. Apparently, after looking at models such as Binary Options, Forex, Affiliate Marketing and others, he claims to have found the "perfect" money making opportunity for ordinary folks in Zarfund.
Can Zarfund serve as a passive income source for you? Is Zarfund a pyramid scheme? Let me help by shedding more light in this review.
HOW DOES ZARFUND WORK?
---
You can ONLY USE Bitcoins in all ZarFund transactions. Before you get started they recommend that you open a blockchain wallet. (It's usually free to set one up).
In a nutshell, this is how ZarFund works- You have to actively pursue referrals and get them into the system. They will pay a joining fee. This fee becomes a donation to you. (In other words, this is your commission)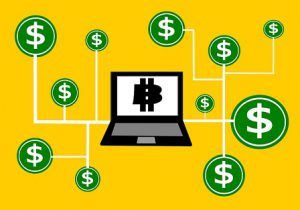 As you receive these donations from your downline, it can help you to upgrade to higher levels. The higher levels (7 in total) entitle you to recruit more people which ultimately means you can earn more donations.
Notice something in particular: Your earnings are totally dependent on the members you recruit into the business and nothing else.
Let me show you the compensation plan in more detail.
The ZarFund Compensation Plan
---
ZarFund works on a 2 by 2 Matrix System.
There are 7 levels. On the first level, you are required to get ONLY 2 MEMBERS. As you progress onto the higher levels, your aim is to recruit 2 TIMES(2X), the amount of the previous level.
For example, if you recruited 2 members on LEVEL ONE, then you need 4 Members on LEVEL TWO(2 X 2).If you have 4 Members of LEVEL TWO, then you need to get 8 Members on LEVEL THREE and so on.
Below is what your total members base would look like across all seven levels. To advance to a higher level, you would have to upgrade. I've highlighted the number of Bitcoins you have to pay for that respective level.
Note: According to the rules, it is not necessary to have your levels full before you upgrade. They recommend, that you have a sufficient amount of referrals so that the funds will be enough to cover the fee for the upgrade level.
| | |
| --- | --- |
| LEVEL  | PRICE TO UPGRADE |
| 1 (2 MEMBERS) | 0.01 BTC= $86.95 |
| 2 (4 MEMBERS) | 0.02 BTC= $173.90 |
| 3 (8 MEMBERS) | 0.04 BTC= $347.80 |
| 4 (16 MEMBERS) |  0.1 BTC= $869.50 |
| 5 (32 MEMBERS) |  0.2 BTC = $1,739 |
| 6 (64 MEMBERS) |  0.5 BTC = $4,347.50 |
| 7 (128 MEMBERS) | 1 BTC = $8,695. |
| | |
Note: this was the exchange rate at the time of writing this post. Please check latest exchange rates.
PRICE TO UPGRADE
LEVEL ONE: 2 MEMBERS                                           0.01btc
LEVEL TWO: 4 MEMBERS                                         0.02btc
LEVEL THREE: 8 MEMBERS                                      0.04btc
LEVEL FOUR: 16 MEMBERS                                      0.1btc
LEVEL FIVE: 32 MEMBERS                                         0.2btc
LEVEL SIX : 64 MEMBERS                                           0.5btc
LEVEL SEVEN: 128 MEMBERS                                     1btc
How do you make Profit with Zarfund?
Let's say that you are on Level one and you get two members to join you.They each paid their 0.01btc. You also paid your 0.01btc.
The way that Zarfund works is that when a new member joins, they must donate their membership fee to their immediate up line.
In this case, you would get two donations from your two members, which is a combined value of 0.02btc(0.01 + 0.01).
So you could say that you made a profit of 0.01btc. Are you with me so far?
Well, that is not exactly where it ends.
Here is the really interesting part.
The kicker is that there is a constant pressure on you to upgrade to the next level. Should you NOT do this upgrade, you will miss out on contributions on a level that you did not upgrade to if a member below you has upgraded before you.

Essentially, it would seem that one would be investing more in the system. This 're-funding' would make one think that there is a bigger pool of money available.
An upgrade takes place after every 30 days. What happens if you cannot find the required amount of people to help you upgrade?
You either have to fully pay for that level, or miss the upgrade, in which case you may lose your referrals to a member above you?

Is There Good Training On How To Build Your ZarFund Business?
---
There are a couple of video tutorials, to get you all started up in the member's area.

Take note these videos are nothing unique, as one can find them by simply searching on YouTube.
There is a news section in the member's area as well. It is not updated regularly though. The last update was last year in July

HOW GOOD IS THE SUPPORT AT ZARFUND?
---
There is a FAQ (Frequently Asked Question) section within the member's section.
It covers topics such as:
Account deletions
Changing bitcoin wallet address
Profile queries
There is also an official Zarfund facebook group. Its fairly active with the last post by Hannes been posted on November 13, 2017.
This was in connection to asking members their opinion about the subscription fees. Due to the increase, in the value of Bitcoin, he wanted to know whether or not the subscription price should go up or remain the same.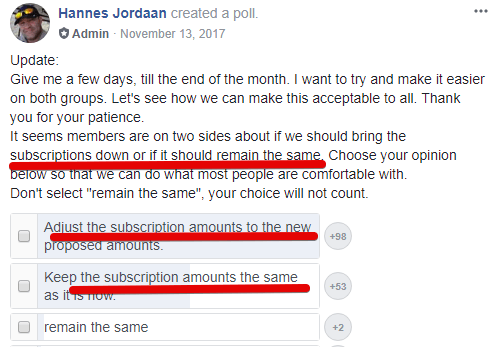 IS THERE ANY PRODUCT OR SERVICE THAT ONE IS BUYING?
---
The legitimacy of the ZarFund Business opportunity is questioned when this is asked.
I could not find anything that people are buying or selling on this platform.

Even though the official website claims that members have access to different kinds of digital media or services, there was nothing to be found.
There is no valuable content and services that members are treated to. If it is the news feed, that they are referring to, then its outdated stuff as I showed earlier.
Essentially, it seems that the only thing that is going on is the exchange of Bitcoin from one member to the next.
IS ZARFUND A PYRAMID SCHEME?
---
Is Zarfund a scam? I noticed that Zarfund has an active membership of 326 000 people. This tells you that people are interested.
Whether all these people are active or not, is another question.
Zarfund operates on a community that 'donates' to the upline as new member's join. For one to survive, one needs to be active in recruiting.
The main problem with this sort of business is, that you may be eager and find it easy to recruit people, But, not everyone will have the same strengths in this department. A member of your downline may struggle with getting new sign-ups.
Take a look at a query put forward by one of the Zarfund members regarding this.
If you cannot pay your 'donation' to your upline, your business is in danger! As I had shown you earlier, it's not exactly cheap to get into this business.
And on the subject, of recruiting. If everyone is posting on Social Media, how challenging will it be for one to stand out?
As for it being a pyramid scheme, there is a decent member base, but everyone is recruiting and paying money. There is no service or product being offered here.
What would happen if people stop paying their subscription fees? How long would the business continue?
Only time can tell.

THERE IS CHEAPER AND SAFER WAY TO START AN ONLINE BUSINESS
---
You do not need to break the bank to make money online. If you are keeping your options open, I would like to show you one such way.
I would like to introduce you to a business concept that;
Does NOT NEED YOU TO RECRUIT TO EARN
Does NOT NEED YOU TO DO ANY COLD CALLING
Has TOP NOTCH SUPPORT 
Has an INTERACTIVE COMMUNITY OF OVER 800 000 PEOPLE
And you can try it for free, without having to take your credit card out. Even if you decide to join the premium membership it is less than half the price of the first level of Zarfund.
or 
CONCLUSION
---
Thank you so much for joining me today on this Zarfund Review.
I hope that it has helped you out.
Have you ever been a victim of a pyramid scheme or know anyone who has?
I would love love to hear your story.
Looking forward to hearing from you
Kind Regards and Take Care
Roopesh