4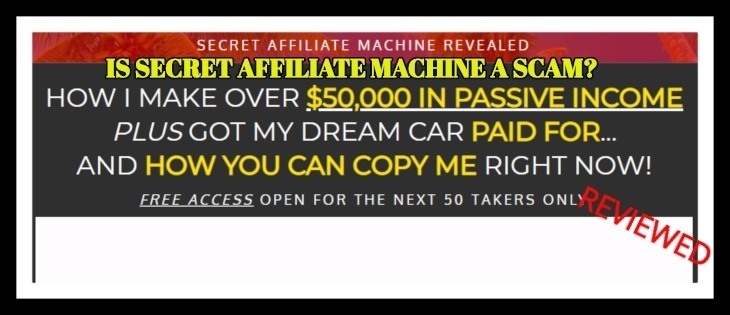 Secret Affiliate Machine -Scam or Legit? Warning!
Hi there and welcome to my Secret Affiliate Machine review. I am guessing that you are looking for a way to earn an online passive income? For that reason, you probably have Secret Affiliate Machine on your radar.
Is Secret Affiliate Machine a Scam or is the training on offer sufficient enough to help you to become a success as an online affiliate marketer? Let me show exactly what is going on here.
It's great to see that you are doing your due diligence before going forward with this business opportunity. It is my hope that this review will help you to make an informed decision on whether or not to sign up.
As an affiliate marketer, I have come across opportunities that are legit and those that are just downright scams.
WHAT IS SECRET AFFILIATE MACHINE ALL ABOUT?
The Secret Affiliate Machine is a product that offers you training on how to market a particular funnel software. Should your leads or prospects purchase this funnel software you in turn earn a commission. That is basic idea behind the Secret Affiliate Machine.
I will get into the finer details of what software they want to you promote shortly.Allow me to quickly point out two red flags first.
The first red flag, is that there is no REAL person to stand by this product. The narrator introduces himself, as "J." Why the need to hide your identity?
Call me old fashioned, but when there is a name or face behind the business, it establishes trust and I would be more inclined to do business with them.How about you,how do you feel about joining a business if you find that the owner is 'hiding behind the curtain?'
The second red flag,is the screenshots of unverifiable bank balances.
Truth be told, it's not enough to convince me that the system actually works.
Am I suggesting that Secret Affiliate Machine is a scam?
At this point in time, no. I thought that I make you aware of their marketing tactics.
Let's dive more deeper and see how this system works,shall we?
HOW DOES SECRET AFFILIATE MACHINE WORK?
The product that they want you to sell is called ClickFunnels.
What is ClickFunnels?
Clickfunnels is a funnel software or a tool that marketers can use to promote their product or services.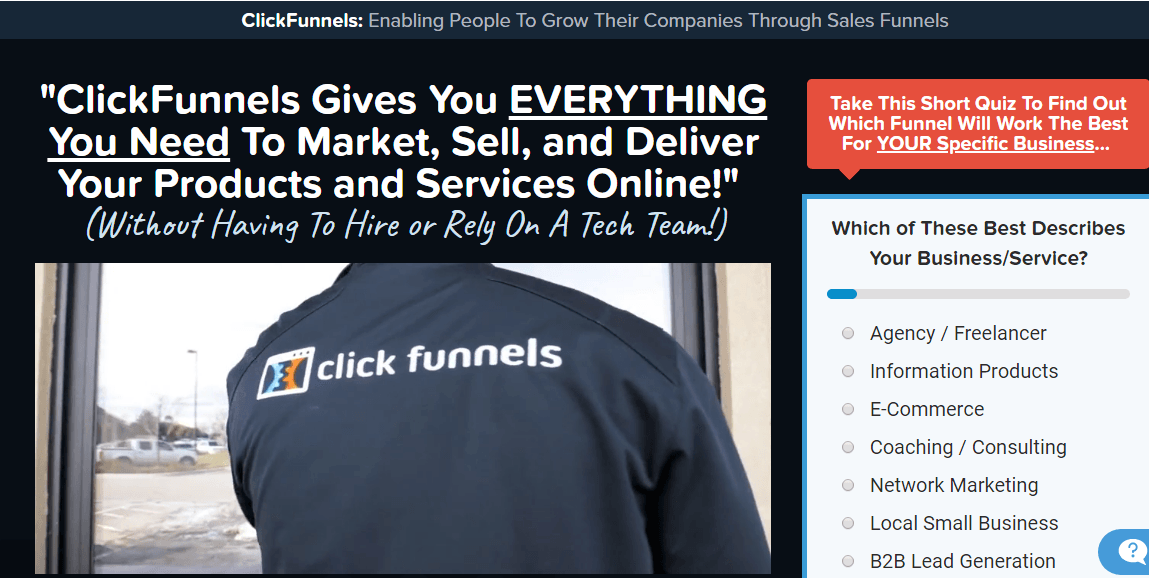 If you were to take a look at their official website at Clickfunnels.com, you will find that they can help people that are in various business segments such as,
Blogging
Network Marketing
e-commerce
Local small business
Information products,and so forth.
The underlying business model which you will use is called affiliate marketing. Affiliate marketing is a legit way to make money online. I personally use it as my main source of earning a passive income online. I would be happy to show you more on how I got started here.
With affiliate marketing, you, are the affiliate. Your job is to promote other people's products or services via your website. When someone makes a purchase, you in turn earn a commission. That is how affiliate marketing works.Take a look at the diagram below to get a bird's eye view of the affiliate marketing model.

Coming back to Secret Affiliate Machine,your job is to promote ClickFunnels. Essentially you are an affiliate for Clickfunnels.
How much can you earn on successful promotion of Clickfunnels?
For every subscribers that signs up with your affiliate link, you will earn a $40 commission. In addition if these subscribers get referrals, you will earn an additional $5 commission. And the great part, is that this is a recurring monthly commission. It's basically a great way to earn passive income online.
In addition there is a car incentive as well. Just get 100 new ClickFunnel users,and they will cover the payments for your dream car. Pretty cool right?
They have a free 14-day trial, you can learn more about ClickFunnels here.
Coming back to Secret Affiliate Machine, they teach the overall process in 5 steps.
STEP ONE>>>>An Introduction to Affiliate Marketing
STEP TWO>>>>Introducing you to ClickFunnels/Signing Up for Your ClickFunnels account
STEP THREE(A)>>>Importing the "SECRET AFFILIATE MACHINE" into the Clickfunnels software.
STEP THREE(B)>>>Adding your Clickbank Affiliate Link into the Clickbank software.
STEP FOUR >>>>>Buying Traffic/Sending Traffic to Your Funnel
STEP FIVE>>>>>>Motivational Pep Talk.
If you notice that in (step three) I mentioned SECRET AFFILIATE MACHINE. What exactly is Secret Affiliate Machine?Its just a fancy name that they gave for the funnel that they created for you to use and import into Clickfunnels. The five steps that I outlined above is what their funnel comprises of and that's what you will send out to your traffic.
What sort of traffic do they recommend you use?
Since you do not have a website to promote Clickfunnels, you are going to have to buy traffic. Well, let's put it this way.It's not going to be cheap. They recommend that you sign up with a site called TrafficForMe.com
At this site you will be buying clicks from people who have built a huge email subscriber list. You are going to be asking the owners of these lists to send them your offer. In turn you pay them(the owners) for every click that is generated.
As I said, it's not a very cheap option.
The cheapest option is $345 for 500 clicks. I personally do not use these kind of services, so I cannot tell you whether or not it works.
As an affiliate marketer, I promote products and earn sales by getting free and quality traffic by getting my content(or website) ranked on  Google and other search engines.
It's unlimited traffic,but it does take some time to gain traction. I believe though,that it's worth it at the end of the day.
WHAT I LIKE ABOUT SECRET AFFILIATE MACHINE
You will be promoting a legit product. Clickfunnels is a legit funnel software.So, if you are someone who is worried that this is some scam or that you are doing something wrong, don't.
Using a legit business model. As I said earlier on, affiliate marketing is a legit way to make money online. (shortly, I will show you some other cool benefits of becoming an affiliate marketer)
WHAT I DO NOT LIKE ABOUT SECRET AFFILIATE MACHINE
No proof or no real testimonials.Apart from an alias used and unverifiable bank statements, there is no real proof that this Secret Affiliate Machine actually works.

In line with the no proof, they tell you that they have made $50,000 in passive income and achieved the dream car incentive. In my opinion,I feel that this marketing is misleading.
​​​​​​​The overall system is costly. After the 14-day trial, you will have to pay the monthly Clickfunnel fees. In addition, since you do have a website, you have to constantly buy traffic. As you have seen, the traffic methods they recommend are not exactly affordable for everyone.
You are not taught additional ways to get traffic. As an online marketer, I have learned that one of the biggest mistakes you can make, is to rely on just one traffic method. You can promote Clickfunnels, via SEO(via a website) which is how I do it, you can use Social Media, you can use YouTube, e-mail marketing and so forth. They are only showing you one method.And that happens to be an expensive one.
Is Secret Affiliate Machine a scam? It's time to end this Secret Affiliate Machine review with my verdict.
IS SECRET AFFILIATE MACHINE A SCAM? MY PERSONAL OPINION
I would not exactly call it a scam, and they are not asking you for any money. However, at the same time I would find it hard to recommend as their is no proof that their method works.
I believe that as an affiliate marketer, one should keep their options open. I looked at this business from the viewpoint of the beginner, as it does not give them flexibility.
Did you know that you can build an affiliate marketing business based on any niche or topic, that you are passionate about?
Let's say that you are passionate about selling music online, or want to make money from comics, or drones, you can build a full time affiliate marketing business from them.
Coming back to Clickfunnels, it should come as no surprise that they have competitors as well.
Why restrict yourself to just promoting Clickfunnels, when you can promote the competitors on your very own website? You can earn from multiple companies. With a website you can promote using alternative methods that are cheaper, and in my opinion better and more effective.
THE AWESOME BENEFITS OF AFFILIATE MARKETING
Did you know that there are close to 3 Billion people visiting Google on a daily basis?

If you were to tap into just 0.01% of this market, it would be more than enough. Affiliate marketing allows to enter this marketing.
In addition check out these other awesome benefits of affiliate marketing.
Affiliate Marketing gives you;
Flexibility, so you can work at it anytime, from anywhere
The ability to make profits without having your own product
The ability to operate a world wide business
The ability to start a business with low overheads
The ability to sell without cold calling
The freedom to make money without recruiting
The chance to learn and earn, even if you are a complete newbie.
Are you ready to start affiliate marketing?
Thanks so much for joining me on this Secret Affiliate Machine Review
I hope that it has helped you out.
What concerns or worries, if any, do you have about starting an affiliate marketing business?
Looking forward to hearing from you.
Kind Regards and Take Care
Roopesh
​
​
​
​
​