Welcome to my OneHope Wine review. Is OneHope wine a scam? Would you like to start your very own home-based wine-selling business? Then you might be considering joining the OneHope wine business.
Is OneHope wine a pyramid scheme? Will this be a profitable work-from-home business? Today I will show exactly how OneHope works and answer all the other important questions above.
Welcome to my site PassiveIncomeForAll. As the name implies it's all about helping people to earn their passive income. I started my online journey back in 2015. I reviewed several make-money-online opportunities and had my fair share of spending money on courses that did not work out.
I finally settled on a business teaching program that helped me get the results I was looking for and taught me the RIGHT way to start an online business. I will show you the platform and reveal powerful secrets in my FREE Video course. Just click on the link that follows to learn more:
What Is OneHope Wine?
---
OneHope Wine is an MLM or multi-level marketing business that is focused on the wine industry. It's refreshing to see a network marketing venture that has a different product portfolio.
Usually, you get a company such as Zyia Activewear which sells fitness products, or Plexus Worldwide which deals with travel packages. My favorite MLM is The AIM Companies. I have been using their nutritional products for years and have seen amazing results.
But the MLMs that you want to stay away from are the new Crypto MLMs. These are companies such as Mining City and Elevate Pass. They promise a lot and deliver little.
Coming back to OneHope Wine, the California-based company was founded by Rob Mondavi Jr. and Jake Kloberdanz back in 2007.
The mission of the company is to "disrupt the wine industry" by helping people gain access to quality wine. At the time, they can help charities in the process.
10% of every purchase of a bottle of wine gets donated. At the time of writing this review, the OneHope wine company has donated over $8 million.
Is OneHope Wine a Pyramid Scheme?
---
OneHope Wine is not a pyramid scheme. The reason why, is that as a member you can profit from retail sales.
What exactly is a Pyramid Scheme?
According to Wikipedia, a " pyramid scheme is a business model that recruits members via a promise of payments or services for enrolling others into the scheme, rather than supplying investments or sale of products.
The problem does come should members decide to focus on the recruiting aspect to earn higher commissions. I will show shortly that such a compensation plan does exist with OneHope Wine. So, if this does become the case, then OneHope wine becomes a pyramid scheme.
The OneHope Wine Products – Drink Your Way To Success
---
The company has a range of wine products.

They have your traditional Red, White, Dry, Sweet and Etched wines. If you join their wine club, then you get access to their member exclusives.

The exclusives are priced from $85 to $150 a bottle. Then their collectible exclusives that start from $45 up to $150.
Their award-winning wines are priced at $25 a bottle. Then they have mixed packs. You can choose a pack that only has low-sugar reds, fresh and floral, or, a best sellers pack.
OneHope Wine and Virtual Tastings
If you would like to have a tasting of their products, then you can order the product and join the OneHope Wine team on Facebook for a virtual wine-tasting session.
That brings us to chat about their business opportunity. If you would like to make money with OneHope wine, you can purchase one of their business builder packages to get started.
How to Make Money With OneHope Wine?
---
You can make money by :
Selling the wines and earning a retail profit, or
By recruiting people to join your Onehope Downline.
How Much Does It Cost to Join OneHope Wine?
There is an annual subscription fee of $99.
In addition to this fee, you also need to choose from one of three different packages to participate in their compensation plan.
These packages are :
Business Builder ($198) – Includes a business bundle without wine.
Starter Kit 6-Pack ($248) – Includes a business bundle and 6 Vinter Collection wines.
Starter Kit 12-Pack ($298) – Includes a business bundle, 5 Reserve collection wines, 6 Vinter Collection wines, and 1 Glitter Collection wine.
The OneHope Wine Compensation Plan- It's your Typical MLM-type PayPlan
---
The compensation plan is complex.
You got PCV (personal commissionable volume) requirements. This means that you have to commit to buying an amount of wine to qualify for commissions. You got various rank levels(starting from Lead CE up to National Executive Director).
Then you have Team Structure CV requirements. Your downline needs to meet these requirements for you to ascend the rankings or earn more money.
At the end of the day, if you and your team perform better, the more bonuses you can qualify for.
Here is a screenshot to show you their complex compensation plan.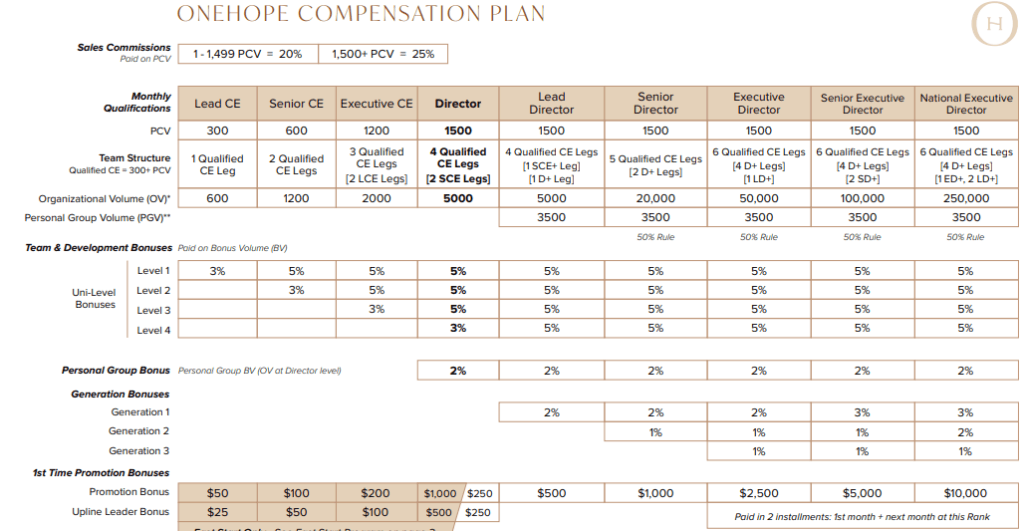 It all boils down to recruiting. The more people you recruit, the more money you make.
Can You Make Money With OneHope Wine MLM?
---
Do you like wine?
Great, if you like the product. Then it might be easy to make retail profits.
Do you like recruiting?
If you like recruiting and chatting to people and have sales experience, and know how to lead a team, then perhaps you can make good money with OneHope wine.
Unfortunately, they do not have an income disclosure, so it's hard to tell how the existing members are performing for OneHope Wine.
I do not believe that all multi-level marketing businesses are scams. I do, however, believe that making it big, or successful within the MLM industry is not a very easy task.
Having said that, are you someone who would enjoy recruiting?
According to the AARP study 
91 % joined an MLM to make money either by selling or recruiting,
43 % joined to get product discounts
9 % was only to get just discounts
As for making a profit or loss :
(47%) of MLM participants reported that they lost money.
  (27%) MLM participants reported that they broke even (made no money).
 (25%) MLM participants reported making a profit.
And finally, the three most common reasons why people leave the MLM industry, are (1) they find it awkward to pitch to family and friends, (2)not making as much money as expected, and (3) not like to sell all the time
By the way, this report was published in 2018. I still think that it holds merit in today's day and age. 
So, what do you think? Is the MLM world for you?
Pros of OneHope Wine
---
They have owner transparency
They have been around for long
Cons of OneHope Wine
---
The products are expensive
Business is only available in certain countries
No income disclosure
You have to recruit to earn the higher paychecks
Is OneHope Wine a Scam? My Personal Opinion
---
OneHope wine is not a scam. They have owner transparency. One is not forced to join the compensation plan. In other words, you do not have to recruit to earn money. You can do it by generating retail profits.
However, since it's wine, it might not be that easy to sell. People might already be used to their brand choice of wine. And it might not be easy to switch them over. Of course, everybody's preference is different, so you would just try to sell to them and see what happens.
And on that note, if you want to make high retail profits, then you would have to turn high volume sales. It's easier said than done.
The recruiting side is a different ball game. And I showed you that too will not be a walk in the park.
How I Earn A Passive Income Online
---
I transitioned from the health field to the online world.
As a pharmacist, I enjoyed my profession but my health challenges forced me to look for an alternate source of income. Check out my story here.
I earn a passive income online thanks to my affiliate marketing business.
The good news is that with affiliate marketing, you can build a business without having to recruit a single person. You don't have to go out there and cold-call people.
You can start as a complete newbie. You do not even need any sales experience
You can build a business based on your passion, hobby, or interest. 
You can work in your own time. It also offers you the awesome benefit of earning a passive income online
And one of the important benefits is that it is a low-risk business model, and it does not cost much to get started.
It would be my pleasure to show you more about how it works. I've been using it for five years. Let me help you to get started. Simply click on the link below to learn more
Thanks for checking out my OneHope wine review.
Hope that it has helped you out.
Regards and Take Care
Roopesh