AN OVERVIEW OF TREASURE TROOPER
---
What is Treasure Trooper all about?
In today's Treasure Trooper review, I am going to reveal to you a platform that makes taking survey's, cash offers, or watching videos a slightly different experience, compared to the usual stuff.
You will notice stark differences in terms of its interface and community interactiveness. Does this really matter though, and can you make money from it?
Is Treasure Trooper legit or just another waste of your time? Let me show you.
HOW TO MAKE MONEY WITH TREASURE TROOPER
---

I am going to confess something to you. I am an avid video gamer and I love my movies.
One of my favorite video games is Tomb Raider. As for movies, old is gold and the Indiana Jones series, are one of those classics that I can watch over and over again.
This is one of the main reasons as to why I enjoyed visiting the Treasure Trooper website. The theme is all 'archaeological' and makes you feel like a relic hunter.
They've got these cartoon characters talking to you and it gives the visitor a friendlier and more interactive experience.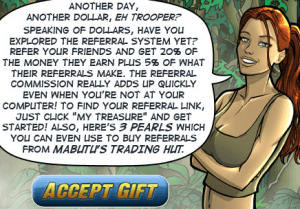 It's different compared to other traditional survey and offers sites that you normally come across. I find it refreshing, to say the least.
Unfortunately, we are not here to admire the site. Though it would be cool if they would actually pay us to.LOL
Imagine that? We get paid to critique the website on looks and design. All wishful thinking I guess

.
Getting down to business, there are a couple of ways that you will earn money with Treasure Troopers.
NOTE: I've found that some of these options are closed off to me. I assume that it's restricted to certain countries only.
Let me take you through them.

CASH OFFERS
I've spent a considerable amount of my time in this area. There are a number of Treasure Trooper surveys available.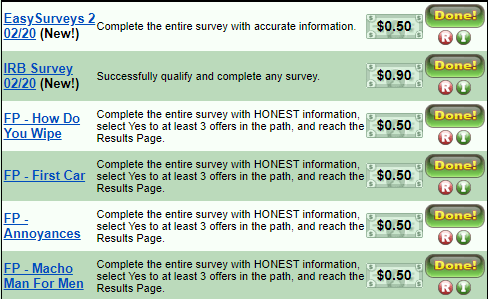 As you can see, for completing each successful 'main' survey, you would be credited the $0.50
Though I've spent lot's of time here, it does not mean that I have done lots of surveys and made a good earning. It actually turned out to be a pretty frustrating experience and here is why.
Prior to doing the survey, I had to go through 'qualifying' surveys. On many occasions, I would spend 3-5 minutes just answering these only to get a response like this,

And this is why I am not a fan of survey sites. They waste so much of your time in which you could have done something more meaningful. I uncovered some scams like Take Surveys for Cash and some okay programs like PaidViewpoint.
2. CASH SURVEYS
A separate section, that concentrates solely on surveys and not polls as in the previous one.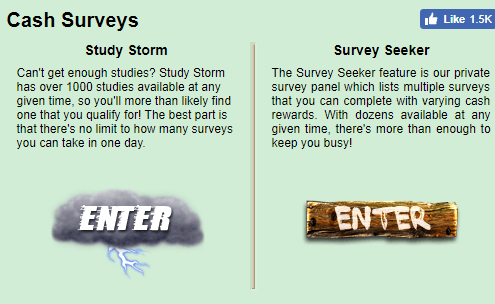 You can choose the 'Study Storm,' or 'Survey Seeker.' In my case, there were no studies available in Survey Seeker.
However, I did find one available, in 'Study Storm.'

For 30 minutes of my time, I will get paid a nice $0.46.
Guess what happened when I tried to take this survey?
Exactly! I was screened and as usual did not qualify yet again!

Need I say more?
3.CASH CALLS
The third way, you can earn money is through cash calls. No offer was available for me here.
4.CASH SEARCH
Similiar to Google Chrome browser, Treasure trooper has their own search browser. All you need to do is make Treasure Trooper your home page.
Once this is done you then browse as normal, just like you would do if you were using Google or Yahoo.
Using their search engine would also put you in the running of earning Arrowheads.
The arrowheads can be exchanged for, 'Platinum coins,' or 'Dragon Scales.' (I will explain more about this later on)
5. CASH VIDEOS
I did not qualify for any videos to watch.
6.TREASURE TROOPER REFERRAL PROGRAM
You can earn a 20% of your direct referrals cash offer earnings and 5% of the second referrals cash offer earnings.
7. GAMES 
There are various games that you can choose to play at Treasure Troopers. The main point of some of these games is to earn artifacts or coins. You can then use it to make purchases at Mabutu's Trading Hut.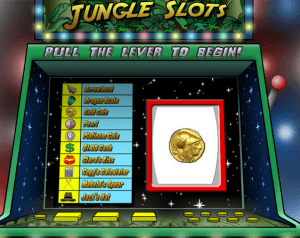 That summarizes the major ways in which one can earn money.
TREASURE TROOPER- MABUTU'S TRADING HUT
---
I mentioned earlier that you can exchange arrowheads for Platinum coins or Dragon Scales.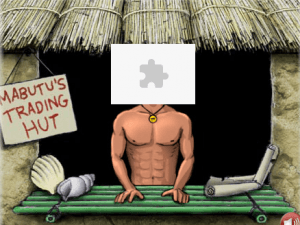 When you complete offers, you can also earn Platinum coins or Dragon Scales depending on the 'end prize' of the survey.
The platinum coins can be used to purchase gifts at Mabutu's Trading Hut.
Gifts such as:
Xbox One
Kindle Fire
Resturant gift/eBay/Visa– gift certificates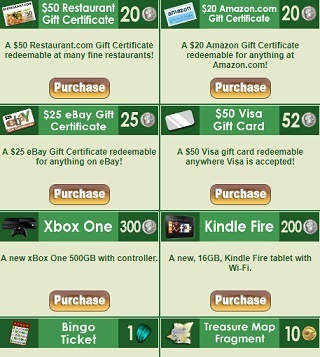 The dragon scales that you earn from your daily surveys, can help you to purchase and develop a dragon from an egg to adulthood.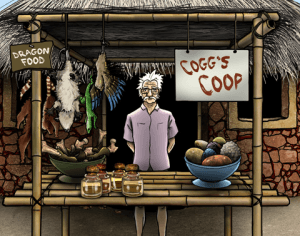 Once you have bred your dragons, you can sell them to Professor Cogg, who will give you cash for your dragon. Apparently, if you find a rare dragon breed, he will give you $100 for it.
If it's your first time, as a dragon owner, then you will come to find that it's not going to be an easy job.
You will have to purchase things like:
Heat Lamp (to hatch the eggs)
Dragon Medicine
Dragon Treat's
Growth Hormone
Then you may also want to consider upgrading your lair, with
More eggs
A dragon's cave
Breeding Pit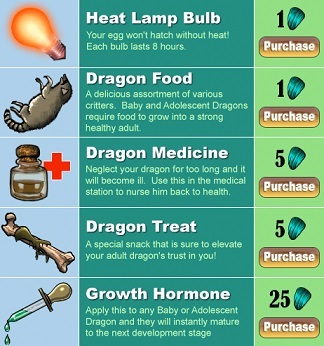 You will need 'Dragon Scales,' to purchase these goods. And guess what that means?
Exactly!
You will need to complete more surveys.
Good luck with that!
HOW GOOD IS THE SUPPORT AT TREASURE TROOPER?
---
This is one aspect of the Treasure Trooper platform that I was fairly impressed with.
There are various channels of support that one can use such as:
Chat Room
Forum
FaceBook
Twitter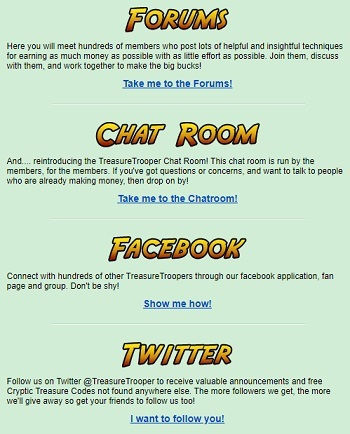 As mentioned earlier on, there definitely is more 'buzz' happening here than other survey sites. For instance, there is the 'Bingo Games.'
Folks get to meet up every Tuesday and partake in it. People have a chance of winning a share in jackpot prizes. Unfortunately, though, you first need to buy a ticket from the 'Trading Hut,' to enter.
DOES TREASURE TROOPER WORK? CAN YOU MAKE MONEY WITH IT?
---
Just for registering for free, they will give you $1.
After finally getting the opportunity to do a 'main survey' I made $0.50
This is my balance thus far,
It's no secret that other members faired better than I. Here are some of their earnings.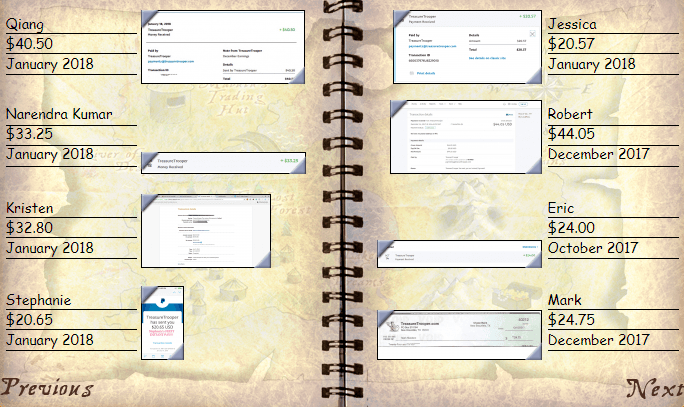 Majority of the people's earnings were below the $50 mark. You will find people who have made $100 and some of them getting up to $200 (but not too many).
Bottom Line: You can make money with Treasure Trooper. It depends on how active you are within the community. As I've learned, part of your success is also dependent on your geographical location.
What I mean by this is, that there are more assignments given to individuals of certain countries as compared to others. I guess its tough luck, that there aren't many jobs for me.
All that is left is to wait for the right 'survey', or 'cash offer,' or 'cash video', to make its way to me.

IS TREASURE TROOPER A SCAM?
---
Registration is free and folks are earning here. I do not think that it is a scam.
However, the referral program clearly indicates that to earn bigger money, one must bring more people into the platform.
In other words, recruit and recruit, The highest payment level requires you to gain 300 ACTIVE REFERRALS, just so that you can earn a $300 cash bonus.
That is seriously a lot of hard work just for $300, don't you think?
As for payouts, there is a $20 minimum level that you have to reach before payment can be processed. At the rate that I am going, I will become a dragon myself, before I finally reach that level

.
As you can see, the monetary gains are not that big. It may be enough for 'gas money,' but not sufficient enough to put one in a comfortable financial spot.
Furthermore, when you stop actively engaging in answering surveys, you will not earn. In other words, Treasure Trooper cannot be considered a source of passive income.
LET YOUR TIME REALLY PAY OFF -YOU CAN START A PASSIVE INCOME BUSINESS 
---
If you like the sound of the live chat and a community forum at Treasure Trooper, then allow me to interest you in a business platform that takes things to a higher level.
A business platform that:
Has a community of over 800 000 people– (helping each other grow their businesses)
Has a 24-Hour Live Chat
Has step-by-step, easy to follow lessons (to start you from the ground level up)
There is a host of other awesome stuff as well.
⇒READ MY REVIEW OF THIS AMAZING PLATFORM HERE⇐
or
Thank you so much for joining me today on the Treasure Trooper Review.
I hope that it has helped you out.
Have you tried survey sites before? What was your experience like? Did you make decent money from it?
Looking forward to hearing from you.
Kind Regards and Take Care
Roopesh