WHAT IS BTC GLOBAL ALL ABOUT?
---
BTC Global promised investors an enticing offer of "2% interest per day, 14% per week and ultimately 50% per month." The main service they offered had to do with Crypto trading, which receives lots of attention within our daily headlines.
It was not long though, that payments from BTC Global have stopped(as it was reported that members were usually paid on Monday's). Is BTC Global a scam? Or rather put it this way, what constitutes BTC Global a scam?
WHO IS FOUNDER OF BTC GLOBAL?
---
It all starts with trusting someone who seems "too good to be true." Steven Twain, is the founder of BTC Global. For the last three years, he has been providing services for investors.
With his experience in trading in binary options(which in my opinion is a volatile trading option-read my blog here), he brings to the forefront, BTC Global.
Now with the official website stating that BTC Global services are suspended, an investigation was launched. Things are not looking very good, to say the least.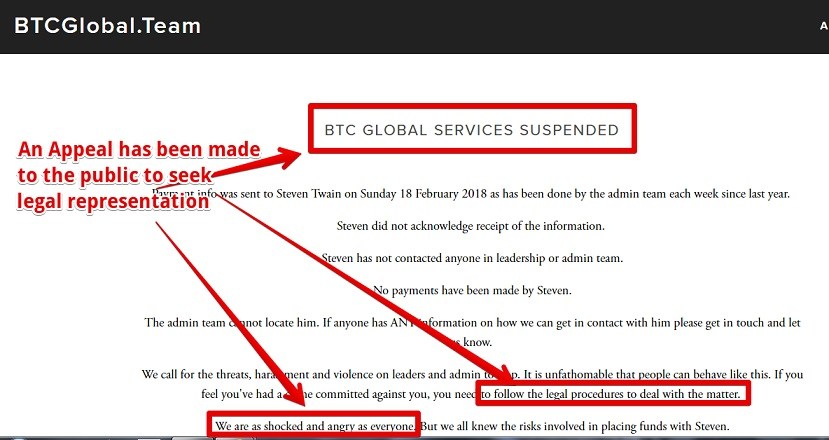 Is Steve Twain an actual person?
The official website has made an appeal to the public to come forward with any news that they may have on him.
Interestingly enough, there is no image to go along with the name. The site does make mention of a Facebook Profile page, but that too has recently been removed.
There is an accompanying e-mail address, but I personally doubt that much luck will come out from that as well.
There was a blog that made mention of a South African woman by the name of Cheri Ward, who was in contact with Steven, as she claims that she and a few of her colleagues helped him build the BTCGlobal website.
STEVEN TWAIN claims that he is "Super Shy"
Cheri stated that she has had interaction with the admin, leaders and many members associated with BTC global. As far as it was going with Steven, she has only screenshots of conversations taking place with him.(read the full story here)
She had no direct contact with him, and they only used 'messenger and e-mail' as sources of communication.
Even when she pushed forward for a video call or Skype, he claimed that he was, "Super Shy."
Sounds to me that he was more "super smart," to cover tracks by playing every move and been one step ahead every time.
What do you think?

THE HAWKS TAKE ON BTC GLOBAL
---
South Africa's crime-fighting unit, The Hawks have been assigned to investigate BTC GLobal.

It has been reported that up to 28 000 visitors have been conned out of R1bn(billion) as far BTC Global is concerned,
Many of the investors that took to social media to voice their opinions are saying that BTC Global is actually a 'Ponzi' scheme.
WHAT IS A PONZI SCHEME?
---
According to Wikipedia, its an "investment system where investment profits are paid with the money from other investors, and those who experience profit believe the profits come from non-investors such as business activities, or the earnings and growth of a company."
The latest from Hawks is that they believe that another company called Bitclaw is linked or even the same company as BTC Global.
Bitclaw have taken legal action and threatened to sue the Hawks unless they retract this statement.
They(Bitclaw), claim that they are a separate entity and as such "does not manage or trade with third-party money or offer any kind of investment returns."
A spokesperson, Brigadier Hangwani Malaudzi,  for the Hawks acknowledges receiving the letter from Bitclaw. He welcomed for the matter to be taken to court and expressed that the matter would continue as an ongoing investigation.
No statement would be retracted at this point in time,
This is his closing lines,
"This is not something we are prepared to be swayed on. You have up to 28 000 victims who have already approached the Hawks. What about them?
"If we don't look after them, who are we supposed to look after? I am more concerned for people like the poor lady who called me crying about why she has to pay over a thousand dollars to get sum she is entitled to," he said.
Can The Hawks prove that Bitclaw and BTC Global are the same company? Will they ever find Steven Twain or whoever it is? Most importantly, will people be given back their hard earned monies?

WHERE DO YOU GO FROM HERE?
---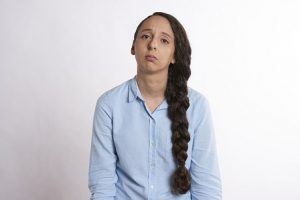 It's only a natural thing to want to make a bit of extra money. Whether it is for your kid's tuition, or to buy that car, to pay off that debt or even just to spoil yourself, having an additional income source can make life much easier.
However, at the core of one seeking the best money making opportunity, there are online scams and legit business opportunities. As you have seen above, for 28 000 people to have been scammed here, this opportunity must have had all the markings to seem legit, yet it turned out to be the exact opposite.
How do you know which opportunities are scams and which are legit?
Beside make money scams, did you know that there are also online dating scams and pet scams that are doing the rounds?

 Here are some tips on how to avoid online scams.
Whilst my BTC Global review has shown you that the scammer is crafty, it does not necessarily mean that they win all the time. You too can have the edge by empowering yourself and becoming aware of their tactics.
For instance, I have reviewed various online scams such as Trianasoft, The Saffa Method, and Ecom Profit Sniper, to name but a few. They have the classic signs of getting rich promises, fake testimonials and 'hidden' owners.
If you are looking to invest in an opportunity and are not sure, then give me a shout, and I would be happy to review the company for you. As they say better to be safer than sorry.
Thank you for joining me on this BTC Global review, I hope that you enjoyed the read. Watch this space for any further developments on the Hawk's investigation.
For now, take care and stay out of trouble.
Kind Regards
Roopesh