BLUEHOST WEB HOSTING SERVICE- AN OVERVIEW
---
Founded by Matt Heaton and Danny Ashton, 16 years ago, Bluehost seems to stand the test of time. These days, the competition amongst web hosting companies is rife.
Hence, you will always find one company offering a better pricing over the other. But what happens then to the quality of the hosting that you get? Does it get compromised? Is Bluehost Web Hosting the best hosting for your WordPress website?
This Bluehost review is going to help you if you are thinking of signing on to using their service. If you are already using their service and are reading this, it may shed light on some rather interesting aspects. Please share with me any opinion or thoughts that you may have regarding your experience of having used Bluehost. You are welcome to use the comments section below.
Let me quickly clear up the importance of hosting if you are new to the online world. You can simply skip to the next section if you are familiar with the term.
WHY DO YOU NEED HOSTING? WHAT IS THE BIG FUSS ALL ABOUT?
---
That's a fair question. It's one that I too have asked myself when I was a newbie. I thought that all I've got to do is buy a domain name, get a hosting service and then I am all sorted out. Wish it were that easy.

Think of your website domain name as the "street address" to your home. The hosting is the "actual house" where your files can be found.
In other words, whilst the domain name identifies what your site is called, the hosting is where all the necessary files or information to your site is kept.
Now, if there are thousands of multi-million dollar websites on the net, you can imagine that the owners of these "online real estates" which is worth megabucks, would choose their hosting services very carefully.
I mean, can you imagine what would happen if Amazon's hosting suffered a downtime for just half an hour? They would lose millions in revenue!
So yes, hosting is extremely crucial if you are considering building an online business for yourself.
Is Bluehost making their customer's happy or is the boat rocking here? Coming up next.

BLUEHOST WEBHOSTING COMPLAINTS
---
I know that companies do have their 'off days', and one should let things slide in these cases. But if the complaints vary across the core issues and many people are unhappy, then it's worth looking deeper into what is going on.
ISSUE ONE: SLOW LOADING TIME

How does slow loading time affect your site? They say that first impressions last, and if your site takes longer to load than usual, then there is a very high chance that you can lose that valuable traffic or visitors.
Having a fast loading site is awesome not only for a great user experience but also helps with search engine rankings.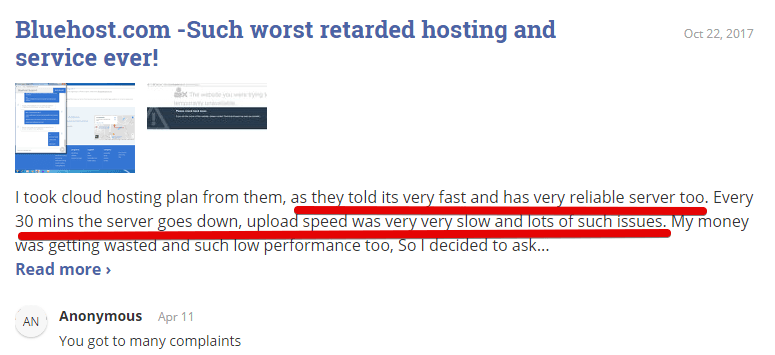 ISSUE NR 2: CUSTOMER SUPPORT IS SHAKY

When you have been a loyal customer to a company for 10 years (as is in the above case) and you start experiencing a decline in the customer service levels, then this says that something is definitely wrong.
Then there are instances where the customers are afraid of 'making changes' to their existing package, for fear of having to suffer downtime or power outages on their business.

BLUEHOST GETS IN BED WITH SITELOCK- WHAT DOES THIS MEAN FOR YOU?
---
Ever heard of Sitelock?
It's a software company that does a malware sweep of your sites and helps to ensure the security and integrity of your WordPress site.
The problem comes in when Bluehost shuts down one's site when they pick up malware infection. Bluehost then pushes you, the owner, to use Sitelock's services and you end up "coughing up" further expenses, little realizing that there may be nothing wrong with your site in the first place!


So, you would think that your website security will be taken care of by your hosting provider. Clearly, it's not the case here.
In fact, this story of Sitelock is the same issue that has come up with Hostgator hosting. If you want to know more, then read my blog on Hostgator here.
Why is it that there are so many problems such as server downtimes, long page loading, and reports of malware going on here?
One of the reasons pertains to the "price of the hosting".
WHAT ARE THE BLUEHOST CHARGES LIKE? IS IT WORTH YOUR TIME?
---
The basic plan is $2.95 per month.
To clarify matters, this is only for the first 36 months. Thereafter, the prices go up to $7.99 per month. After using their Live Chat service(which mind you was pretty efficient), they told me that daily, weekly and monthly back-up was included at no extra charge.
At the forefront, it seems like an affordable deal. However, cheap does not always mean better.
The basic plan is shared hosting, which means that your WordPress sites are placed together, along with other sites that have different CMS (Content Management Systems). This is one of the reasons as to why your site speed gets throttled.
Furthermore, if something goes wrong with someone's else's domain that is on your server, then it affects your site as well.
You also need to start thinking long term. Once your site starts gaining traction and you start getting visitors, if the service is slow, then you will consider an upgrade or switch to alternate hosting. At the end of the day, is it really worth it to invest in cheap hosting?

Speaking of upgrades, the highest plan after the basic plan is the prime option which costs $5.45 per month. That works out to $196.2 for three years.
Thereafter, if you are considering an upgrade to one of their VPS packages, the highest plan will cost you $59.99 PER MONTH.
Note that all of these prices are for one domain only! If you want your other sites to be hosted with them, additional charges will apply.
Is there an alternative hosting solution for you?
A HOSTING SOLUTION THAT IS NOT JUST ABOUT HOSTING
---
I believe that if you want the best for your business, you may need to spend a bit more so that you can rest your mind knowing that 'your business will be taken care of.'
I have three websites and they are all hosted on the Wealthy Affiliate Platform. Each of my sites enjoys,
FREE SSL Certification
FREE BACKUP (DAILY- up to your last words written)
FREE SITE SPEED UPGRADE
FREE SITE PROTECT(Spam blocker)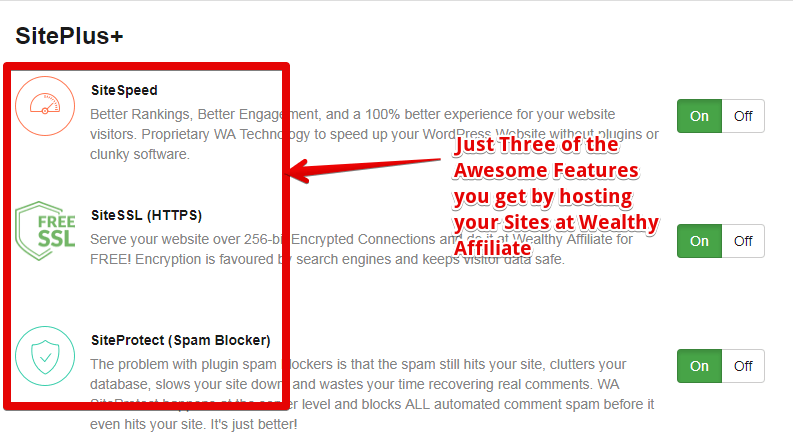 In addition, Wealthy Affiliate teaches one on how to build an online business from scratch. When you sign up for their hosting, you will also get:
Access to their ONLINE ENTREPRENEURSHIP TRAINING COURSE
Access to their AFFILIATE BOOTCAMP COURSE
Access to their one of a kind INTERACTIVE COMMUNITY
Access to their SITE BUILDER and SITE CONTENT features
and loads more.
Coming back to the point of your website and hosting, you can host up to 50 DOMAINS on their platform (must be WordPress) at one price!
They have a free starter membership option which you can check out here. As for the price of the hosting and overall membership, it will cost you less than a cup of coffee a day!
Don't you think that its time you focus on building your business rather than having to worry about whether it's going to be safe or not?
(By the way, the technical support at Wealthy Affiliate is top notch and can easily help you with your site's migration).
Thanks so much for joining me on this Bluehost Review.
I hope that it has helped you out.
Have you had previous website hosting issues before? What was the experience like? What is the one thing that you would like to see offered in a web hosting service provider?
Looking forward to hearing from you.
Kind Regards and Take Care
Roopesh