OVERVIEW OF THE YOONLA BUSINESS
---
Hi there and a warm welcome to my Yoonla 2018 Review. The Yoonla platform has seen quite a transition since its inception back in 2016. Do the changes make it an attractive venture for you?
According to Yoonla Founder, Reno Van Boven, the aim of the platform, is to help "get your digital lifestyle businesses off the ground? " What sort of business is he referring to? Can you make good money with Yoonla or is Yoonla a scam?
My review is going to help give you the answers to these questions, along with the others that are listed below as well.
WHAT IS YOONLA ALL ABOUT?
WHAT DOES THE YOONLA EVOLVE COURSE TEACH YOU?

WHAT ARE THE 'NOT SO GOOD' ASPECTS ABOUT YOONLA EVOLVE?

WHAT IS YOONLA ELITE ALL ABOUT?
WHAT ARE THE 'NOT SO GOOD' ASPECTS ABOUT YOONLA ELITE?
IS YOONLA A SCAM?
WHERE TO GO FROM HERE.
YOONLA AT A GLANCE
---
Product Name: Yoonla
Product Type: Email Marketing, CPA, and Social Marketing
Price: Free(Yoonla Evolve) + $297(Yoonla Elite)
Skill Level: Newbie/Intermediate
Income Potential: No Get Rich Claims
Recommended: Not Really
WHAT IS YOONLA ALL ABOUT?
---
Before I get into more detail of what Yoonla is all about, let me share with you some background information on the company.
As mentioned earlier, Reno Van Boven, from New Zealand, is the founder of Yoonla. He has been in the game of internet marketing and digital entrepreneurship since 2006.
Yoonla started back in 2016 and had its first phase launch, which was called the Yoonla Foundation. Basically, it was a 5 step starter membership program. This closed down in December 2017.
This year sees the launch of phase two, which you will come to know as Yoonla Evolve. The Yoonla Evolve is a FREE Starter Membership Course. Following that is the Yoonla Elite which is a paid course(cost $297).
I will go into more detail on these courses soon.
The main point of the Yoonla system is to teach one how to go about earning online via a popular model called Cost Per Action(CPA).
WHAT IS COST PER ACTION?
Cost per action or CPA is when you get paid, if the person you introduce a product or offer to, takes an action. They do not have to buy anything in order for you to earn money.
They can fill in an opt-in form, or take a survey or even watch a video. In the case of the Yoonla business, you earn when someone clicks (on your affiliate link), to try out their free starter membership course(Yoonla Evolve).
Depending on which country your leads join you from, you can earn anywhere between $2-$4 per lead.
Starting the FREE Yoonla Membership is NOT exactly FREE
---
In order for you to start earning this way with Yoonla, you would have to outlay some money though

.
You would have to purchase your own domain name and the associated hosting that goes along with that. In addition, they talk about a mandatory registration with an e-mail service provider. This is required so that you can send out offers to your prospective clients.
Let me take you through the steps of Yoonla Evolve so that you can see how things work for yourself.
Oh, I almost forgot, there is a bit of affiliate marketing going on here as well. I am quickly going to explain to you what affiliate marketing is before I jump into the Yoonla Evovle Review.
WHAT IS AFFILIATE MARKETING?
---
Affiliate marketing is when you earn commissions by recommending products or services via your affiliate link.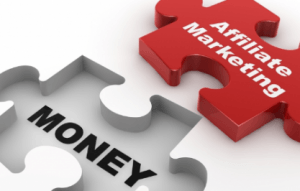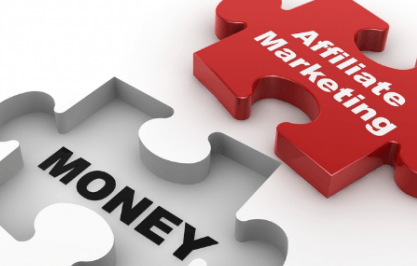 With this business model, you will only get paid when someone buys the particular product or service that you are promoting.
I first started making money online by using this business model (read more, in my about me page). I knew nothing about how to go about buying a website domain name or even where to get started, till this online teaching platform helped me out.
Anyway, the point is that these two models are good ways of earning online and if done properly, can set you up nicely for the future.
Now onto the Yoonla Evolve review.
THE YOONLA EVOLVE COURSE- THE FINER DETAILS
---
VIDEO ONE– EVOLVE APP AND COMMISSION TRACKING
Is all about you downloading the Evolve App. It gets downloaded as a zip file onto your computer.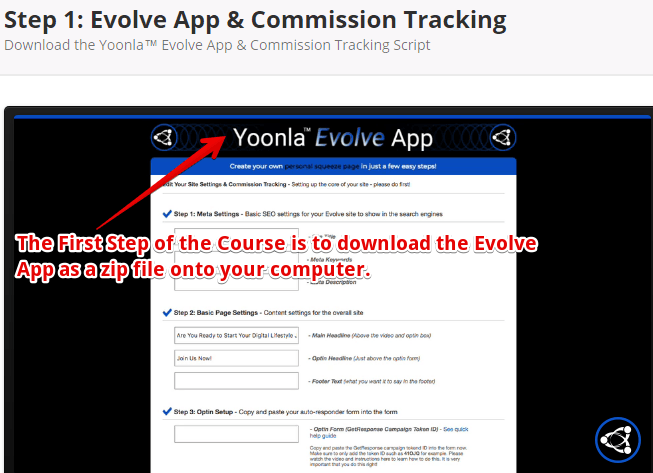 Basically, this app is going to form the backbone upon which your Yoonla Business site will be set up.
The app will allow you to insert your Yoonla affiliate link as well as details of your e-mail service provider (which you will have to sign up to in Step2).
In simple terms, without the app, you will not be able to make any money online.
VIDEO TWO: CREATE AN AUTOMATION ACCOUNT
'Create an Automation Account,' is a fancy way of saying that you must sign up with an e-mail service provider.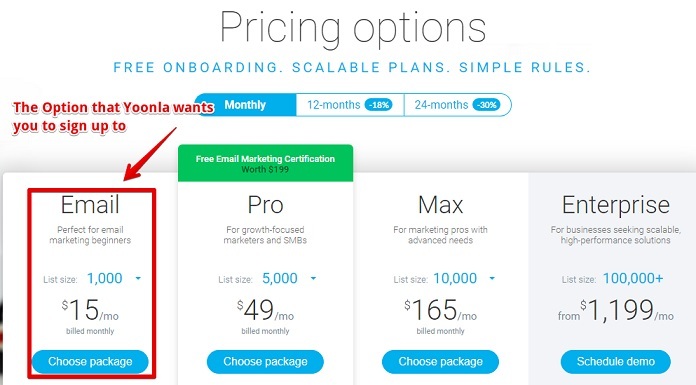 There are many online email service providers, and they (or rather Reno) want you to sign up with 'Get Response'.
Email service providers like Get Response allows one to build e-mail campaigns. With these campaigns, you can promote offers to your clients to increase conversions / sales.
As a starter member, Yoonla provides you with 10 FREE email swipes. These swipes are simply templates (or pre-written mini sales letters), that you can load into GetResponse. See sample below.
As a FREE Yoonla member, signing up with Get Response, is your first expense of $15. Might I add, that it's a MONTHLY RECURRING one!
VIDEO THREE: SET UP YOUR AUTOMATION ACCOUNT
This is the process of building your first e-mail campaign with the Get Response system.
You would need to set up an autoresponder. This is a series or sequence of e-mail's that you would send out to prospects, at regular intervals, to get them interested in your offer.
In this case, the point of the campaigns are to get people to join the Yoonla program.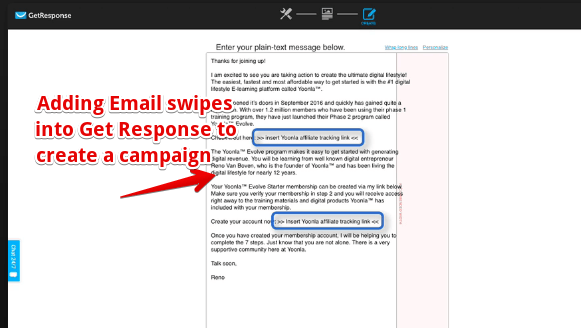 These e-mail swipes are already set up for you to incorporate into your campaigns.
VIDEO FOUR: CREATE A BUSINESS ACCOUNT
This part of the training may get you all excited. You are going to 'CREATE A SMALL BUSINESS ACCOUNT.'
In this section of the training, you are going to be buying hosting and register a domain name for your website.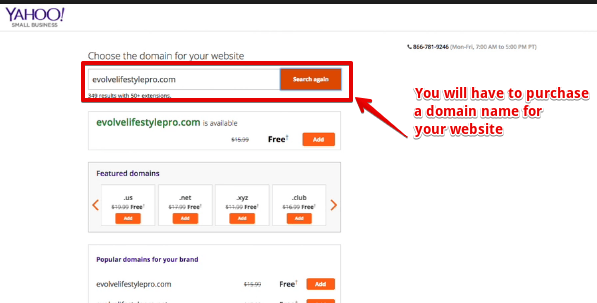 Your cost here would roughly be around $3.95 for a domain name and $5.89 per month for hosting. To add up, the total cost is (hosting for 12months) which is $70.68 + $3.95 equals $74.68
VIDEO FIVE: GET YOUR EVOLVE APP ONLINE
This is a pretty involved step that may seem a bit overwhelming for people who are not technical.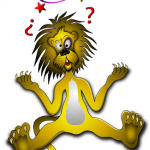 I know that for me, I had to watch the video a couple of times in order to grasp what is really going on here.
This is because I am so used to having a website all set up and framework all ready to go, in under 30 seconds. Check this link out, if you want to know how I did it.
Basically, the steps in this section are to integrate your hosting, domain name and the Evolve app (you downloaded in step one), all into one, to get a site that is up and live.
VIDEO SIX: CUSTOMIZING YOUR EVOLVE APP
At this point, you should have your Evolve app website all set up. Here you are going to do your customization's.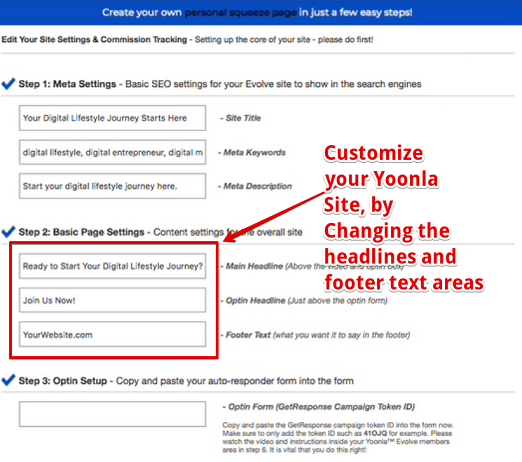 There is an option for you to edit your opt-in form and to add your email campaign from Get Response into the app.
The basic purpose of this is that should anyone sign up, they will then receive e-mails inviting them to sign-up with Yoonla.
VIDEO SEVEN: ACTIVATING YOUR EVOLVE FUNNEL
This step talks about how you can go about getting your Yoonla Affiliate link. Remember that your Yoonla affiliate link is going to be placed in strategic places in your email swipes, as well as on your Yoonla website.
After all, if you or someone reads your e-mails or clicks on your site, and there is no link, then you will ultimately lose out on your commission. So, how do you get your affiliate link?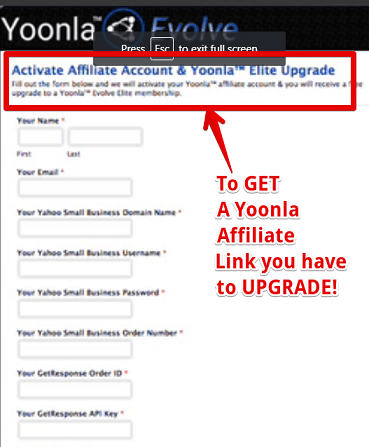 The way to get your Yoonla affiliate link is to upgrade. In other words, you have to join the Yoonla Elite membership which costs $297.
In a nutshell, that is what the Yoonla Evolve course is all about.
THE 'NOT SO GOOD' THINGS ABOUT THE YOONLA EVOLVE COURSE
---
Let's face it, up to this point the course is teaching you about how to set up a website with a squeeze page that centers on promoting the Yoonla business.
You are:
Building an email campaign focused on getting people to join Yoonla Elite
Buying a domain name that has the Yoonla business in mind.
Not learning thus far on how to build an online business that is based on your passion, training or interest.
Now, before the Yoonla member's who are reading this, start pouncing on me, I am not saying that Yoonla is a scam. Thus far, things are looking like its all about promoting Yoonla and nothing else.
Reno did mention that you can use the training to promote other businesses or products, and I am hoping that the Elite package would help in this regard.
Personally, I DO NOT LIKE the fact that we are obligated to signing up with Get Response. I have already signed up with my own e-mail service provider called ConvertKit.Why am I not allowed to use it here? I do not need to incur an additional expense by signing up with Get Response.
Either Reno or Yoonla is affiliated with Get Response. This means that whoever joins through the link on the Yoonla website, will earn a commission. (Remember, I talked about affiliate marketing earlier on).
The other aspect that I DO NOT LIKE is the fact that nothing in the training will allow you to earn UNLESS YOU UPGRADE. In other words, you CANNOT earn a single dime, as A FREE STARTER member. 
There are platforms that allow you to earn commissions, without having to pay to become an affiliate. Here is one such platform that I endorse.
THE YOONLA ELITE PACKAGE – WHAT IS THAT ALL ABOUT?
---
The Yoonla Elite course includes training on split testing and optimizing your sales funnels that you created in the first phase. They talk about how you can go about increasing conversions and ultimately how to get more sales.
You also will get access to a Facebook community that is specific and exclusive to Yoonla Elite members.
As a Yoonla elite member, you have the opportunity to unlock an additional 5 e-mail swipes that you can use in your e-mail or autoresponder campaigns.
HOW DOES THE YOONLA COMPENSATION PLAN WORK?
---
You earn commissions in two ways.
(1)Free Member Joins You– You earn if a member takes up the FREE Starter membership.
(2)If a Free Member Upgrades to the Yoonla Elite Membership
If you generate leads from specific countries only, you will get commissions. You will only earn a $4 commission should your leads come from the following countries,
Australia
Canada
Ireland
United States
United Kingdom, and
New Zealand
Leads from these countries will NOT EARN you any commission.
Nigeria
Pakistan
Zimbabwe
Zambia
Uganda, and
Vietnam
If you get leads from countries like Germany, France or Netherlands or any other country either than the ones mentioned above, you will get a $2 commission.
The big money comes in when a starter member upgrades to a VIP member. You will get a $30 Commission.
IS YOONLA A SCAM? IS THIS THE WAY TO GO TO EARN A DIGITAL BUSINESS LIFESTYLE?
---
Let me answer the first part of the question.
I like the fact that Reno does not make "big money promises" or that "you will earn so much in 1 week" or something like that.
He tells you that you have to work hard at the system, and that is something that I can appreciate. There may be the talk of a Yoonla scam going on. The truth is that folks are earning money with this, as you probably may have seen on Facebook.
Yoonla in my opinion is not a scam. However, there are some aspects that I am not entirely happy about.
To earn money and to get leads, you have to promote your website and squeeze pages on social media. If every Yoonla affiliate is doing the same thing, then it can make it a bit challenging for you.
How do you stand out? How do you market yourself differently? Not to say that you cannot make it work for you. I simply wanted to bring these aspects to your awareness.
WHERE TO GO FROM HERE
---
Is Yoonla for You? That is a question that only you can answer. With Yoonla you will have a business that is focused more on promoting and getting members to sign up with them.
You will get paid, as they've outlined. As for promoting other businesses, it may be possible. For a newbie and in my honest opinion, I think that it can be challenging.
I personally prefer to have an online business where I earn commissions on something that I am passionate about. In that way, I will enjoy doing the business as it is something that I love to talk about. As opposed to making it, "feel like a job" and getting referrals or sign-ups.
Wealthy Affiliate has taught me how to earn money, by building a website around a specific interest. In my case, a health condition called Tinnitus, that is personally affecting me. It's a great feeling to be able to connect with tinnitus sufferers all around the world and to be able to help them and earn money at the same time.
Wealthy Affiliate can help you too, to build a business on what you are passionate about, or whatever it may be that you are interested in. Its FREE to join them. Check them out here.

You have been amazing today. Thank you for your time spent here. It is greatly appreciated.
I hope that this Yoonla review has helped you out.
Please share it with any friends or family, that you think it will be of benefit to.
Looking forward to hearing any thoughts or comments that you may have.
Kind Regards and Take Care
Roopesh