AN OVERVIEW OF INTERNET BUSINESS FACTORY OR IBF
---
What is Internet Business Factory all about? Some YouTube videos claim that with this system, you are able to 'create 100 profitable internet businesses.'
Is this really true? Thinking of signing up?
You may be tempted to, simply because the joining fee is cheap (under $10).
Who are the owners? How does IBF really work and can you really get multiple passive income streams set up?
I would like to share with you some of the findings, that you may want to consider before signing up.
HOW DOES INTERNET BUSINESS FACTORY WORK?
---
The short video on the official IBF website hints that it is based on a business model called affiliate marketing.
Affiliate marketing is an amazing concept. I started my first two online businesses using affiliate marketing, and I can tell you that it works.
What is affiliate marketing all about?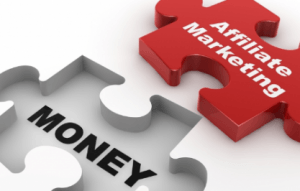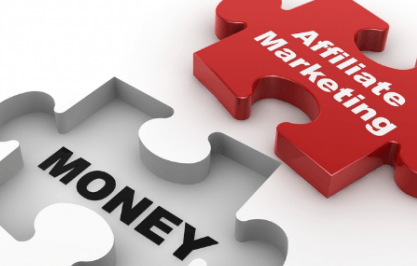 You are the affiliate and you earn commissions by promoting other people's products or services.
Let's say, for instance, you are an Amazon affiliate. Your job is to promote Amazon products. One of the best ways of doing this is by having a website of your own.
(It may sound intimidating at first. When I started 2 and a half years ago, I knew nothing about website building. If I can do it, then I know you can too.)

As people visit your site and learn more about the product that you are promoting, they may be more inclined to make a purchase.
An affiliate link from your site would direct the customer to the Amazon website, where they will complete the transaction.
On a successful sale, Amazon will pay you your handsome commission.

That is how affiliate marketing works in a nutshell.
Now coming back, to the Internet Business Factory, is it the right place to start an affiliate marketing business?
There are a couple of red flags, that I would like to share with you to answer this question.
4 RED FLAGS OF INTERNET BUSINESS FACTORY 
---
RED FLAG NR 1: IS IT AS SIMPLE AS PICKING A PROFITABLE NICHE OR MONEY MAKING PRODUCT?
Whilst there are tons of affiliate merchants that one can join, the sales video 'punts' Clickbank as the choice of merchant that you should join.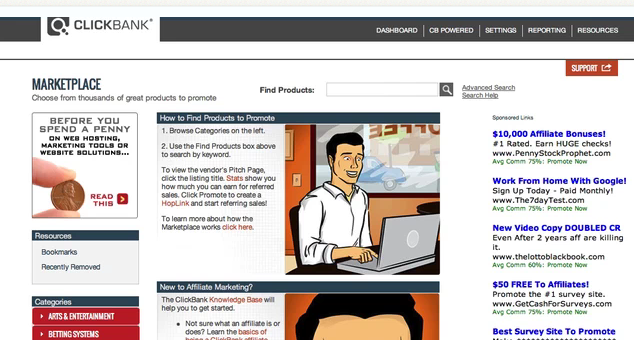 There was a time when this merchant had a good range of products to promote.
These days, you need to sift the good ones from the bad ones. If you are new to the online world, this can be challenging.
Furthermore, it is not only about picking and promoting. One needs to do research on the products before one writes a detailed and helpful review on his or her website.
RED FLAG NR 2: FIVERR, IS IT THE BEST SOURCE OF MASS TRAFFIC?
This is what is recommended by Internet Business Factory.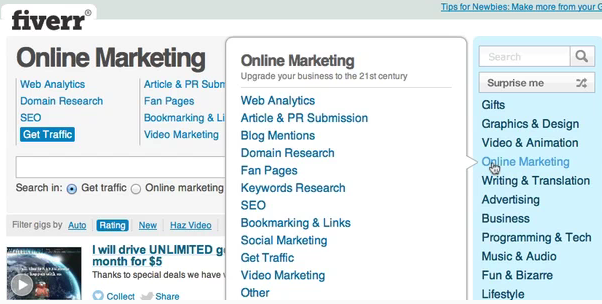 Fiverr, as the name suggests means that most gigs or services that you order will cost you 5bucks or less.
Do you think that you will get top-notch traffic from this sort of place, at that price?

Will you be getting quality visitors to your site?
Getting 40 0000 visitors to your site is one thing.
You need to get people who will express interest in your products and take action.
A lot of the times, you may end up getting more clicks than conversions.
If you are going to build an affiliate marketing business, rather take your time and avoid the unnecessary expense.
All the best online businesses that are making money today, did not gain overnight success.

RED FLAG NR 3: THE PRICE IS CRAZY
In terms of training, the value of  the package deal is looking mediocre thus far.
Now let us talk about the price of Internet Business Factory.
It only costs $5.95 to join.
The speaker claims that when you register you are going to get his formula that makes him a cool $1500 per day!
And all that you need to do, is simply pay this small price to get a hold of that formula!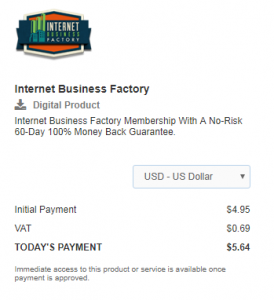 It sounds too good to be true. My guess is that once you take up this offer, you may be hit with more upsells.
RED FLAG NR 4 : WHO ARE THE CREATORS OF THIS PLATFORM?
That is a mystery all by itself.
After having looked all over the official website, I could not find any trace of who is responsible or is in charge of the Internet Business Factory.

The only piece of information that I could find is the above. Internet Business Factory "is the brainchild of 2 internet Marketers with over 22 years of combined experience…"
Sadly so, we will be left wondering who they are?
The main point that I am highlighting here is "how can you trust people with your money if you do not even know with whom it is that you are doing business with?"
Whether it's $5 or $50, I would want to know who it is that I am dealing with. Wouldn't you?

MY FINAL OPINION OF INTERNET BUSINESS FACTORY
---
In my opinion, Internet Business Factory is being marketed as a quick fix business solution. One where you supposedly will have multiple funnels all setup and all you have to do is promote products and wait for money to roll in.
Truth be told, there is no 'getting rich quick' online formula or business system.
As far as Internet Business Factory is concerned, there is
No Support
No trace of any genuine testimonials
No knowledge of the founders of this platform
It leaves one with more questions than answers. I would give this opportunity a pass.
In closing, I would like to say that there is a way to make money online and many folks are doing it via affiliate marketing.
Should you be interested in a platform that offers you an opportunity of building a solid online business from the ground up without having any prior online experience, then have a read through of my nr 1 recommendation.
Or, if you like to watch YouTube Videos, then watch my video review of this platform here.
I hope that this Internet Business Factory review has helped you out.
Would you give affiliate marketing a go? If not, is there an aspect of this business model that intimidates you or is there something that you would like to know more about?
Would love to hear from you.
Kind Regards and Take Care
Roopesh