You are really excited now that you want to build an online business. Many people are doing this via a type of marketing called Affiliate Marketing.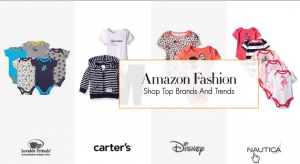 Now to become a successful affiliate marketer, you've got to build a website around a niche. It can be based upon any subject or topic that you are passionate or interested about. Today I will be showing you how to choose a profitable niche for your website. There 10's of thousands of niches to choose from and just about any of them can earn you a full-time online career. Even baby clothing can be an awesome niche…

How Can I Earn Money From a Niche?
---
One of the most common ways of earning money through your niche is via Affiliate marketing.
Many of you may be new to this concept of affiliate marketing. I will touch upon this later in this article, If you like, you can hop over to my section on "What is Affiliate Marketing?" to learn more as well. Having said that, the big question is how to choose a niche that is profitable?
Before we go any further, let us start off with the basics.
What is a Niche?
---
A lot of people get confused with this term and tend to overthink it. Basically, a niche is an audience. Let's say you do a Google search for "how to lose belly fat" or "how can I build a business online" these are niches.
As a customer, I am involved in a lot of niches. For instance, I buy a mobile cell phone, I need a car, I want to go for a cruise, I want to purchase rare coins and so forth, all of these are niches.
Are you with me so far?
As you can see the scope for a marketer such as yourself is huge. You can target any of these sectors and build a full-time online business around it.
Bottom Line: Anything with an audience can be a Niche.
Got It Cool. let's move on!!

How to Choose a Niche
---
As I mentioned above, we are in the business of Affiliate Marketing. This is a process of promoting products to the readers who visit our site. These products or services are linked to programs(or Merchants), which you, the website owner are affiliated with. Should a customer click on the product and purchase from the merchant, you earn a commission.Simple!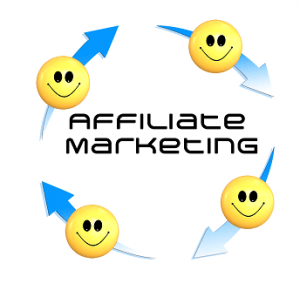 One of the biggest affiliate programs in the world is Amazon. They allow you to promote millions of products via their program. They provide a 6-8% commission depending on how much you sell.
Tip: I would recommend you choose a niche that you are interested or passionate about or one that you are interested in learning more about. Why?? Because you are going to be building content around this niche, if it is something that you like, it will be a lot less work to do going forward. In other words, it would not seem like a burden to write about on a regular basis.
Brainstorming
---
Let me discuss some techniques that you can use to find your particular niche. For the discussion purposes of this article, I am going to use luxury bed linen as an example for a niche selection.
Note: I want you all to remember that for many of you, this is your first time.
I can understand the excitement and nervousness that you are going through. Just go easy with the process, the first time is a learning curve. You will make mistakes along the way and that's totally fine. The main point is that you are starting something that many people out there would shy away from.
So Congratulations to you for coming this far!
On with the techniques for selecting the niche.
Use Popular Marketplaces
There are two billion people online. Can you see how massive your audience is? So whatever niche you select, there will be a market for you to target.
If I punched in my niche idea of luxury bed linen.
Amazon threw out 2,502,900 results!! Sheww! Now that's a lot of searches. What does it tell you? It's popular! Just look at the first result.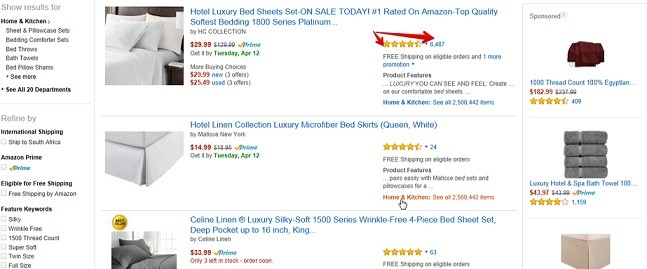 Notice something?
There are over 6,000 reviews of this one item alone! This gives you sufficient information to learn about the product and see what people have to say. So when you are writing your content should be as detailed and as helpful as possible to offer an insightful product review!!
Other Affiliate Programs
There are thousands of affiliate programs, so you do not have to restrict yourself to just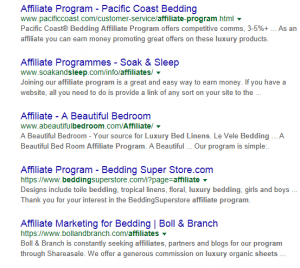 Amazon. Let's take the same example and punch in "Luxury Bed Linen + Affiliate Program" in the Google Search Bar and see what happens.
As you can see on the first page alone, there are plenty of affiliate programs to choose from.
Important: One of the criteria to ensure that your niche is viable, is to make sure that there are Affiliate Programs for it.
3.Scoping for Sub-Niches
So we now know that luxury bed linen is a good enough niche. But now let's think long term. Can we only just talk about luxury bed linen all the time? Sure, we can preview a lot of different types of linen. We can target different price ranges and offer people choices. Some may be affordable and others may not be.
But what about sub-niches?
This is stuff that is related to the niche. Products that we can talk about besides just bed linen include things such as, luxury bathrobes, slippers, and towels. What about luxury velvet blankets? We can even talk about the different types of pillowcases and sets that are available. I even saw a kids luxury cartoon linen set on Amazon. And let's not forget the luxury carpets and curtains to match the linen. I am sure that you get the point.
I just want to show you that a simple research technique will give you tons of ideas for a single niche.
What about topics for content?
Great question! You've got lots of ideas for product reviews. Now how can we 'beef up' our site with some engaging and helpful content?
Here are ideas that I came up with to help you with your content. You can talk about the ways to maintain and wash your linen. What is thread count and how to choose your linen based on this? You can talk about microfiber versus bamboo linen. One of your posts can read the top 3 best selling luxury sets.  How to choose a quality duvet set?
Do you see what I am getting at? You can get a vast amount of ideas to write on.
The only problem that you may have is finding the time to write these articles!
3.Checking for Keywords
The main reason to write the content is to add valuable and helpful information for your readers. You don't want your site to look like a huge online "commercial"
One of the things we use within our content is keywords. The main purpose of which is to be able to help rank our content with popular search engines such as Google, Yahoo, and Bing.
If our content ranks high, for instance, if it lands on page one of Google then it gets more exposure to more people. This means that we can get more sales or conversions.
2 important things to consider whether the keyword should be used or not.
Monthly Searches: If the monthly searches for a keyword are above 50, then I would definitely consider it. This simply means, how many people are searching(or traffic) for this keyword.
OSR- means Quoted Search Results. This is highly beneficial to you as it gives you an idea of the competition that you are up against. It is a metric that tells you how many competing pages there are on Google for that particular keyword. Usually, as a rule, it should be below 300.
One of the other things to look and see if your niche is profitable is to analyze your competition and to do this keyword search, we need a Keyword Tool. I have used the one at the Wealthy Affiliate platform, to show you some keywords that fall within the above two parameters and you can use within your site. Refer to the highlighted information below.

As you can see the Monthly Searches for the keyword, " Best sheet thread count," is 153 ( above 50) and the QSR is 10( below 300). So this is an excellent keyword to use.
Let's look at another one

The second keyword I searched for is "bamboo linen sheets" Monthly Searches is 48 and QSR IS 25. Another good keyword to use.
What happens if I can't find a niche to talk about?
So you are stuck and can't find a niche. No problem! Check out this video below that shows you more about how to go about selecting a profitable niche.  In addition, this video will also give you the option of taking up a really cool pre-selected niche which you can use to start building your own online business.
Isn't that cool?
Here is the video from the helpful Wealthy Affiliate community below that I promised you. Enjoy
Choosing your direction, it starts with a niche.
Getting Started does Not have to be hard
---
As you have seen, it really is not all that hard searching for a lucrative niche. The key is not to overcomplicate things and just go with the flow.
At least, know this, that many people are making niche affiliate marketing a full-time job. You have chosen a path, whereby the scope is huge and the whole world is your audience.
Just trust yourself and believe that you can do this and work at your own pace. Before you know it, you would have accomplished a lot.
Making the process easier for you
In closing, I would like to make mention of one more thing. If you are interested in making this process of building a niche website easier and more fun, then I recommend you check out the Wealthy Affiliate training platform.
As I demonstrated the effectiveness of the keyword tool within Wealthy Affiliate, that I used above, this platform offers much more than meets the eye. From taking you through a step by step process of building your site, registering a domain, to learning the essentials of content building, SEO, social media and so much more.
You will get a whole community of over 800 000 people, helping you along your path of building your site. You will never feel alone and will receive the inspiration and motivation to move on.
Conclusion
---
You have all been a fantastic audience for joining me here today. Hope that this article helped you to see the picture around niche selection and how profitable and lucrative this business can be.
Do you have a niche idea and want a second opinion? No problem, let me know and I will help you wherever I can.
Till next time, take care and God Bless.
Roopesh